The Non-Israelite Section of the Gomerites (14 January, 2015, 23 Tevet, 5775)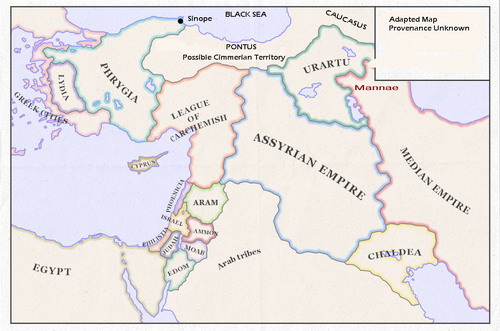 Gomer the Gentile
Contents:
1. Introduction:  Gomer and Israel
2. Gomer son of Japhet and his Three Sons
3. Identifications of Gomer
Continued at:
Ashkenaz.
4. Identifications of Ashkenaz
5.Ethnic Germans, Ashkenazi Jews, and Yiddish
Togarmah. Descentants of Gomer
Riphat the Gomerian
===============================
===============================

1. Introduction:  Gomer and Israel

Gomer represents the Cimmerians who were called Gimirri by the Assyrians. The term Cimmerian is based on a later Greek pronunciation of the name.
Exile Israelites from the Ten Tribes were to be identified with the Cimmerians and their offshoots the Scythians.
The term Gomer (Gameri or Gumri in Akkadian) is also similar to how the name for Israel, "Khumri" could have been pronounced by the Assyrians. Khumri was the Assyrian name for Israel and cases are known where the Assyrians switched  "g"  for the kh sound.
Names applied to the Cimmerians in Assyrian writings are also applicable to Israelites.
The King of the Cimmerians was called the King of Amurru which could be understood to mean King of People from the Land of Israel.
[This is one possibility and probably the most likely one BUT others exist, e.g. the term Amurru in at least one instance was also applied to the region of Babylon.]
The Cimmerians and Scythians and Guti (Goths) were ALSO identified as Umman Manada. The term Umman Manda could also mean People of Manasseh though it was later applied to the Medes and its usage before then is controversial.
We have  shown how

Names given to the Cimmerians by the Assyrians are the same as those given to Israelites or were otherwise applicable to them.
One of these names was "zer halkati" translated as "ruinous breed" with "zer" being "breed". "zer halqati" is understood to mean "Lost Seed" or "Lost Scattered Ones".
The emphasis is on the ZER word. It is similar to the Hebrew word-root ZaR which is the root for Jezreel a name applied in the Book of Hosea for a section of the Ten Tribes.
The Book of Hosea depicts the Ten Tribes in their Places of Exile as children of the Prophet Hosea and his wife Gomer daughter of Diblaim.
Gomer represents the Cimmerians, Diblaim means figs pressed together and connotes assimilation.
The three children begat by Hosea through Gomer have names representing the Lost Ten Tribes in their places of Exile.
The firstborn was a son named Jezreel:

[Hosea 1:4]
AND THE LORD SAID UNTO HIM, CALL HIS NAME JEZREEL; FOR YET A LITTLE WHILE, AND I WILL AVENGE THE BLOOD OF JEZREEL UPON THE HOUSE OF JEHU, AND WILL CAUSE TO CEASE THE KINGDOM OF THE  HOUSE OF ISRAEL.

The name Jezreel in Hebrew comes from the same root as the term "zer halkati" applied by the Assyrians to the Cimmerians.
See:
Strange Coincidence? New Research Breakthrough! The Prophet Hosea and the Cimmerians
http://hebrewnations.com/articles/16/zera.html
==============================
===============================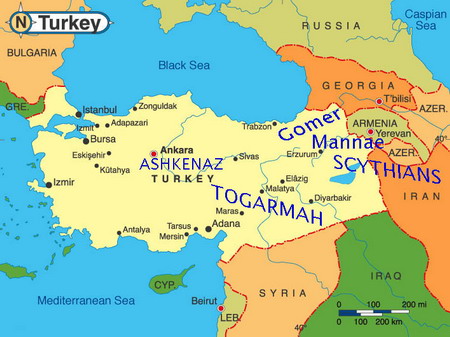 2. Gomer son of Japhet and his Three Sons

In addition to Gomer daughter of Diblaim whose children represent the Ten tribes in their places of Exile the Bible also speaks of Gomer son of Japhet son of Noah. Gomer had three sons.
Genesis 10:
3 And the sons of Gomer; Ashkenaz, and Riphah, and Togarmah.
Places identified in Biblical, Talmudic and related sources as those to which the Ten Tribes were exiled are the same places which the same sources identify as those of Gomer son of Japhet and his offshoots, Ashkenaz, Riphah (Diphah), and Togarmah.
Riphah is also known as Diphath (1-Chronicles 1:5).
==============================
===============================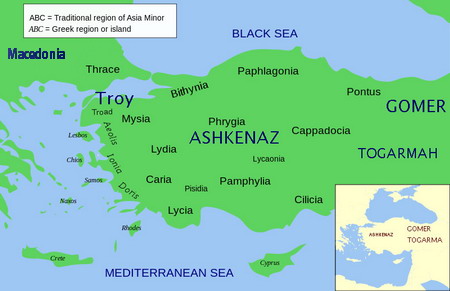 3. Identifications of Gomer

Gomer son of Japhet and his three sons comprise four groups since Gomer is also a group in his own right. This is similar arrangement to that of the Canaan, Mitsraim, and other genealogies mentioned in the Bible.

Gomer was identified with Afrikey and with Germamia or Germaniah (Genesis Rabah 37).
Afrikey appears to have been an area in Elam near Susiana where (according to de Gobineau) the name  Afrikey  was given to a sacred region of the Medes. Others have tried to identify Afrikey with Iberia in the Caucasus or with Phrygia in Turkey.
The Sages said that the Ten Tribes was in Afriki (Sanhedrin 110). Rashi  commented that by Afriki the Mountains of darkness were intended. This is usually understood to mean the Caucasus.
"Germamia" or "Germaniah" may be Carmania in southwest Iran which Herodotus (1;125) termed Germania and wherein Israelite groups for a time were to be found. Alternative identifications for "Germaniah" are "Mannae" in Armenia and Germanikey in the Bosporus area. A connection with the European country of Germany was probably also intended. 
One source (Targum Jerushalemi on Genesis 10) lists Afrikey, Germania, Madai, Macedonia, Bythinia, Thrace, as belonging to Gomer.  This does not mean that everyone in those regions were related to Gomer but rather that descendants of Gomer had been there.  The Cimmerians at a later stage did invade these regions whence they moved further westward.
Gomer
http://en.wikipedia.org/wiki/Gomer
From Wikipedia, the free encyclopedia
Josephus placed Gomer and the "Gomerites" in Anatolian Galatia: "For Gomer founded those whom the Greeks now call Galatians, but were then called Gomerites."[3] Galatia in fact takes its name from the ancient Gauls (Celts) who settled there. However, the later Christian writer Hippolytus of Rome in c. 234 assigned Gomer as the ancestor of the Cappadocians, neighbours of the Galatians.[4] Jerome (c. 390) and Isidore of Seville (c. 600) followed Josephus' identification of Gomer with the Galatians, Gauls and Celts.

The Cimbri were a tribe settled in Denmark ca. 200 BC, who were variously identified in ancient times as Cimmerian, Germanic or Celtic. In later times, some scholars connected them with the Welsh people, and descendants of Gomer. Among the first authors to identify Gomer, the Cimmerians, and Cimbri, with the Welsh name for themselves, Cymri, was the English antiquarian William Camden in his Britannia (first published in 1586).[7] In his 1716 book Drych y Prif Oesoedd, Welsh antiquary Theophilus Evans also posited that the Welsh were descended from the Cimmerians and from Gomer;[8] this was followed by a number of later writers of the 18th and 19th centuries.[8][9]

In 1498 Annio da Viterbo published fragments known as Pseudo-Berossus, now considered a forgery, claiming that Babylonian records had shown that Comerus Gallus, i.e. Gomer son of Japheth, had first settled in Comera (now Italy) in the 10th year of Nimrod following the dispersion of peoples. In addition, Tuiscon, whom Pseudo-Berossus calls the fourth son of Noah, and says ruled first in Germany/Scythia, was identified by later historians (e.g. Johannes Aventinus) as none other than Ashkenaz, Gomer's son.

Irish Genealogy traces itself to Ibath, son of Gomer (thought to be a form of Riphath).

Josephon [as distinct from Josephus]  linked Gomer to the Franks of Western Europe.

The Talmud (Yoma 10:a) says that Gomer is Germamia meaning (according to the Vilna Gaon and others) Germany. The Vilna Gaon (Rabbi Elijah ben Shlomo Zalman Kremer, 1720-1797) as interpreted by Shlomoh Koslavski, "Va-Asher Tovanah Yagidu", Jerusalem, 5764) used a system that would have placed Gomer in Scandinavia or in Northern Europe in general and Magog to the south of Gomer. 
We see that Gomer son of Japhet is linked with peoples that gave rise to the Germanic-speaking and Celtic nations. Here too, we find descendants of the Lost Ten Tribes.
This explains the parable of GHomer and Hosea and the exiled Israelites having joined with elements from Gomer and sharing mutual influences with them.
See Also:  Ashkenaz
==============================
===============================