Gentile Heroes of Israel (23 December, 2014, 1 Tevet, 5775)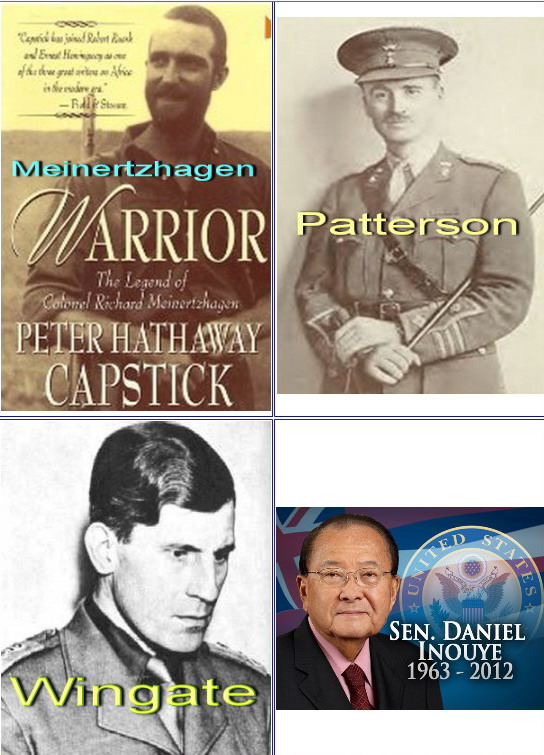 Some Contribution of Believers in British Israel to Zionism
Contents:
1. Introduction.
The US-Israel Strategic Partnership Act of 2014 and Senator Daniel Inouye
2. Colonel Richard Meinertzhagen
3. People Can Change!
4. Belief in the Lost Tribes Being in the West
5. us-israel-strategic-partnership-inspired-by-col-meinertzhagen
by Yoram Ettinger
===============================
===============================
1. Introduction.
The US-Israel Strategic Partnership Act of 2014 and Senator Daniel Inouye

The US-Israel Strategic Partnership Act of 2014 which President Obama has just signed,
JN-1114. Jerusalem News
http://hebrewnations.com/features/jn2/jn1114.html
#5. OBAMA SIGNS US-ISRAEL STRATEGIC PARTNERSHIP ACT INTO LAW
may well turn out to be a more significant document than any of us realize.
Senator Daniel Inouye is credited with laying the foundation for this document.
Senator Daniel Inouye is from Hawai and of Japanese-American descent. He is also an outstanding war hero and lost an arm fighting in Europe against the Germans.
http://en.wikipedia.org/wiki/Daniel_Inouye
===============================
2. Colonel Richard Meinertzhagen.

Yoram Ettinger (quoted below), reports that Daniel Inouye was inspired by Colonel Richard Meinertzhagen.
The name Meinerzhagen is that of a German town.
Wikipedia indicates that Meinertzhagen was of British origin with some relations in Germany. An Israeli newspaper article gave his ancestry as Danish.
Richard Meinertzhagen
http://en.wikipedia.org/wiki/Richard_Meinertzhagen
From Wikipedia, the free encyclopedia
Extracts:

Colonel Richard Meinertzhagen, CBE, DSO (3 March 1878 - 17 June 1967)[2] was a British soldier, intelligence officer and ornithologist.

Meinertzhagen was born into a wealthy, socially connected British family.
Richard's father, Daniel Meinertzhagen VI, was head of the Frederick Huth & Co merchant-bank dynasty, which had an international reputation, that one biographer claimed in the introduction to his book was second in importance only to the Rothschilds.... Among his relations were "many of Britain's titled, rich and influential personages."
... Meinertzhagen's passion for bird-watching began as a child. ..

Meinertzhagen took the examinations for a commission in the British Army... He was sent to India... participated in big-game hunting, was promoted, ... in May 1902 he arrived at Mombasa in British East Africa.

... His maps, landscape and wildlife drawings proved him an artist of exceptional talent....

During Meinertzhagen's assignment to Africa, frequent native 'risings' and 'rebellions' occurred. By 1903 KAR's retaliatory ventures focused on confiscation of livestock, a highly effective form of punishment, and "the KAR had become accomplished cattle-rustlers." One such punitive expedition was commanded by a Captain F. A. Dickinson of the 3rd KAR with participation by Meinertzhagen, where more than 11,000 stock were captured at the cost of 3 men killed and 33 wounded. The body count on the African side was estimated at 1,500 from the Kikuyu and Embu tribes.[12]

In the Kenya Highlands in 1905, Meinertzhagen crushed a major revolt by killing its leader, the Nandi Orkoiyot (spiritual leader) Koitalel Arap Samoei. He arranged a meeting to negotiate by Koitalel's home on 19 October 1905, at which he planned to assassinate him. Meinertzhagen shot Koitalel, while shaking his hand and his men machine-gunned two dozen Nandi tribesmen, including most of Koitalel's advisors. Initially he had been able to orchestrate a cover-up and was to be commended for the incident.... Pressure from the Colonial Department on the War Office eventually brought about Meinertzhagen's removal from Africa, as "he had become a negative symbol" and on 28 May 1906 "he found himself on a ship being trundled back to England in disgrace and in disgust."[18]

At the beginning of the First World War, he was posted to the intelligence staff of the British Indian Expeditionary Force. ..He was awarded the Distinguished Service Order in February 1916.[21] In November of that year General J.C. Smuts ordered him invalided to England.[22]

Meinertzhagen was frequently credited with a surprise attack known as the Haversack Ruse in October 1917: during the Sinai and Palestine Campaign of the First World War, according to his diary, he let a haversack containing false British battle plans fall into Ottoman military hands, thereby bringing about the British victory in the Battle of Beersheba and Gaza.[23] ....

Though Meinertzhagen's participation in this ruse has been discounted (he may have neither planned nor executed it), his stories of the ruse themselves would have a major impact on events in the Second World War. According to Brian Garfield, author of The Meinertzhagen Mystery, it appears the idea was that of Lieutenant-Colonel J. D. Belgrave and the rider was Arthur Neate. It inspired Winston Churchill to create the London Controlling Section, which planned countless Allied deception campaigns during the war, and such operations as Mincemeat and diversions covering D-Day were influenced by the Haversack Ruse.[25]

From the spring of 1918 until August he commuted between England and France, delivering lectures on intelligence to groups of officers, then was assigned full-time to France at GHQ. After the armistice he attended the Paris Peace Conference in 1919 and was Edmund Allenby's Chief Political Officer, involved in the creation of the Palestine Mandate, which eventually led to the creation of the state of Israel. ... His unpublished diaries hint, among other exploits, at a successful rescue attempt of one of the Czarist-Russian Grand Duchesses, possibly Tatiana ...
Israeli historian Tom Segev considers Meinertzhagen both a "great anti-semite and a great Zionist," quoting from his Middle East Diary: "I am imbued with antisemitic feelings. It was indeed an accursed day that allowed Jews and not Christians to introduce to the world the principles of Zionism and that allowed Jewish brains and Jewish money to carry them out, almost unhelped by Christians save a handful of enthusiasts in England."[26]

Meinertzhagen was and is considered however a true and valued friend of Zionism. "On 3 December 1947, four days after the UN voted in favour of partition in Palestine, Dr Chaim Weizmann, the modern State of Israel's first president, cabled Col. Richard Meinertzhagen to say, 'To you dear friend we owe so much that I can only express it in simple words. May God Bless You".[27]

Meinertzhagen wrote in his book, Middle East Diary, "But thank God I have lived to see the birth of Israel. It is one of the greatest historical events of the last 2,000 years and thank God I have been privileged to assist in a small way this great event which, I am convinced, will bring benefit to mankind".[29]

He was a prolific diarist and published four books based on these diaries. However, his Middle East Diary contains entries that are in all probability fictional... Authors Lockman and Garfield show that Meinertzhagen later falsified his entries. The original diaries are kept at Rhodes House (the Bodleian Library), Oxford, and contain differences in the paper used for certain entries as well as in the typewriter ribbon used, and there are oddities in the page numbering.

Early biographers largely lionized him, until after his fraud was documented, but T. E. Lawrence, a sometime colleague in 1919 and again 1921, described him more ambiguously and with due attention to his violence:

# Meinertzhagen knew no half measures. He was logical, an idealist of the deepest, and so possessed by his convictions that he was willing to harness evil to the chariot of good. He was a strategist, a geographer, and a silent laughing masterful man; who took as blithe a pleasure in deceiving his enemy (or his friend) by some unscrupulous jest, as in spattering the brains of a cornered mob of Germans one by one with his African knob-kerri. His instincts were abetted by an immensely powerful body and a savage brain.... #

-T. E. Lawrence, Seven Pillars of Wisdom, 1926

While in India he killed one of his personal assistants in a fit of rage and had the local police officer cover it up as a death due to plague... Gavin Maxwell wrote about how his parents would scare him and other children to behave themselves when Meinertzhagen visited with "... remember ... he has killed people with his bare hands..."[40]

Meinertzhagen's second wife, the ornithologist Anne Constance Jackson, died in 1928 at age 40 in a remote Scottish village in an incident that was ruled a shooting accident. ... There is speculation that the shooting was not an accident and that Meinertzhagen shot her out of fear that she would expose him and his fraudulent activities.[41]

After Anne's death his companion was Theresa "Tess" Clay, thirty-three years his junior....

Richard Meinertzhagen has inspired three biographies since his death in 1967 and was lauded as one of the grand elder statesman of espionage and ornithology.[46] His diaries provided source material for historians and books, for countless exploits of arms and wit against the enemies of the British Empire. He was trusted by Churchill, David Lloyd George, Chaim Weizmann, David Ben Gurion, T.E. Lawrence and many more.

Brian Garfield's 2007 book The Meinertzhagen Mystery attempts to show that he bamboozled them all, that Meinertzhagen lived (as the subtitle of the book states) "[t]he Life and Legend of a Colossal Fraud." Detailed in 352 pages are the many ways in which he was a liar and a charlatan. It debunks many myths and proves that previously accepted "facts" about his life and feats are untrue, including the famous haversack incident, which Meinertzhagen neither came up with nor carried out.[47] ..

"People's views of [Meinertzhagen] seldom coincide, but one mystery that connects the dots even while it obscures them is this: How and why did such a large number of diverse people of prominence share knowledge of his fakery, or at least suspect it, and choose not to disclose it?"[50]

"From boyhood on [Meinertzhagen] had been in tune with nature; he took photographs, made drawings and provided armchair tourists with keen descriptions of rain forests and snowy mountains ... and discovered new (previously unrecorded) species of bats, birds, and mallophaga (bird lice)."[51] He became a chairman of the British Ornithologists' Club and a recipient of a Godman-Salvin Medal; the British Museum (Natural History) named a room after him.[52]

Meinertzhagen "first achieved a sliver of international fame when he discovered, killed, stuffed, and shipped back to London the first known to Europeans Giant African Forest Hog, soon dubbed Hylochoerus meinertzhageni, and attributed to Richard Meinertzhagen." At that time, while on active duty in 1903, he was "fearlessly exploring and mapping areas no European had seen before."[32] He later also discovered the Afghan snowfinch or Montifringilla theresae, and the Moroccan Riparia rupestris theresae and named them, and ten others, after Theresa Clay.[44][53]

As the author of numerous taxonomic and other works on birds, and possessing a vast collection of bird and bird lice specimens, Meinertzhagen was long considered one of Britain's greatest ornithologists. Yet his magnum opus, Birds of Arabia (1954), is believed to have been based on the unpublished manuscript of another naturalist, George Bates, who is not sufficiently credited in that book.[55]

In the 1990s an analysis of Meinertzhagen's bird collection at the Walter Rothschild Zoological Museum in Tring, Hertfordshire, revealed large scale fraud involving theft and falsification. ... Many of the specimens that he submitted as his own were found to be missing samples belonging to the Natural History Museum and collected by others, such as Hugh Whistler.
The above Wikipedia article reveals a problematic ambivalent character with good and bad sides but of undoubted acheivements.
On the one hand Meinertzhagen is depicted as probably being a serial killer, very violent, a plagiarist who attributed the writings and research of others to himself, a forger who doctored his own diaries, a braggart who claimed feats and actions that were not so, and other nefarious attributes.

Apart from that,
Even his forgeries had positive results inspiring Winston Churchill in how to win WW2, he did do research of great value, he did risk his life and save others, some of his killing may be excusable, and he did make a positive contribution towards the Zionist cause. We now read that the US-Israel Strategic Partnership Act of 2014 also owed something to him!
===============================
3. People Can Change!

Richard Meinertzhagen describes himself as having originally been an anti-Semite. He says his first negative impression of the Jewish people were formed through the superficial reading of anti-Semitic works and unlucky acquaintanceship with a few Jews. Later he changed his mind. So can others.
Richard Meinertzhagen
http://en.wikipedia.org/wiki/Richard_Meinertzhagen
From Wikipedia, the free encyclopedia

Chaim Weizmann (first President of Israel) wrote of Meinertzhagen,

" At our first meeting, he told me the following story of himself: he had been an anti-Semite, though all he had known about Jews had been what he picked up in a few casual, anti-Semitic books. But he had also met some of the rich Jews, who had not been particularly attractive. But then, in the Near East, he had come across Aaron Aaronsohn, a Palestinian Jew, also a man of great courage and superior intelligence, devoted to Palestine. Aaronson was a botanist, and the discoverer of wild wheat. With Aaronson, Meinertzhagen had many talks about Palestine, and was so impressed by him that he completely changed his mind and became an ardent Zionist, which he has remained till this day. And that not merely in words. Whenever he can perform a service for the Jews or Palestine he will go out of his way to do so."
===============================
4. Belief in the Lost Tribes Being in the West

Colonel Richard Meinertzhagen (1878-1967) believed the British and western peoples were of Israelite origin, as we related in our article,
Traditions of Israelite Descent in England
http://www.britam.org/countries/england.html
Meinertzhagen was an important figure in early Jewish Zionist history.
Other British believers who layed a similar role included Lt. Colonel John Henry Patterson, DSO (1867 - 1947), and Major-General Orde Charles Wingate, DSO and two bars (1903 - 1944).
All three believed that the British peoples were Israelites and brothers to the Jews.
Today we find a few Identity reprobates who are anti-Jewish. It is worth remembering that people like John Henry Patterson, Richard Meinertzhagen, and Orde Charles Wingate were the rule rather than the exception.
All three of these three were also controversial figures in their own right. Obviously, like everybody else, they had faults of their own and made mistakes. Nevertheless their overall contribution was of the greatest value and that is what counts.
===============================
5. us-israel-strategic-partnership-inspired-by-col-meinertzhagen
by Yoram Ettinger
Published: December 7th, 2014
http://www.jewishpress.com/indepth/analysis/us-israel-strategic-partnership-inspired-by-col-meinertzhagen/2014/12/07/2/
Extracts:
Colonel Richard Meinertzhagen, the Chief Political/Intelligence Officer of the British Mandate in Palestine, inspired the late Senator Daniel Inouye, who laid the foundation for the landmark US-Israel Strategic Partnership Act of 2014, which was overwhelmingly supported by Congress. The Act reflects Israel's increasing and unique strategic contribution to vital US defense and commercial interests, and the mutually beneficial, two-way-street nature of the US-Israel relationship.

Col. Meinertzhagen's Middle East Diary 1917-1956 is as relevant today, for the USA, as it was 80-100 years ago, for Britain, maintaining that a Jewish State would be the most reliable and effective beachhead of Western democracies in an area, which is vital to their critical economic and national security interests.

In 1923, Col. Meinertzhagen stated: 'Britain will not be able to sustain its control of the Suez Canal [1882-1956] endlessly'. [Therefore], I've always considered the Land of Israel to be the key to the defense of the Middle East. When a Jewish state will be established, Britain shall benefit from air force, naval and land bases, as well as Jewish fighting capabilities'. which will secure its long-term regional interests. Unlike the Arabs, Jews are reliable and do comply with agreements. Zionism is the hope for the reconstructed Jewish homeland; it is also a clear strategic benefit to the British Empire. The British policy in the Middle East bets on the wrong horse, when appeasing the Arabs.'

In 1920, he wrote: 'I firmly believe that a sovereign Jewish State shall be established in 20-30 years, militarily assaulted by all its Arab neighbors.' In 1919, he assessed that a long-term, and possibly insoluble, clash between Jewish and Arab nationalism was inevitable. He expected the Jews to prevail due to their impressive military track record in ancient times. Jewish quality would overcome the Arab quantity.

In 1920, Meinertzhagen noted that the root cause of the Arab-Israeli conflict and the Palestinian issue was the Arab obsession with the existence, not merely the size, of a Jewish State, as evidenced by the systematic campaign of anti-Jewish incitement by Arab leaders, especially the Jerusalem Mufti, Haj Amin al-Husseini [the role model for Mahmoud Abbas and Arafat].

... Meinertzhagen opposed British policy, which egregiously violated legally-binding commitments made to Jewish sovereignty over (at least!) the entire area west of the Jordan River, such as the 1917 Balfour Declaration, the 1920 San Remo Conference British Mandate, and the 1922 League of Nations reaffirmation, which was integrated into Article 80 of the 1945 UN Charter. He claimed that British policy was driven by pro-Arab and anti-Semitic sentiments, discriminating against Jewish aspirations, thus radicalizing the Arabs and minimizing the prospects of peace.

Meinertzhagen considered a sovereign Jewish entity a strategic and moral asset, while the Arabs were defined as a strategic and moral liability, urging the British government to ally itself with the reliable and grateful party.

.. In 1949, he referred to the newly-born Jewish State as 'one of the world wonders, and the only positive outcome of the Second World War.'

Noting in 1937 that 'a secure Jewish State would bolster the regional position of Britain,' while 'a splintered Land of Israel would weaken, and possibly, eliminate, the Jewish State,' Meinertzhagen delineated the security lines of the Jewish state [before the intensified unpredictability, instability and threat generated by the Arab Tsunami]: from the Lake of Galilee to the Jordan River, the Dead Sea and the Gulf of Aqaba in the east; from the Gulf of Aqaba to Rafiah (Southern Gaza) in the south; the Mediterranean in the west; and the Litani River (Southern Lebanon) in the north. Meinertzhagen's map was similar to the map of Israel's minimal security requirements, submitted on June 29, 1967 to President Johnson by General Earl Wheeler, the US Chairman of the Joint Chiefs-of-Staff.

Against the backdrop of the 2014 controversy over the Jewish State Law, it is instructive to read that, Col. Meinertzhagen indicated in 1932: 'it is clear that [for the sake of Britain] the Land of Israel will become a Jewish State no less than England is English.'