Descendants of Gomer (1 February, 2015, 12 Shevet, 5775)
Continued from Gomer the Gentile and from Ashkenaz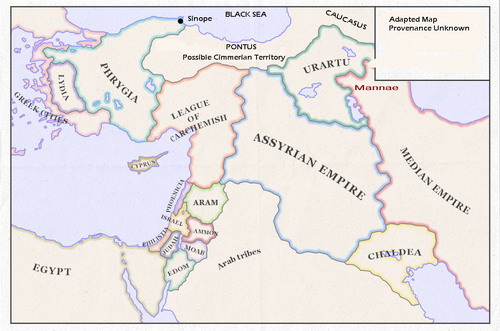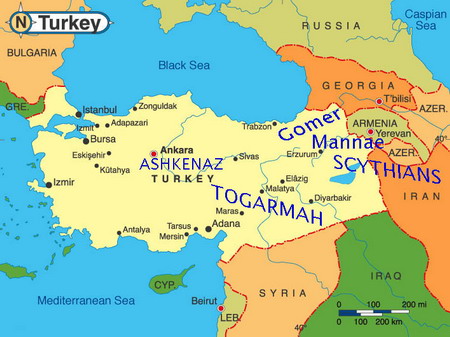 Togarmah the brother of Ashkenaz has been identified with the region of Tilgarimu just north and northeast of Cilicia in southeast Turkey of today. 
The Hitties called this region Tegarama. Later Anatolia (also known as Asia Minor) was conquered by Turkish-speaking groups who imposed their language and aspects of their culture. They became the Turks of Turkey. Physically most of them were descended from the previous inhabitants of the area. Not only that, but the Turkish Tribes themselves who had emerged from Central Asia were also associated with Togarmah. Some of them may even have once emerged from Anatolia and gone northward. Depictions of Ancient Hittites show some to have been of Nordic type appearance, others Armenoid, and still others Mongoloid.

Riphah the brother of Ashkenaz and Togarmah  was placed (Targum Yehonathan)  in Parkvi which is located in the region of Areia east of the Caspian Sea. "Areia" is the Greek rendition of HARA whereto part of the Lost Ten Tribes were taken (1-Chronicles 5;26). Also in the Hara and neighboring region east of the Caspian Sea was Tukharistan and a people called Togar or Tukharian in Classical literature. These names relate to Togarmah and are connected with the  Turks who emerged from Central Asia, as did others.
In this same general area were the Chumaru, the Chomari, and the Komari which names all connect with the Cimmerians and with Gomer.

Later Togarmah was equated with the Turkish peoples.
Togarmah was also identified (see below) with the Phrygians as was Ashkenaz. The Cimmerians (of Gomer) had been in Phrygia.
===============================
Togarmah, Anglo-Saxons, and Khazars.
The Anglo-Saxons also emerged from Turkish areas in Central Asia before moving to the west. They were associated with the Turks in Medieval Mythology. The  Khazars (who were part of the Lost Ten Tribes and related to the Scots, Anglo-Saxons, Finns, and Scandinavians) were subjected to Turkish cultural influences and have WRONGLY been attributed Turkish origins. 
See:  The Khazars were NOT Turks! 
There is a genealogical list attributed to a King of the Khazars and tracing their ancestry to Togarmah. Another version related them to Simeon and Manasseh. We believe this latter version to be the correct one as explained in our work on the Khazars.
see:
The Khazars. Tribe 13
http://hebrewnations.com/publications/books/the-khazars-tribe-13.html
===============================
Togarmah
http://en.wikipedia.org/wiki/Togarmah
From Wikipedia, the free encyclopedia

Ezekiel 38:6 mentions Togarmah together with Tubal as supplying soldiers to the army of Gog. Ezekiel 27:14 mentions Togarmah together with Tubal, Javan and Meshech (Khazars) as supplying horses to the Tyrians.

 Flavius Josephus (37 c. 100 AD) and the Christian theologians Jerome (c. 347 420 AD) and Isidore of Seville (c. 560 636 AD) regarded Togarmah as the father of the Phrygians. Several ancient Christian authors, including Saint Hippolytus (c. 170-c. 236 AD), Eusebius of Caesarea (c. 263 c. 339 AD), and bishop Theodoret (c. 393 c. 457 AD), regarded him as a father of Armenians.
Armenian Moses of Chorene (c. 480) and Georgian Leonti Mroveli regarded Togarmah as the founder of their nations along with other Caucasian people.
Ezekiel 38:6 locates Togarmah "in the uttermost parts of the north."
===============================
Togarmah like Ashkenaz is associated  wtih Phrygia which was to become a Cimmerian (Gomer) area.
We saw from above that Togarmah (like Gomer, Ashkenaz and Riphah) was located in several different places. A certain overlapping is noticed with both Germanic groups and peoples from the Ten Tribes.
==============================
European Designated?
It is worth noting that after the flood the tower of Babel in Babylon became the center of mankind. From there their languages were differentiated and they spread all over the earth (Genesis 11:1-9). In many respects this region may well have remained the world demographic center of gravity for some time.

Peoples to the northwest of Babylon in Anatolia etc, seem later to be found further to the north and west in Central, North, and Western Europe.
Together descendants of Gomer, Ashkenaz, Togarmah, and Riphath,  we also find  Assyrian  settlements, Cannaanite-Hittites, and Edomite groups, along with Exiles from the Ten Tribes of Israel. All these were to become Europeans.
See:
Assyro-Germans  by Ricardo Lopez
http://hebrewnations.com/articles/peoples/germany/assyria.html
==============================
The Turkish-German Connection.

We also saw Togarmah linked to both Germans and Turks.
This may explain the affinity some have noticed between the two nations.
Alexander Zephyr explores this subject in his work, "Psalm 83: A New Discovery," 2014, USA, ch.viii.
https://books.google.co.il/books?id=9VGnBQAAQBAJ&pg=PR33&lpg=PR33&dq=Alexander+Zephyr+in+his+work,+Psalm+83&source=bl&ots=eFsqRSWq-g&sig=cruBl5REpWaVBUyiUamUSf3C0cA&hl=iw&sa=X&ei=_UPLVNH8BoWvUbeQgogB&ved=0CBwQ6AEwAA#v=onepage&q=Alexander%20Zephyr%20in%20his%20work%2C%20Psalm%2083&f=false
Zephyr considers both Germany and Turkey to encompass elements from Edom but the point he makes concerning the closeness between them may also be attributed to mutual origins from the sons of Gomer.
Alexander Zephyr tells us:
#...IN 1790 the Ottoman Empire signed a treaty of peace and friendship with the Kingdom of Prussia. On August 2, 1914, just shortly following the outbreak of World War I, an alliance was formed between the German and Ottoman Empires. ...On June 18, 1941, Turkey and Germany signed a non-aggression pact that lasted until August 1944.....Germany promotes and absorbs vast numbers of  the Turkish Diaspora, which has become, at roughly three million people, the largest ethnic Muslim community. Four million German tourists visit Turkey each year...#
Most Turks in Germany trace their ancestry to Central and Eastern Anatolia, i.e. from the region of Togarmah according to Hittite and Assyrian records.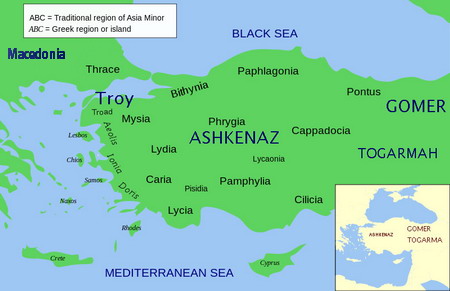 See Also: Riphat the Gomerian