Israelite Children from the TTs Separated and Exiled to Wales??? (17 November, 2014, 24 Cheshvan, 5775)
The Prophet Amos describes children of Israelites separated from their parents and taken away in ships. Phoenician and Philistine allies of the Assyrians took Israelites into captivity to work mining enterprises overseas. This included children to work the Great Orme copper mine in Wales.

Duration: 20.51 minutes. To Read Article Please Scroll Down!


Contents:
1. Introduction
2. The Prophecy of Amos
3. Israelites Overseas as Workers of Mineral Deposits.
4. The Great Orme Copper Mine in North Wales
5. Child Slave Labor
6. The Great Orme and a Tradition of "Jewish" Settlement!
7. Conclusion
Appendix. The Welsh Language and Hebrew
===============================
===============================
1. Introduction
The Ten Tribes of  Israel because of their sins were to be expelled by the Assyrians (2-Kings ch.17). Some of them were taken overseas immediately to the west. Their exile had come upon them as a punishment from God for sinning (2 Kings ch.17.). Amongst the places they went to were the Western "Happy" or "Blessed" Isles meaning those of Britain. The "Islands of the Sea" (Isaiah 11:11) is listed as one of the places of exile. The Assyrians in addition to taking the exiled Israelites to Halah, Habor, the river Gozan, and the cities of the Medes (2-Kings 17:6) and Hara (1-Chronicles 5:26) ALSO exiled a portion of them across the Sea straight to the west.  The Exiles were transported by Phoenicians (Amos 1:9) and Philistines (Amos 1:6-8) working on behalf of the Assyrians.  Mineral deposits in Spain, Brittany (France),  and the British Isles were worked and the mineral harvest was used to fuel the  Assyrian economy. The Exiles included children. In some cases the children were separated from their parents and worked as slaves.  One places were Israelites were sent to was the Great Orme copper mine in Northern Wales.
 ===============================
===============================
2. The Prophecy of Amos
The prophet Amos  foresaw the Ten tribes being exiled. He predicted them being taken overseas as well as overland to the northern reaches of Assyria.

Amos 4:
1 Hear this word, you cows of Bashan
 who are on Mount Samaria,
who oppress the poor, who crush the needy,
who say to their husbands, Bring something to drink!
2 The LORD God has sworn by his holiness:
The time is surely coming upon you,
when they shall take you away with hooks,
even the last of you with fish-hooks.
3 Through breaches in the wall you shall leave,
each one straight ahead;
and you shall be flung out into Harmon,
says the LORD.

COWS OF BASHAN on Mount Samaria means the Ten Tribes whose center was in Samaria and a major section of whom dwelt in Bashan east of the Jordan. They were oppressing the poor to feed their exaggerated life style and would be punished by exile.
They would be taken away with TSINOT translated above as hooks but actually meaning a type of boat. Their posterity  would be exiled in sefirot-dugah meaning fish-boasts or boats named after a fish such as then existed.

THE LAST OF YOU translated in the King James as THEIR POSTERITY [Hebrew: "Acharitcen"] meaning 'their children'. This is more appropriate to the Hebrew and the Classical Commentators such as Targum Yehonatan. The children of the Israelites evidently would be separated from them and sent to serve as slaves in the Phoenician colonies in Spain and the west.
The Phoenicians of Tyre (Amos 1:9) and the Philistines (Minoans) served as proxies (Amos 1:6-8) for the Assyrians and shipped Israelite captives over the sea.

INTO HARMON. This is understood to mean the region of Mannae (Targum Yehonatan) or just beyond it in the Caucasus region (in "Hari Choshek," Rashi). These were areas the Israelites are known to have been exiled to otherwise referred to as 'Halah,  Habor, the river of Gozan, and Cities of the Medes' (2-Kings 17:6). The Israleites were indeed sent to these regions and from there moved to Europe, but in addition to that there were also those who had been transported directly across the sea to the west.
===============================
===============================
3. Israelites Overseas as Workers of Mineral Deposits.

That there was such a re-settlement of Israelites in Spain in the period under consideration is proven by archaeological and other evidence. Together with Spain parts of Gaul and Britain were also settled with Israelites at that time.  Archaeological evidence, historical writings, and the Chronicles of Eri, all testify to exiled Hebrews having been forced by the Phoenicians to work in the silver mines of Spain. Additional evidence says that the same applied to the tin mines of Cornwall as well as the gold and copper deposits of Ireland.
Some of the Israelite Exiles in Assyria were well treated and rose to high positions. Others however were used as slave labor and we have an Assyrian depiction of Hebrew slaves working in a quarry.  Conditions may well have varied from one area to another. Israelite children were used as child miners in Northern Wales!
===============================
===============================
4. The Great Orme Copper Mine in North Wales

In North Wales there existed the Great Orme copper mine. 
# It has been estimated that 1,800 tons of copper ore were lifted out of the Great Orme by the prehistoric Britons, most likely to be smelted down and alloyed with tin to make bronze, a harder and more practical metal. The tin would have been from Cornwall, pointing to a strong trading culture within Britain at the time. #

# It quickly became clear that the Great Orme was the location for massive extraction of valuable copper ore by Bronze Age Britons. The tunnels and caverns opened in the excavations included huge hall-sized spaces down to tiny cracks through which only children could squeeze. #

The Great Orme was worked with granite, stone, antler bone tools, "lit by animal fat candles and certainly involving children as miners ..."
# The site was worked for a period of up to a thousand years creating a vast array of tunnels, some so small they could have only been dug out by children around 5 or 6 years old. #
Galen Fry tells us concerning the Great Orme:
http://www.galenfrysinger.com/wales_copper_mine.htm
# ... probably the worlds largest prehistoric underground excavation...

# The mines were abandoned in 600 BC and not worked again until 1692.

# It has been estimated that up to 1.769 tons of copper metal was extracted from the Great Orme mine during the Bronze Age. Some of this copper was used for ornamental purposes but on its own is too soft for tools and weapons. Mixed with 10% tin, copper gives bronze: a tougher metal that can be poured into moulds and hardened by hammering with stone. .Axes were probably the most commonly made bronze objects and the amount of metal extracted would have permitted the manufacture of over 10 million of them. It is quite possible that the Great Orme was producing such a surplus of copper that it might even have been exported outside of Britain. Perhaps the most remarkable aspect of this bronze production is that the tin must have come from Cornwall. involving a round trip of over 500 miles. #
===============================
===============================
5. Child Slave Labor

Child labor in the Great Orme was used extensively and they may well have constituted the bulk of workforce.

We saw above that Amos 4:2 spoke of the "Posterity" meaning the Children of the Hebrews from Bashan and Samaria being taken away in fish-boats (sirot-dugah). This was a type of large ship known from Cyprus.  They were separated from their parents and shipped overseas.

We have parallels to this in Jewish History.
# Another tragedy befell the Jewish community in 1493, when the King [of Portugal] ordered the separation of Jewish children from their parents. Seven hundred children were sent to the newly discovered island of Sao Tome, off west coast of Africa. #
http://www.jewishvirtuallibrary.org/jsource/vjw/Portugal.html
We also have the case of the Netherlands after WW2 where more than 300 Jewish children were kept away from other Jews by order of the Dutch Government and brought up as Christians. Since Holland was the only friend the State of Israel had at the time nothing much was done about it. Was this the equivalent of a human sacrifice?

At all events numerous similar cases are known throughout Jewish History.

If a similar fate befall a portion of the Ten Tribes then it is easy to see that within a generation all remembrance of Israelite Ancestry may already have been lost.

Were the child exiles taken to Wales where the largest copper mine in the Ancient World was worked by tens of thousands of child slaves?
===============================
===============================
6. The Great Orme and a Tradition of "Jewish" Settlement!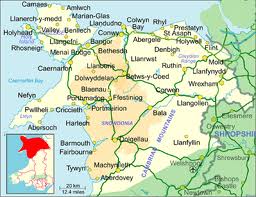 The Great Orme by the sea is across a bay  from Castell Caer Seion (Conwy). A few hundred meters separate the two.
Castell Caer Seion in Welsh tradition had been a settlement of Jews.

Extract from:

When Wales was Jewish
http://dnaconsultants.com/_blog/DNA_Consultants_Blog/post/When_Wales_Was_Jewish/
Significantly, Welsh tradition associates the Iron Age hilltop town on Conwy Mountain known as Castell Caer Seion with a settlement of ancient Jews. This site overlooks Conwy Bay on the north coast of Wales and lies on the ancient road between Prestatyn in Denbighshire and Bangor in Gwynedd opposite Angelsey.  In the Black Book of Caermarthen, the Welsh national bard Taliesin casually remarks in the persona of the battling hero,

When I return from Caer Seon,

From contending with Jews,

I will come to the city of Lleu and Gwidion.

William F. Skene, The Four Ancient Books of Wales (Edinburgh, 1868, republished 2007 by Forgotten Books) 206.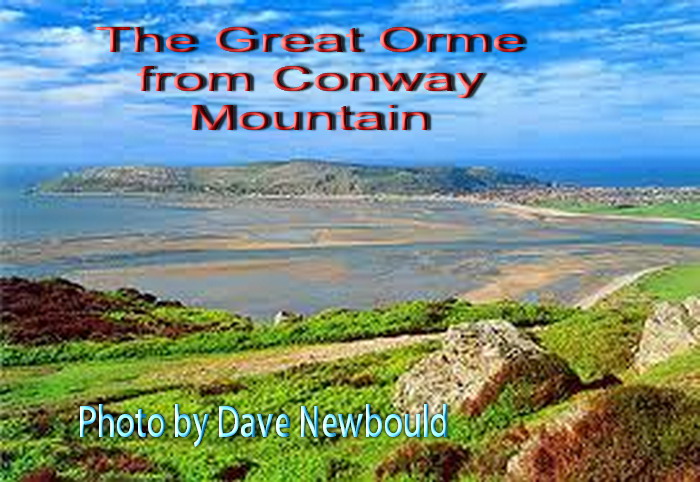 Source of Picture:
http://www.davenewbould.co.uk/postcards%20gallery%2016/The%20Great%20Orme%20from%20Conwy%20Mountain.htm

Caer Seion, Conwy Mountain
http://www.heneb.co.uk/conwyhillforts/conwymtn.html
Caer Seion is a large and strong hill fort. Excavations were carried out in 1951 but did not produce any dating evidence. However, it is believed to have been occupied during the Middle to Late Iron Age, about 300 BC to 1st century AD and it seemed likely that the fort was abandoned when the Romans conquered North Wales in 78 AD. The fort had a commanding position overlooking Conwy Bay and estuary and over the ancient trackway that followed the coastal ridge, continuing westwards towards Anglesey. The next nearest strong forts and possibly tribal centres are at Pen-y-dinas on the Great Orme, Pen-y-gaer above Llanbedrycennin and Braich y Dinas above Penmaenmawr.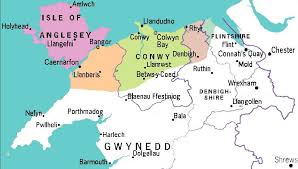 ===============================
===============================
7. Conclusion
The Israelites were exiled to the west. They were used to work in mines. Their children had been separated from them, shipped to the west,  and used as slaves.
About this same time we find in Wales a vast mining enterprise manned by slave children and a tradition of "Jewish" settlement in the area. The term "Jewish" in general terminology does not mean only those from Judah BUT ALSO anyone from any of the other tribes. The nearby Isle of Anglesey was later to be considered for the Druid religion that combined elements of the Israelite Faith and Canaanite superstitions.
We may not have conclusively proven anything for the present but the indications definitely are there.
==============================
===============================
Appendix. The Welsh Language and Hebrew

Note only the Great Orme and County Conwy but much of the rest (perhaps all) of Wales was also settled by Hebrews.
This is reflected in the language.

The Welsh national bard Taliesin (ca. 600 CE?) is elsewhere quoted as saying that the language he spoke in was Hebrew.
The idea that Welsh was at least partly derived from Hebrew has been cicrulating for more than 400 years. Hundreds, possibly thousands of books and booklets have been written and published on the subject.
Some of them are discussed in the work,

"Comparing Welsh-Hebrew" by Karel Jongeling (Netherlands, 2000).

The book is very technical but appears to point to the following conclusions:
Linguistically:
All Celtic languages (the British Isles, France, maybe parts of Germany)
were preceded by an "Afro-Asiatic" substratum similar to Egyptian.
In the British Isles there was a direct Hebrew element which is especially apparent in Welsh.
In addition the overriding layer of the language was Eastern Indo-European
similar to tongues that once existed in Iran, Turkey, and Russia.
This layer was probably derived from historical contact.

 Karel Jongeling at the end of his work says that he himself does not believe in a connection between Welsh and Hebrew.
The impression from what he wrote, in my opinion, would lead one to the opposite conclusion, i.e. that there must be something there.
The work by Jongeling was published by an academic institution. He himself is widely respected as a scholar.  His work is well regarded. He is employed by a leading university in the Netherlands.
If he had said what the evidence in his book could suggest, that there is a link between Welsh and Hebrew, we may guess what may have happened.

Cyrus Herzl Gordon (1908 - 2001), was an American scholar of Near Eastern cultures and ancient languages.

# Gordon is well known for his books on Ugaritic, the ancient language of 14th century (BC/BCE) coastal Syria, which were first published 1940 and he played a key role in deciphering that language. #
He also wrote a number of popular works.
Towards the end of his life he gave support to beliefs that the Ancient Hebrews and others had  spread their  influence  farther and wider than was generally supposed.
In an Oral Communication to the linguistic pioneer, Isaac Mozeson, he said that there was a limit to what he could say.
If he were to diverge too far from the accepted academic consensus, he said, the career of his students might be endangered. These had obtained their degrees under his tutelage and direction and were therefore dependent on him not rocking the boat overduly.

What we said about Welsh is also apparently pertinent to Irish.
Chronicles of Eri
From Wikipedia, the free encyclopedia
http://en.wikipedia.org/wiki/Chronicles_of_Eri
O'Connor's book title describes his scrolls as being in the "Phoenician dialect of the Scythian language". Little of his chronicle may be read without it being apparent that the language he awkwardly alludes to is Gaelic. The chronicle claims that Gaelic was spoken throughout Celtic Europe, this is now recognised by linguists who use Gaelic to interpret Celtic era place-names which are quite homogeneous over a large area of Europe, in line with classical claims of regional dialects of an essentially single Celtic language, now sometimes recalled as common Celtic. The chronicle claims Phoenician traders were not only able to understand this language, but that in fact it was them behind its spread. The old Gaelic for Gaelic is Bearla Feine or the Phoenician tongue.
The Phoenicians spoke a dialect of Hebrew.

Yair Davidiy adds:

Unfortunately I have learnt neither Welsh nor Irish though one day I may do so.
Apart from comparing a few words here and there our own comments on these matters must be limited.

See Also:
Hebrew Linguistic Traits in Welsh
http://britam.org/language.html

Origin of the Name "Wales". A New Appreciation
http://www.britam.org/WalesName.html

Don and Bile. The Welsh Version of their Origins
http://britam.org/traditions4.html