The Blessings Given to Edom (9 March, 2015, 18 Adar, 5775)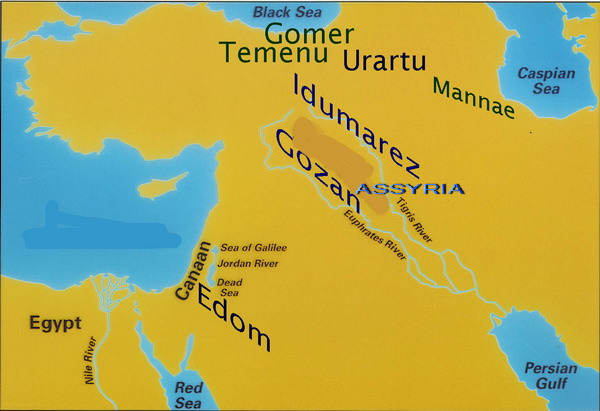 The Bible (Genesis chapters 25, 27) tells us about the twins Esau and Jacob. While they were still in the womb they struggled against each other. Their mother Rebecca was told that two nations would be born. They would separate and struggle against one another. The elder would serve the other as the natural order of things but there would be times when the situation was to be reversed.

[Genesis 25:23] AND THE LORD SAID UNTO HER, TWO NATIONS  ARE  IN  THY WOMB, AND TWO MANNER OF PEOPLE SHALL BE SEPARATED FROM THY BOWELS; AND THE ONE PEOPLE SHALL BE STRONGER THAN THE OTHER PEOPLE; AND THE ELDER SHALL SERVE THE YOUNGER.

# THE ELDER SHALL SERVE THE YOUNGER #: In Hebrew "Rav [the elder] ya-avod [shall serve] Tsair [the younger]" BUT (as pointed out by several Commentators quoted by Yehudah Kiel) it could ALSO be understood to say "Rav [the elder] ya-avod [shall be served by] Tsair [the younger]". Both translations are correct and both were pertinent! E1
E1 [This is because the needed definitive element "et" is not found in the sentence before the word "Tsair" [the younger]. "et" has no equivalent in English but with the Hebrew conjunction "ve" (we) it forms "ve-et" (pronounced in Ancient Times as "we-eth") which gave rise to the English word "with"].
The Commentators say that both interpretations are correct and refer to different periods and varying  situations. If Israel merits and fulfills its destined tasks Israel will rule over others. If Israel does not do as it should it is liable to be ruled over by Esau or his agents. This is not necessarily morality but rather reality.

[Genesis 25:25] AND THE FIRST CAME OUT RED, ALL OVER LIKE AN HAIRY GARMENT; AND THEY CALLED HIS NAME ESAU.

He was reddish (Admoni) and so was King David (1-Samuel 16:12, 17;42). They both had the warrior quality of bloodshed but David was to direct this quality to the service of God. Esau would not.

[Genesis 25:27] AND THE BOYS GREW: AND ESAU WAS A CUNNING HUNTER, A MAN OF THE FIELD; AND JACOB WAS A PLAIN MAN, DWELLING IN TENTS.
Esau was more of the he-man type in our way of thinking.  Famous Gentiles (whom we consider to be descendants of the Lost Ten Tribes in the west) such as Colonel John Patterson were renowned hunters.  Colonel John Henry Patterson (1867-1947) was a pioneer Christian Zionist, commander of the Jewish Legion, British colonial soldier and administrator, author and friend of Zionist leaders. There was also Orde Wingate a British officer who helped train Jewish settlers in "Palestine" to defend themselves effectively against Arab predators. Wingate helped lay the foundations for Israeli military doctrine and methods.  In his earlier days,  while in England, Wingate had dedicated a great deal of time and energy in hunting with the hounds. He explained that the hunt taught him to acquire a feel for the lay of the land and the hard riding of the hunt imbued him with courage. He used the hunt to train himself to be a better soldier and leader of others. Hunting was always very popular with the British upper classes. Jews on the other hand very seldom became hunters. Hunting with dogs is apparently 'forbidden'  ( Shulchan Aruch, Orach Chaim 316:2; Rabbi Shneur Zalman of Liadi, Shulchan Aruch HaRav, ibid. 316:3).
See:
The Jewish View on Hunting for Sport by Baruch S. Davidson
Nevertheless,  professional Jewish hunters are recalled in the Talmud.
Genesis 25:29-34 relates how Esau returned one day tired and hungry from the hunt. He requested a meal of red lentils that Jacob had prepared and that Jacob pour it down his throat (Genesis 25:30). Jacob agreed in return for the right of the Firstborn which Esau technically had gained by being the first to emerge from the womb.  This was another reason why Esau was called Edom i.e. "Red" because of the red lentils he received in exchange for his birthright.

[Genesis 25:34] THEN JACOB GAVE ESAU BREAD AND POTTAGE OF LENTILES; AND HE DID EAT AND DRINK, AND ROSE UP, AND WENT HIS WAY: THUS ESAU DESPISED HIS BIRTHRIGHT.

Genesis 27:1 tells us that Isaac, the father of Jacob and Esau, had become old and blind. He asked Esau to take his weapons, his quiver and bow and go out to the field and hunt deer.  Isaac intended to partake of a meal that Esau would prepare for him and then impart a blessing on Esau. Rebecca heard the request of Isaac. She persuaded Jacob to cloth himself in goats skin, pretend he was Esau and to receive the blessing from Jacob in place of Esau. Jacob did so. Jacob had scarcely left Isaac when Esau came in. Both Isaac and Esau realized what had happened. Isaac confirmed the blessing to Jacob , YEA, AND HE SHALL BE BLESSED (Genesis 27:33).  Esau cried out very loudly and pleaded for a blessing (Genesis 27:34).
Isaac replied that Jacob had been made the master of all his kinfolk (including Esau) and been given a promise of great material bounty.

[Genesis 27:37] AND ISAAC ANSWERED AND SAID UNTO  ESAU, BEHOLD, I HAVE MADE HIM THY LORD, AND ALL HIS BRETHREN HAVE I GIVEN TO HIM FOR SERVANTS; AND WITH CORN AND WINE HAVE I SUSTAINED HIM: AND WHAT SHALL I DO NOW UNTO THEE, MY SON?

Esau wept and begged again so Isaac blessed him.

[Genesis 27:39] AND ISAAC HIS FATHER ANSWERED AND SAID UNTO HIM, BEHOLD, THY DWELLING SHALL BE THE FATNESS OF THE EARTH, AND OF THE DEW OF HEAVEN FROM ABOVE;
[Genesis 27:40] AND BY THY SWORD SHALT THOU LIVE, AND SHALT SERVE THY BROTHER; AND IT SHALL COME TO PASS WHEN THOU SHALT HAVE THE DOMINION, THAT THOU SHALT BREAK HIS YOKE FROM OFFÂ  THY NECK.
[Genesis 27:41] AND ESAU HATED JACOB BECAUSE OF THE BLESSING WHEREWITH HIS FATHER BLESSED HIM: AND ESAU SAID IN HIS HEART, THE DAYS OF MOURNING FOR MY FATHER ARE AT HAND; THEN WILL I SLAY MY BROTHER JACOB.

Esau was promised fertile salubrious lands to dwell in. He was to become a warrior nation and use his sword to rule over others and exploit them. He would be ruled over at times by Jacob but then towards the end he would rebel and assert himself.
 # There is no victory in war without the presence of descendants of Esau # (Talmud, Gittin 57;b on Genesis 27:22).
Esau is here promised a fertile place to dwell in. The Talmud says that at one stage this was Magna Greacia or Southern Italy which was once very fertile (cf. Rashi on Genesis 27:39). It still is but the once thick forest cover on the mountain  has been cut down ages ago and soil erosion has depleted much of the rest. From Magna Greacia the sons of Esau moved on. They helped found the Roman Empire.  They were also to be found amongst the Germanic nations and other peoples.  Before then Edomites had been prominent in the hierarchies of Babylon, Ugarit, Assyria, and Phoenician Tyre.
Some Christian commentaries say the verse (Genesis 27:39) should be read: THY DWELLING SHALL BE [far away from] THE FATNESS OF THE EARTH. This is a mistake.
We shall discuss the source of this explanation and counter arguments in support of it. After that we shall return to a consideration of Edom, his characteristics, and his progeny.
Continued at:  A Fertile Land.  Was Edom Blessed with Fatness of the Land or AWAY from it?