A Description of the Present? Immorality, Pollution, Ecological Disaster, Idolatry in Unification? The Name of Ephraim in the Mountains of Samaria as seen by Satellite, Photo
See Also: A Warning to Ephraim

Hosea, the study of chapter 4
The Study of Hosea
by Yair Davidiy
Hosea chapter four: Suggestions
Chapter four is one unit. It is concentrating on the northern Tribes who became "lost." All the prophets prophesied for their own time (or close to it) and for future generations and all of them prophesied concerning the Messianic era. Prophecy can therefore be legitimately read on several levels. Please read the prophecy and comments below with our own period in mind.
[Hos 4:1] Hear the word of the LORD, ye children of Israel: for the LORD hath a controversy with the inhabitants of the land, because there is no truth, nor mercy, nor knowledge of God in the land.
[Hos 4:2] By swearing, and lying, and killing, and stealing, and committing adultery, they break out, and blood toucheth blood. Northern Israelites always had an inclination to violence and immorality.
[Hos 4:3] Therefore shall the land mourn, and every one that dwelleth therein shall languish, with the beasts of the field, and with the fowls of heaven; yea, the fishes of the sea also shall be taken away.
[Hos 4:4] Yet let no man strive, nor reprove another: for thy people are as they that strive with the priest. -needs clarification.
[Hos 4:5] Therefore shalt thou fall in the day, and the prophet also shall fall with thee in the night, and I will destroy thy mother.
[Hos 4:6] My people are destroyed for lack of knowledge: because thou hast rejected knowledge, I will also reject thee, that thou shalt be no priest to me: seeing thou hast forgotten the law of thy God, I will also forget thy children.
The Hebrew implies, "I will despisingly-reject you from [continuing to] officiate [as a priest] for me" and it is seemingly addressed to all the people of northern Israel. This shows that they had been intended to play a role as being in some way ministers of the Divine Purpose on a national level.
[Hos 4:7] As they were increased, so they sinned against me: therefore will I change their glory into shame. They were increased and they had glory.
[Hos 4:8] They eat up the sin of my people, and they set their heart on their iniquity.
[Hos 4:9] And there shall be, like people, like priest: and I will punish them for their ways, and reward them their doings.
[Hos 4:10] For they shall eat, and not have enough: they shall commit whoredom, and shall not increase: because they have left off to take heed to the LORD.
[Hos 4:11] Whoredom and wine and new wine take away the heart.
4:12] My people ask counsel at their stocks, and their staff declareth unto them: for the spirit of whoredoms hath caused them to err, and they have gone a whoring from under their God. "My people ask counsel at their stocks" [Hosea 4:12]: The Hebrew says, "My people will inquire of their tree" or "from their wood." : "and their stick tells them." According to Herodotos, The Scythians used sticks for divining purposes. The exiled israelites became identified with the Scythians. The Christian crucifix may also be intended.
[Hos 4:13] They sacrifice upon the tops of the mountains, and burn incense upon the hills, under oaks and poplars and elms, because the shadow thereof is good: therefore your daughters shall commit whoredom, and your spouses shall commit adultery.
[Hos 4:14] I will not punish your daughters when they commit whoredom, nor your spouses when they commit adultery: for themselves are separated with whores, and they sacrifice with harlots: therefore the people that doth not understand shall fall.
[Hos 4:15] Though thou, Israel, play the harlot, yet let not Judah offend; and come not ye unto Gilgal, neither go ye up to Bethaven, nor swear, The LORD liveth. I do not understand this verse but it shows that Judah is not being spoken of here. Bethaven is near Bethel. Besides Bethel the mountain silhouettes form the name of God (as seen from a satellite) and to the north they form the name of Ephraim. I received this knowledge from Dell Griffin who got it from a Vendyl Jones publication.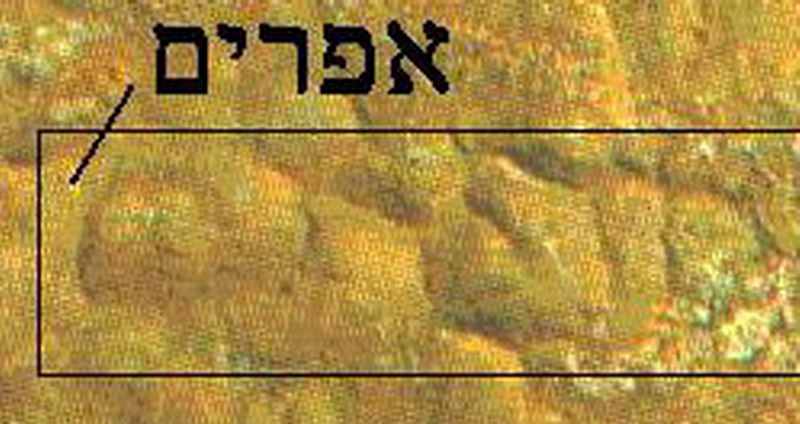 http://www.britam.org/testimonyinrock.html

[Hos 4:16] For Israel slideth back as a backsliding heifer: now the LORD will feed them as a lamb in a large place.
[Hos 4:17] Ephraim is joined to idols: let him alone. "Ephraim is joined to idols" in Hebrew, "Havur Etzavim Ephraim " which has a double meaning also implying "Ephraim is a union of idols." The Rabbis said that the verse hinted at Ephraim being unified even though they were idolaters and by virtue of this unity (says the Talmud) he is still formidable, "Let him alone."
[Hos 4:18] Their drink is sour: they have committed whoredom continually: her rulers with shame do love, Give ye.
[Hos 4:19] The wind hath bound her up in her wings, and they shall be ashamed because of their sacrifices.