Avoid Suffering
To subscribe to our mailing list: Send an E-Mail with the word "SUBSCRIBE"
  Duration: 27.16 minutes.
The Prophet Isaiah (Isaiah a chapter 8) speaks of the coming Exile of the Ten Tribes. Both Judah and the Ten Tribes are warned about their behavior. The Prophecy applied to both the time of Isaiah and to our own generation. We are warned against false beliefs. We all need to heed Rabbinical Sages concerning matters pertinent to us.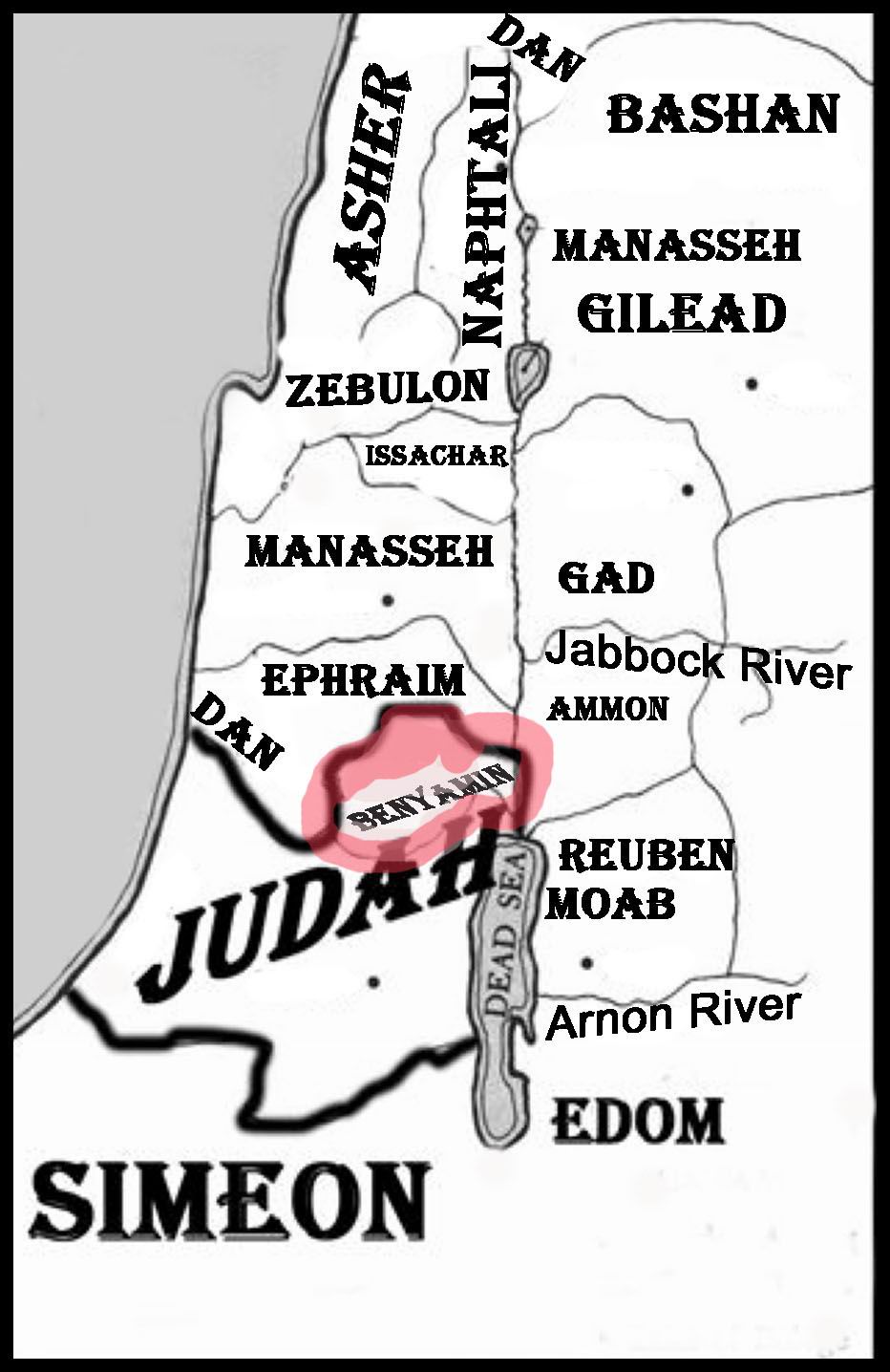 Summary:  Isaiah was told to take a writing tablet and write words before witnesses indicating the speed of the coming events involving the fall of Ephraim (8:1). He also begat (by his wife who was a prophetess in her own right) a child to whom he bestowed the same indicative expression he had written. The events were to take place before the child learned to say "Daddy" or "Mummy" (8:4). The attack of Assyria would be like an overflowing flood that would also involve a good portion of Judah (8:8). Even so, despite the antagonism of foreign nations God will be with Judah (8:10). We are warned against belief in "Conspiracy" Theories (8:12). We must fear God only (8:13). He is "The Great Conspirer in the Sky". He judges both Houses of Israel (8:14). God dwells on Mount Zion (8:18). Draw close to Jewish Sources. Do not go to spiritualists, witch doctors, and the like for they are involved with death whereas our God is the God of Life (8:19). They who put their faith in entities other than God will be disappointed and will end up cursing the other entities (8:21).
Isaiah (NKJV) 8:
1 Moreover the LORD said to me, 'Take a large scroll, and write on it with a man's pen concerning   Maher-Shalal-Hash-Baz.'   
The two words MAHER- ( = quickly, hasten) SHALAL- (booty, loot) mean the same as HASH-BAZ.  Hash is synonymous with Maher. Shalal means the same as "Baz."
In other words it is as if  it was being said, "Be Quick, Take Booty! Quickly Take Booty!"
2 And I will take for Myself faithful witnesses to record, Uriah the priest and Zechariah the son of Jeberechiah.
3 Then I went to the prophetess, and she conceived and bore a son. Then the LORD said to me, "Call his name Maher-Shalal-Hash-Baz";
His wife apparently was a prophetess.
4 for before the child shall have knowledge to cry, 'My father'  and 'My mother,' the riches of Damascus and the spoil of Samaria will be taken away before the king of Assyria.'
This is what happened.
Judah was being attacked by all the kingdoms around including Philistia (the Philistines), Edom in-the-south, Edom-in-Aram, Aram, AND Israel (2-Kings15: 37). The inhabitants of Judah were being driven out of their townships and in some cases taken into captivity.

2-Chronicles 28 tells us how in the time of Ahaz Judah was attacked by Aram (Syria) and a large number of captives were taken to Damascus. After that Judah was also attacked by "Israel." The northern Israelites killed 120,000 warriors of Judah and took 200,000 women and children captives to Samaria the capital of Israel (2-Chronicles 28:5-6). After that the men of Samaria relented and sent the captives back to Judah (2-Chronicles 28:5-6).

In continuation Judah was invaded by Edomites and Philistines both of whom took captives from Judah. Ahaz sent treasures to the King of Assyria, Tigliathpileser, asking for help but did not receive it (2-Chronicles 28:16-21).
After the above events Aram and the Ten Tribes of Israel wished to build a confederation against Assyria. They intended to conquer Judah intending to incorporate it within their own forces. They attacked Judah. The Aramaeans included Edomites. The Aramaeans and Edomites took Elath in the south of Judah, drove out the Judaeans, and re-settled it.

The Kingdom of Israel that was joining itself up with foreign non-Israelite peoples to attack Judah.
 Judah appealed to Assyria and was helped by it. The Aramaians of Damascus were conquered and exiled. [Damascus in the Bible was not necessarily (in every case mentioned) the place known as Damascus today but another area more to the north.] The Assyrians subdued Israel which became a tributary of Assyria.
2-Kings (NKJV) 16:
 7 So Ahaz sent messengers to Tiglath-Pileser king of Assyria, saying, I am your servant and your son. Come up and save me from the hand of the king of Syria and from the hand of the king of Israel, who rise up against me. 8 And Ahaz took the silver and gold that was found in the house of the LORD, and in the treasuries of the kings house, and sent it as a present to the king of Assyria. 9 So the king of Assyria heeded him; for the king of Assyria went up against Damascus and took it, carried its people captive to Kir, and killed Rezin.
After Syria (Aram) had been exiled the Assyrians subjected northern Israel to tribute.

Later, the northern Kingdom of Israel rebelled against Assyria. Consequently the Assyrians conquered Israel and in three main stages exiled all of its inhabitants. The exiled Israelites eventually lost awareness of their ancestry and became known as "The Lost Ten Tribes of Israel."
2-Kings (NKJV) 17:
 1 In the twelfth year of Ahaz king of Judah, Hoshea the son of Elah became king of Israel in Samaria, and he reigned nine years. 2 And he did evil in the sight of the LORD, but not as the kings of Israel who were before him. 3 Shalmaneser king of Assyria came up against him; and Hoshea became his vassal, and paid him tribute money. 4 And the king of Assyria uncovered a conspiracy by Hoshea; for he had sent messengers to So, king of Egypt, and brought no tribute to the king of Assyria, as he had done year by year. Therefore the king of Assyria shut him up, and bound him in prison.
 5 Now the king of Assyria went throughout all the land, and went up to Samaria and besieged it for three years. 6 In the ninth year of Hoshea, the king of Assyria took Samaria and carried Israel away to Assyria, and placed them in Halah and by the Habor, the River of Gozan, and in the cities of the Medes.
2 Kings 17:23
 ... until the LORD removed Israel out of His sight, as He had said by all His servants the prophets. So Israel was carried away from their own land to Assyria, as it is to this day.

1-Chronicles (NKJV) 5:
 26 So the God of Israel stirred up the spirit of Pul king of Assyria, that is, Tiglath-Pileser king of Assyria. He carried the Reubenites, the Gadites, and the half-tribe of Manasseh into captivity. He took them to Halah, Habor, Hara, and the river of Gozan to this day.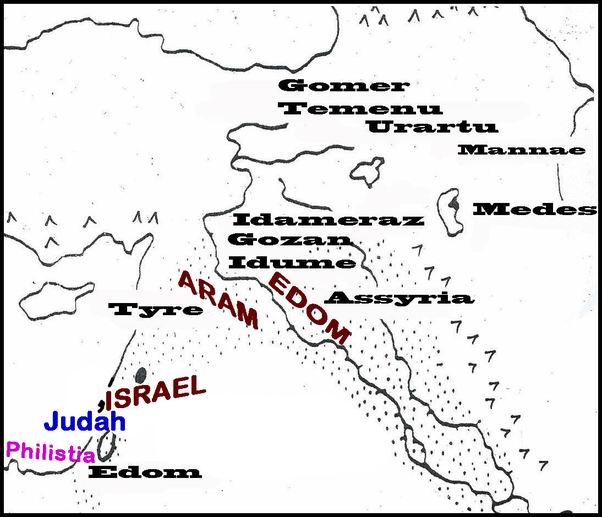 Map of relevant areas in the Middle East. Note Philistia (Philistines), Judah, and Edom in the southwest. Note also Aram and an additional area of Edom west of Assyria. Areas to the north such as Assyria, Idume, Gozan, Medes, Mannae, Urartu, were places the Ten Tribes were to be found in after their Exile by the Assyrians.
Isaiah continues:
Isaiah 8:
5 The LORD also spoke to me again, saying:

6 Inasmuch as these people refused
The waters of Shiloah that flow softly,
And rejoice in Rezin and in Remaliahs son.
There were people in Judah who wanted to join with northern "Israel" and see the Jewish state of Judah disappear. God did not want this.
In the same way there are people in the present State of Israel who would like the Jewish character of its citizens to disappear and be replaced with a secular Western type of outlook. 
Isaiah 8:
7 Now therefore, behold, the LORD brings up over them
The waters of the River, strong and mighty
The king of Assyria and all his glory;
He will go up over all his channels
And go over all his banks.
8 He will pass through Judah,
He will overflow and pass over,
He will reach up to the neck;
And the stretching out of his wings
Will fill the breadth of Your land, O Immanuel.
The Assyrians took into captivity all of the Northern Kingdom as well as a good portion of the people of Judah. The Lost Ten Tribes also therefore included many from Judah. On the other hand the entity known as "Judah" came to include refugees  from the northern kingdom. These were a small minority that had escaped or remained and joined itself to Judah. Nevertheless the present-day Jews now include minority elements of all the 12 Tribes even though the Tribes of Judah, Benjamin, and Levi are dominant.
Isaiah 8:
9 Be shattered, O you peoples, and be broken in pieces!
Give ear, all you from far countries.
Gird yourselves, but be broken in pieces;
Gird yourselves, but be broken in pieces.
10 Take counsel together, but it will come to nothing;
Speak the word, but it will not stand,
For God is with us.

11 For the LORD spoke thus to me with a strong hand, and instructed me that I should not walk in the way of this people, saying:

12 Do not say, A conspiracy,
Concerning all that this people call a conspiracy,
Nor be afraid of their threats, nor be troubled.
A large proportion of people today believe in  "Conspiracy" Theories of some sort or other. To some degree there may be something in these but very often the underlying ideaology of those who propagate such theories is highly questionable and negative in intention.
Isiah 8:
13 The LORD of hosts, Him you shall hallow;
Let Him be your fear,
And let Him be your dread.
We should all pray more, learn Torah and the Bible, improve ourselves, help others, do repentance, etc.
If we all decide to make an effort in the right direction some good should come out of it and sometimes even a little good can go a long way.
Isaiah 8:
14 He will be as a sanctuary,
But a stone of stumbling and a rock of offense
To both the houses of Israel,
As a trap and a snare to the inhabitants of Jerusalem.

 Judah and "Israel" have to improve themselves. Sometimes the Two Houses are referred to as entirely separate entities and at other times as sharing a common destiny for good or bad. At a higher level in a sense they are united.

15 And many among them shall stumble;
They shall fall and be broken,
Be snared and taken.'

16 Bind up the testimony,
Seal the law among my disciples.
17 And I will wait on the LORD,
Who hides His face from the house of Jacob;
And I will hope in Him.

Everyone is human. We are all liable to despair. Giving up is often a major cause of sinning. You begin to think there is no longer any point in waiting for what you want to come to you legitimately. A person can begin to think that if you do not take it now you may not have it ever. This is a mistake. Often when we slip up in this way we soon realize that what we took was not really worth it. If we had have waited we would have benefited. We should daily strive to strengthen our belief in God and in the fact that the Almighty watches over us and wants our benefit and the benefit of our families and peoples.
Isaiah 8:
18 Here am I and the children whom the LORD has given me!
We are for signs and wonders in Israel
From the LORD of hosts,
Who dwells in Mount Zion.
 God speaks to us every day. We have to learn to listen.  Draw close to Jewish Sources.  We do not advocate that members of the Ten Tribes convert to Judaism. They should however be open to Rabbinical insights in understanding Scripture. The Almighty in HIS OWN TIME AND WAY will bring about the eventual reconciliation and re-unification between Judah and Joseph.
Isaiah 8:
19 And when they say to you, 'Seek those who are mediums and wizards, who whisper and mutter,' should not a people seek their God? Should they seek the dead on behalf of the living? 20 To the law and to the testimony! If they do not speak according to this word, it is because there is no light in them.
According to the Commentary "Daath Mikra" (based on sources) this message was delivered both to the exiled northern Tribes and to Judah. The head of the Tribe of Reuben (Prince Beeri) who was exiled with members of his Tribe is believed to have had had the gift of prophecy. He was the father of the Prophet Hosea. The message of Isaiah in these verses is an injunction not to adopt pagan beliefs and not to seek contact with the dead.
Keep away from seances and all such matters.
Isaiah 8:
21 They will pass through it hard-pressed and hungry; and it shall happen, when they are hungry, that they will be enraged and curse their king and their God, and look upward.
They will worship false gods and when these do not deliver the "goods." When disaster strikes they will curse those gods.
Isaiah 8:
22 Then they will look to the earth, and see trouble and darkness, gloom of anguish; and they will be driven into darkness.
Suffering causes people to be tested. Suffering should be avoided. God does not want us to suffer needlessly. You should not inflict suffering on yourself. You should look after your health and that of your family and only do things that are positive in intention. Depression is dangerous. At the same time you should know that Aristotle (quoted by Maimonides with approval in this case) said that all great men had a tendency towards depression. The trick is to channel energies constructively. To build and not destroy and overcome resentments that are often not really justified. Try not to see offences especially where none was intended. The Bible helps. God speaks to you through HIS Book.

A new source has just come to our attention. This may be of some interest:

The Strange Side of Jewish History
http://strangeside.com/ten-tribes-2/
Yated Neeman's Jewish history

Abridged and slightly altered in:
Joseph and the 10
A Rabbinical Source. Rabbi Shmuel Bornstein of Sochotchov (1856-1926)
http://hebrewnations.com/articles/rabbi/shmuel.html

Extract:

Why did the Ten Tribes split off from Malchus Bais Dovid and found their own kingdom?

YOSEF'S DREAM

...This was when Yosef revealed his dreams to his brothers, informing them that he would one day be king.... Yosef was not only predicting that he would be viceroy of Egypt but also that his descendants would be kings in Eretz Yisroel.

Yosef's kings would work in parallel with the DYNASTY OF DAVID  in bringing God's sovereignty and sanctity down to the world. Their task would be to rid the world of the negative impact of evil as [the Midrash] Bereishis Rabba (73) predicts, "Esau will not fall except by the hands of the Children of Rachel." [Rachel was the wife of Jacob and mother of Joseph and Benjamin.]

Then, once evil was eradicated, the kingdom of Yehudah would build the Temple and bring the Divine Presence to the world.

This idea is supported by the Zohar [Zohar Chodosh, Parshas Balak] that foresees the future redemption:
# On that day, the Ten Tribes will arise to make war against the four directions of the world under the Moshiach [ben Yosef] who is anointed over them. This Moshiach will be from the tribe of Ephraim and from the seed of Yerovom (Jeroboam) ben Nevat #
In other words, first the Ten Tribes, headed by Messiah son of ben Yosef, will make war and, afterwards, will come the  Messiah son of  David and all that is associated with his coming.