Combat Boycotts against Judah and Samaria, Support Brit-Am!! (30 June, 2014, 2 Tammuz, 5774)
From Yair Davidiy
Arab inspired attempts to boycott Israel are quite common. These are often listed under the heading BDS, Boycott, Divestment and Sanctions
[Previously I somehow had the impression that BDS was a polite way of saying bad breath.]
In principle the aim of such boycotts is to destroy the State of Israel.
Since not everybody is prepared such drastic action then the declared aims are modified.
Instead of the State of Israel in general the areas of Judah and Samaria, the West Bank, are focused on.
Jewish settlement in these areas is targeted for discrimination.

Note these few selected (out of numerous others) extracts from Wikipedia concerning the targeting of West Bank communities.

In July 2013, the European Union enacted a decision forbidding EU member states from cooperating with or transferring funds or giving scholarships and research grants to bodies in the West Bank, eastern Jerusalem, and the Golan Heights.
In July 2013, two of the largest supermarket chains in the Netherlands removed from their shelves all products manufactured in Israeli settlements. ...
Throughout 2013 Israeli settlements in the Jordan Valley lost 14% of their income because supermarkets in the UK and Scandinavia were shunning their products.[49]
On March 6, 2014, student Students at the National University of Ireland Galway (NUI Galway) endorsed a resolution to support actively the BDS movement
... In 2014 the [US] Presbyterians decided, in a closely watched vote, to divest from Caterpillar, Hewlett-Packard and Motorola Solutions, which the church said supply Israel with equipment used in the occupation of Palestinian territory.
In December 2012 the New Zealand superannuation fund, which invests money on behalf of the New Zealand Government, excluded two companies for involvement in Israeli settlements  ....
In January 2014 the Dutch pension fund PGGM dumped its holdings in five Israeli banks allegedly involved in financing illegal settlements. [55]
In January 2014 Danish Danske Bank said Israeli Bank Hapoalim was acting against the rules of international humanitarian law by engaging in settlement construction.....

Note also these headlines from recent Arutz-7 articles on the subject:

ADL Condemns Wave of EU 'Advisories' Against Israel -

Report Reveals Anti-Semitism Behind Presbyterian BDS Vote -

BDS-activists assault pro-Israel supporters in Hamburg -

US Presbyterian Church Votes to Support Israel Boycott -

Largest US Protestant Church Votes Again on BDS -

and so on.

We in Brit-Am/Hebrew Nations in the past did much of our work and carried on a good deal of our activity in the so-called West Bank.
[Actually West Bank is an apt name. It reminds us that the present State of Israel is sitting on ONLY a small portion of the western part of the Promised Land!]
See:
The Land of Israel
http://www.britam.org/Questions/QuesLand.html
AND THE ATTACHED MAPS.
At the beginning of our work The Tribes 4th edition we wrote,
Written by Yair Davidiy
and Published
in the Zionist State of Israel
in that section of the Land
of Israel that has been
partially liberated by
the Jewish People
on your behalf.
We are here!
We are in the West Bank.
We were here for a good few years previously, then we moved to Jerusalem.
We had to leave Jerusalem mainly because we could no long afford the rent there.
One of the reasons that rent is high in Jerusalem is because there are not enough apartments under construction.
The reason for this is that every time the Israeli Government declares its intention of building in Jerusalem tremendous International pressure is applied against it.
So we moved here, to Beitar, to a smaller but still nice little apartment on a hill, overlooking vast open areas available for addition settlement.
This is the region of Bethlehem in Judah of Biblical Times.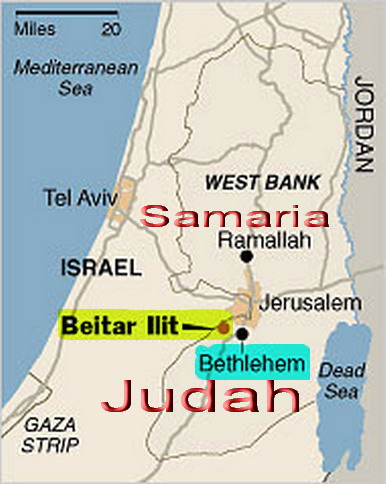 We could probably have gone elsewhere if we had have wished.
If not Jerusalem however, we preferred this place.
Nevertheless for people like ourselves there are not that many options.
The Heathen would prefer us to disappear.
The Europeans and some of the Christians in the USA seem to agree with them.
Show yourselves to be not like them but rather most probably True Israelites of Hebrew Descent:
This applies almost certainly to the physical reality and if not at least to the spiritual consciousness.
Support Brit-Am/Hebrew Nations.
Send an offering or buy a book.
Be Hebrew.
http://www.britam.org/contribute-Brit-Am.html
http://www.britam.org/books.html