Dolmens in Jewish Burial Practice? (4 February, 2015, 14 Shevet, 5775)
Dolmens are megalithic monuments. The simplest and most common form of dolmen was two upright stones and another stone laid as a roof or table-top between them.
The name Dolmen means Table.
Jim Wright  found that in Bible Codes the name DOLMEN as transliterated directly into Hebrew Letters intersected the following two verses. The Hebrew name for dolmen "TAMROR" criss-crossed the word Dolmen, as shown below. 

[Jeremiah 31:20] IS EPHRAIM MY DEAR SON? IS HE A PLEASANT CHILD? FOR SINCE I SPAKE AGAINST HIM, I DO EARNESTLY REMEMBER HIM STILL: THEREFORE [Al CaiN] MY BOWELS ARE TROUBLED FOR HIM; I WILL SURELY HAVE MERCY UPON HIM [ARaCHaMeNO], SAITH THE LORD.

[Jeremiah 31:21] SET THEE UP [HaTSiVILaCH] WAYMARKS ("Dolmens and megaliths") [TSIoNIM], MAKE THEE HIGH HEAPS [TaMRORIM]: SET THINE HEART TOWARD THE HIGHWAY, EVEN THE WAY WHICH THOU WENTEST [DeReCH HaLaCHTI]: TURN AGAIN, O VIRGIN OF ISRAEL, TURN AGAIN TO THESE THY CITIES.

These verses refer to the use of Dolmens and Megalithic as destined identifying signs showing the pathways of migration of the Ten Tribes led by Ephraim.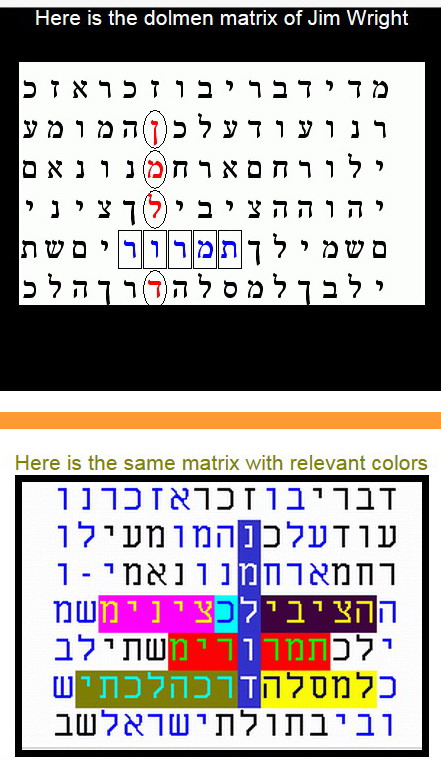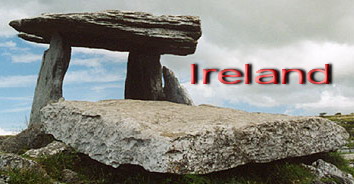 Dolmens are found in Israel and the Middle East and in Western Europe. They are also found elsewhere but with differences.
They Israelite and Western European dolmens  usually have a ca. 23 degree inclination of the roof stone.

Dolmens were set up as signposts and monuments and sometimes also as burial markers or places of burial.
Burial was NOT their only provenance as is sometimes claimed.

Archaeologists and others usually give horribly exaggerated dates for the time of the dolmens.
Dolmens in fact were being from the earliest times in Israel and Middle East and from ca. 600 BCE in Europe i.e. after the Ten Tribes had begun to arrive there.
There are also those who date the dolmens to much later.

It is of interest to note that a type of dolmen seems to have been used to mark Jewish graves in Mishnaic and Talmudic times.

Dead bodies, Graves and graveyards were sources of impurity. Cohens (members of the priestly family) were commanded to keep away from such places and still are today.
Today, it is not uncommon for even non-religious Jews named  Cohen to avoid entering graveyards etc.
Not only cohens but also they who had taken nazirite vows, or intended to offer a temple sacrifice, or just maintain a higher level of purity, were all careful not to come in contact with source of defilment.
Without going into details the Mishna discusses different types of graves.
The terms Golel and Dofek are used in a discussion of how to recongnize graves.. These denotations in effect describe the Dolmen.
#There are those who explain that the GOLEL is a large stone that they would place over the grave, i.e. a monumental stone, while the DOFEK meant the two lower stones that the monumental stone was placed over (Rabeinu Tam) # Pinchas Kehati, Mishna Nazir 7:3.
Rabeinu Tam (quoted by Tosafot in Ketubot 4;b) says the Dofek was the two lower stones, one at the head of the deceased and the other at the feet, with the monumental stone lain between them, table-top fashion.
This in effect is a description of a dolmen. It sounds like it would be a little smaller than the dolmens familiar to us from the British Isles but quite common in France and the Netherlands etc.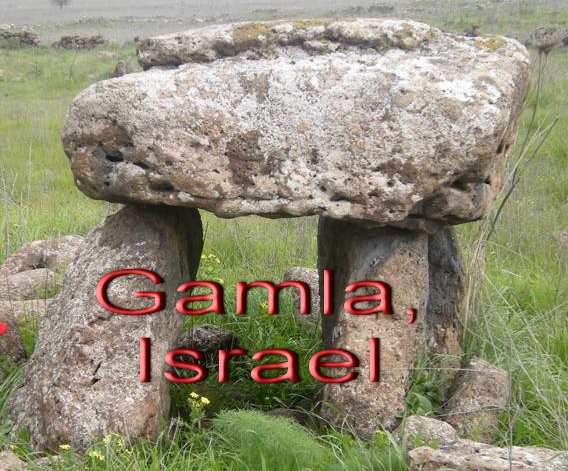 Rabbeinu Tam
From Wikipedia, the free encyclopedia
http://en.wikipedia.org/wiki/Rabbeinu_Tam
Jacob ben Meir, (1100-1171 (4 tammuz), Troyes, [north central France), best known as Rabbeinu Tam, was one of the most renowned Ashkenazi Jewish rabbis and leading French Tosafists, a leading halakhic authority in his generation, and a grandson of Rashi.