Recent Finds show Common Characteristics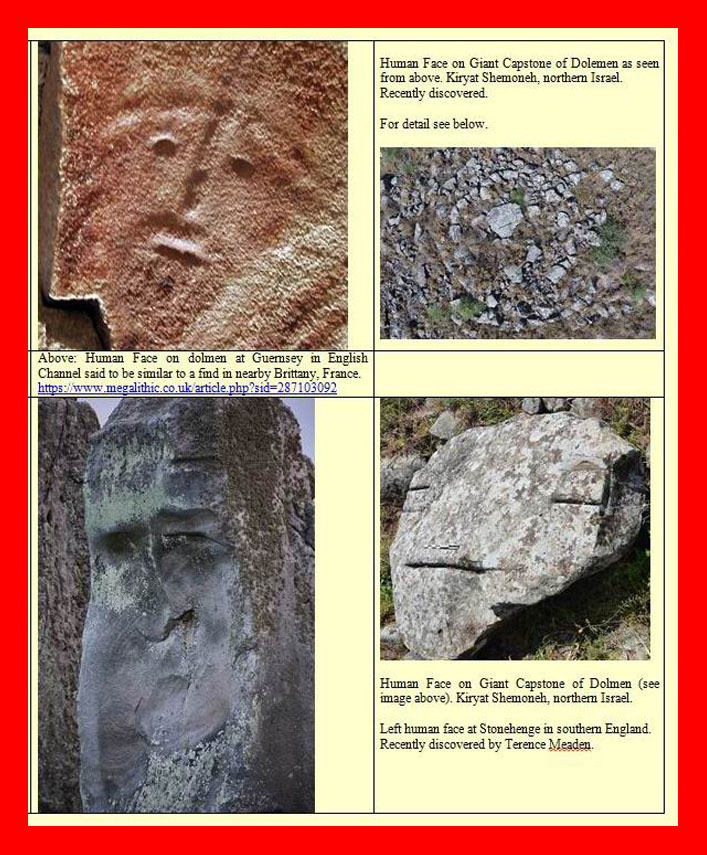 We trace the Lost Ten Tribes to groups who settled in Western Europe. One of the proofs we use is the Dolmen Trail linking the area of Ancient Israel with the west. See Stone Trail .
Jeremiah 31:21: "SET  YOURSELF UP WAYMARKS, MAKE HIGH HEAPS: SET YOUR HEART TOWARDS THE HIGHWAYS; THE WAY YOU WENT IN: TURN AGAIN, O VIRGIN OF ISRAEL, TURN AGAIN TO THESE, YOUR CITIES.
Rabbinical Commentators such as the Radak and Abarbanel equate this verse to dolmen-like structures. This is also the case with the simple meaning of the Hebrew text.
Not all dolmens are necessarily traceable to Ancient Israelites but many of them are.  In addition to the monuments thehemselves we have found additional similarities linking Dolmens in Israel with the west. These include the 23% incline of many of the dolmen capstones, popular customs associated with the dolmens, and other matters. We discuss this in our articles on the subject. The similarities between the faces above may yet turn out to be coincidental. Nevertheless the chances are that it will yet lead to additional discoveries of importance. At all events the finds are recent and are worth taking note of.