Questions and Answers Concerning Race, Racial Theories and Prejudices, Ancient Israelites,Belonging to Israel, etc.
Race
Race

Is Miscegenation (Race-Mixing) Forbidden? Racial Coloring of Ancient Israelites. Moses and the Cushite Woman;Black Israelites; Environmental Influence on Racial Coloring etc; Red Hair and King David; Red Jews; Climate and Dark Skin; Kennewick Man; Illustrations of Dark Elamites and Blond Australian Aborigines

Brit-Am
Replies to Queries

Questions and Answers 
See also:
Color Prejudice Forbidden
1. Is Miscegenation (Racial Mixing) Forbidden?
2. What Was the Racial Constitution of Ancient Israelites?
3. Are there Black Israelites?
4. Can "Racial" Features be Acquired through Environmental Influence?
Article: Human Races Can Change.
Background: The Kennewick Man
5. Did King David have Red Hair?
6. Who Were the "Red Jews"?
7. What is the Status of Non-Israelites under Biblical Law?
8. Is there any connection between Israelite ancestry and red hair?
9. The Middle East is hot. Should not the Lost Tribes be darkish as expected of people originating in a hot climate?
1. Question: Is Miscegenation (Racial Mixing) Forbidden?
Dear Yair,
I am really looking for G-d's opinion on inter-racial marriage. Even though the Patriarchs had done so, I see evidence in Ezra and Nehemiah that it was considered a sin to the people of Israel. Do you feel that it was G-d's intention for other races to inter mingle? I understand about the Canaanites, however, I'm more interested in the trend of Caucasian men marrying into the Oriental race lately. What is your opinion on this? Thank You.
Answer: The Bible does not favor any one "racial color" more than another.
Your question focused on "Caucasian men marrying into the Oriental race".
We cannot answer this question apart from saying that ALL OTHER THINGS BEING EQUAL there should not be a problem. But maybe there is? The Bible deals with people marrying those of other nations whether they be of the same "racial" type or not. There are various aspects to this question. In this answer we will point out a few points concerning both "foreigners" and people of different "color". We cannot make specific decalarations but suggest that in each case the persons involved pay for guidance.
Ezra and Nehemiah were against people from Judah marrying pagans even if some of those pagans were of Israelite origin. AS FOR MISCEGENATION we understand people who are against it. The Japanese and Chinese are far more racially conscious than most so-called "Caucasians". The Mexicans and Puerto Ricans and the Africans all have racial conscious hang-ups of their own. Even animals (different types of donkeys etc) seem to prefer to marry within their own type. Even the apartheid that formerly held in South Africa may be seen as an attempt at self-preservation. The Bible is against intermarriage with Canaanites and with non-Israelites in general (Deuteronomy 7:3 Joshua 23:12 Ezra 9:14) unless certain conditions are fulfilled. The prohibition however is not based on color. The prohibition against marrying foreign peoples in the Bibles is connected with the probability that the non-Israelite mate will cause their Israelite partner or whatsoever children of the union who are Israelite to go in pagan ways (Deuteronomy 7:3 Joshua 23:12).
When the Prince of Simeon publicly had intercourse with a Midianite woman Pinchas killed him and saved the People of Israel from destruction:
[Numbers 25:6] AND, BEHOLD, ONE OF THE CHILDREN OF ISRAEL CAME AND BROUGHT UNTO HIS BRETHREN A MIDIANITISH WOMAN IN THE SIGHT OF MOSES, AND IN THE SIGHT OF ALL THE CONGREGATION OF THE CHILDREN OF ISRAEL, WHO WERE WEEPING BEFORE THE DOOR OF THE TABERNACLE OF THE CONGREGATION.

[Numbers 25:7] AND WHEN PHINEHAS, THE SON OF ELEAZAR, THE SON OF AARON THE PRIEST, SAW IT, HE ROSE UP FROM AMONG THE CONGREGATION, AND TOOK A JAVELIN IN HIS HAND;

[Numbers 25:8] AND HE WENT AFTER THE MAN OF ISRAEL INTO THE TENT, AND THRUST BOTH OF THEM THROUGH, THE MAN OF ISRAEL, AND THE WOMAN THROUGH HER BELLY. SO THE PLAGUE WAS STAYED FROM THE CHILDREN OF ISRAEL.

[Numbers 25:9] AND THOSE THAT DIED IN THE PLAGUE WERE TWENTY AND FOUR THOUSAND.

[Numbers 25:10] AND THE LORD SPAKE UNTO MOSES, SAYING,

[Numbers 25:11] PHINEHAS, THE SON OF ELEAZAR, THE SON OF AARON THE PRIEST, HATH TURNED MY WRATH AWAY FROM THE CHILDREN OF ISRAEL, WHILE HE WAS ZEALOUS FOR MY SAKE AMONG THEM, THAT I CONSUMED NOT THE CHILDREN OF ISRAEL IN MY JEALOUSY.

[Numbers 25:12] WHEREFORE SAY, BEHOLD, I GIVE UNTO HIM MY COVENANT OF PEACE:

[Numbers 25:13] AND HE SHALL HAVE IT, AND HIS SEED AFTER HIM, EVEN THE COVENANT OF AN EVERLASTING PRIESTHOOD; BECAUSE HE WAS ZEALOUS FOR HIS GOD, AND MADE AN ATONEMENT FOR THE CHILDREN OF ISRAEL.

[Numbers 25:14] NOW THE NAME OF THE ISRAELITE THAT WAS SLAIN, EVEN THAT WAS SLAIN WITH THE MIDIANITISH WOMAN, WAS ZIMRI, THE SON OF SALU, A PRINCE OF A CHIEF HOUSE AMONG THE SIMEONITES.

[Numbers 25:15] AND THE NAME OF THE MIDIANITISH WOMAN THAT WAS SLAIN WAS COZBI, THE DAUGHTER OF ZUR; HE WAS HEAD OVER A PEOPLE, AND OF A CHIEF HOUSE IN MIDIAN.
Here we have intercourse with foreign Midianite women considered a great danger to the Israelite people BUT Moses married a Midianite woman (Exodus 2:16-21) and Jethro (also called "Hobab" son of "Reuel") and his family who were also from Midian was requested to stay with the children of Israel (Numbers 10:29) and his descendants did so (Judges 4:11). They were known as the Kenites and were exiled with the Lost Ten Tribes and will return with them (Numbers 24:22) Everything therefore depends on the time and place and circumstances. There are pros and cons and all kinds of considerations both in the pragmatic sense and also according to the Bible.
There is something to be said for marrying one's own kind. On the other hand though Moses was condemned by his kin for marrying a "Cushite" (translated in the King James Version as "Ethiopian") woman the Almighty God of Israel justified Moses and censured his critics.
See the Brit-Am "Staff of Moses" Biblical Commentary to Numbers 12:1-8.
This describes the incident concerning Moses and his marriage to the Cushite woman.
See also
"
Brit-Am Now
"-520
#3. Do Black Israelites Exist?
#4. Is Miscegenation (Racial Mixing) Forbidden?
See also our recent article:
"The Black Woman"
Color Prejudice Forbidden
http://www.britam.org/CushiteWoman.html
In ancient times Israelites could take captive women from their enemies and marry them (Deuteronomy 21:11). It no-where says that the "enemies" (from whom the women were to be taken) had to fit any racial or color criteria.
Real-Life Case Study
: A met F by chance and they decided to marry. They were citizens of the State of Israel but of different "color" and cultural background. Both however were Jewish and the situation was different from that which prevails elsewhere since the prevailing social consensus in the Jewish community is to obviate all inter-communal fiction between Jews. Unlike the USA and elsewhere there was no state of hostility verging in some areas on near-warfare between different communities but rather an atmosphere of common cause. Some of the family of F was against the marriage and so were most of those around A. The reasons for the opposition of all parties were not so much "racial" but "cultural" in part, "culture" being an aspect of personality. Despite everything the marriage went ahead. After a stormy relationship, many years of marriage, and quite a few children the couple divorced. "F" found a new partner after several years and "A" is still looking. The children are grown and some of them have offspring of their own. The children grew up with problems but relatively speaking they all turned out well and in some instances very well. Speaking with "A" and "F" one gets the impression they do not regret the years they had together. Both grew up with problematic personalities and no-one can say that matches with their own "kind" would have been necessarily more succesful.
There are general rules and there are exceptions to rules.
Brit-Am is concerned with identifying the Lost Ten Tribes and what is related to that according to our three Rs: Research, Revelation, Reconciliation. This is the Brit-Am Mandate. We are not involved in theological studies nor marriage counselling.
2. Question. What Was the Racial Constitution of Ancient Israelites?
Answer: It was probably mixed with the Mediterranean and Western types predominating.
See the Brit-Am article
THE PHYSICAL ANTHROPOLOGY OF THE HEBREW PEOPLES
Amongst the Ancient Hebrews both very fair and darker types were present. It may be that one type was predominant but it nowhere says that there were any particular advantage to this or that any one type was to be preferred over any other.
3. Question. Are there Black Israelites?
Answer: Yes, there are "Hebrews" of all types. The Bible is not concerned with color.
See the Brit-Am article
"Brit-Am Now"-520
#3. Do Black Israelites Exist?
"Brit-Am Now"-456
#1. Question on Brit-Am and "Black" people
Isaiah (45:14) prophesied that people from Africa were to be taken captive and joined to Israel in Exile.
I "
Brit-Am Now
"-457
#4. Joan Griffith: Black America
Israelites now racially mixed, especially in North America.
4. Can "Racial" Features be Acquired through Environmental Influence?
Answer: We believe that the Environment can trigger off Innate "Racial" Mechanisms that were not previously apparent.
We are not scientists and could be wrong in this matter but Biblical indications and available scientific facts show that the potential for change along "racial" lines exists in many populations and maybe activated under propitious circumstance..
DNA changes only indicate that everybody with the same changes had ancestors in the same areas at a specific period.
And even that may be now disputed.
"Brit-Am Now"-357
#4. Brit-Am and color
Replies to claims that the "white" color defined in the Bible as a sign of leprosy proves that the normal coloring of the Ancient israelites could not have been white.
"Brit-Am Now"-583
#3. DNA Findings: Brit-Am Claims of Hereditary Environmental Influence Verified?
The "epigenome," a layer of biochemical reactions that turns genes on and off. The epigenome can change according to an individual's environment, and is passed from generation to generation.
"Brit-Am Now"-613
#2. Macaque Monkeys: Racial Coloring and Environment
Monkeys in cold climate with blonde and reddish hair and light-colored eyes.
"Brit-Am Now"-366
#Food for thought
"Brit-Am Now"-367
#6. David Jackson: Moths
Examples of animals changing from one generation to another according to environmental changes.
"Brit-Am Now"-431
#2. DNA Changes;
Scientists admite that DNA can change in an organism after death but claim that a protective mechanism prevents this during life.
#3. The Genetic Change model;
Explains how genetic changes can take place and become "permanent"
#4. Genetic Change Curiosities
"Brit-Am Now"-524
#4. Genetics: Hair and Eye Color Can Change Within One Lifetime!
Says that such changes actually take place very frequently.
"Brit-Am Now"-528
#1. Hair Color Change: A Personal Experience
"Brit-Am Now"-558
#3. Are Racial Color Changes Possible?
Pictures of "Black" Albinoes some of whom look just like typical "Nordics".
"Brit-Am Now"-559
#4. Remark on Blonds and Albinoids
Jerusalem News
-432
#3. Now Confirmed: Head Shape Can be Inherited or it Can Change
Jerusalem News
-441
4. Changing Head Shapes In Modern America
Article:

Human Races Can Change

Background: The Kennewick Man


The Kennewick Man is the name given to the original owner of a partial human skull found along the bank of the Columbia River near Kennewick, Washington, in 1996.
It is claimed the skull is between 8400 and 9200 years old.
We do not believe that the skull is that old but the scientists do.
The scientists also think that the Kennewick Man MAY HAVE (or may not have been) typical of the ancestors of the Amerindian People and himself have been one of them.
We do not have an opinion on this issue one way or another.
Neither do we have the training and qualifications to even follow the technical discussions concerning the issue.
What however is worth taking note of is that the Kennewick Man was racially partly Europoid and partly Asiatic. He was more "Europoid" (they say) in his features than the present day American Indians.
The scientists also believe that in this matter he may have been typical of the forebears of the Amerindians and similar to the forebears of Asiatic peoples who have since developed and their differences from "Caucasoids" become more pronounced.
This is what the scientists are saying as may be seen from the extracts below.
We are not saying they are correct and they themselves admit they are not certain.
We note that they consider such changes possible and tend to the view that they reflect reality.
We would agree to a degree as we have been saying ever since we began these studies.
This is NOT EVOLUTION but rather the expression of genetic potential that existed from the very beginning.
http://www.cr.nps.gov/archeology/kennewick/powell_rose.htm
Selected Extracts Pertinent
to the Subject of "Racial Change"
Report on the Osteological Assessment of the "Kennewick Man" Skeleton (CENWW.97.Kennewick)
Joseph F. Powell and Jerome C. Rose


SELECTED EXCERPTS ONLY

<<Powell has already noted (Powell 1995; Powell and Neves n.d.; Steele and Powell 1992, 1994) that the geographic groupings or races seen among modern peoples are at best fuzzy and at worst non-existent when examining late Pleistocene and early Holocene populations world-wide. This point has also been noted by Kamminga and Wright (1988) in their analysis of the late Pleistocene skeleton from Upper Cave, Zhoukoudien, China. Thus it is possible that the term "Native American," when used in a biological context, is irrelevant when applied to ancient human remains because founder populations did not exhibit the pattern of morphological and metric variation seen among late Holocene populations in the Americas. However, such a situation does not completely rule out the possibility that these ancient remains might be biologically ancestral to modern American Indian populations (see Powell 1997; Powell in press, and Powell and Neves for data supporting this view). Much of the interpretation of the biological affinity of Kennewick results depends on subjective opinions and assumptions about the rate of morphological change possible during the past 10,000 years, the underlying genetics of the traits examined, and the demographic history of early and late Holocene humans in the New World.

<<Because the bulk of the skeletal reference samples are of late Holocene (modern) age, the comparisons using these reference groups do not allow us to evaluate the biological similarity of the Kennewick remains to ancient populations in the Americas, particularly to other skeletons of early and middle Holocene age. Because of the small number of Paleoindian and Archaic period skeletal series available for comparison, these results are not as definitive. However, they do provide an assessment of overall morphological similarity and dissimilarity between contemporaneous human groups present in the Americas from 9,000 to 5,000 years before present.

<<If the Kennewick remains represent a member of a founding population whose descendants evolved in situ over the past 9,000 years, North and South American populations who appear later in time may be dissimilar to the founder population due to the cumulative effects of genetic drift, mutation, and natural selection over time. An alternative explanation is that the Kennewick remains represent an individual with no living descendants among modern American Indians. Human skeletons from the middle and late Archaic periods (8,000 1,900 yr B.P.) represent the temporally adjacent sample for comparison with Kennewick, for testing the following hypotheses:

Craniometric Analyses:
<<The first analysis of craniometric data utilized the primary variable set of 52 dimensions (Table 2). In the canonical discriminant analysis of the primary variables, Kennewick falls between modern Amerindians and southeast Asian groups (Figure 2), a pattern noted for other ancient North American remains by Steele and Powell (1992, 1994). When the size-corrected data are used to generate posterior probabilities of group membership, the Kennewick individual has the greatest probability of inclusion in the South Japan sample (pposterior = 0.9861), followed by the South Pacific Moriori (pposterior = 0.0081) and North American Arikara (pposterior = 0.0021) samples. If the chronometric age of the Kennewick remains is correct, it is unlikely that the Kennewick skeleton belongs within any modern population, so that a typicality probability is the better assessment of group membership. Typicality probabilities were all ptypicality less than 0.00000001 for all population comparisons using all combinations of the original size-corrected variables.

<<The first three principal components from the principal components analysis of all 52 variables account for only 39.22% of the total size-corrected variation in the data. The PCA plot (Figure 3) places the Kennewick individual as an outlier compared to full Howells data (N = 22 populations). Using the principal component scores to generate inter-individual distances (Van Vark and Schaafsma 1991), the Kennewick individual is closest to south Pacific (Moriori, Easter Island) and the Ainu of Japan. The typicality probabilities for the PC reduced data, which are the least conservative estimates of group membership, all indicate that the Kennewick cranium is not morphologically similar to any modern human population (Table 7). No modern Native American group is included as a close neighbor in the least conservative approach, which strongly suggests that they bear no morphological resemblance to the Kennewick remains. Furthermore, while the inclusion of the Ainu as a nearest group could be interpreted as a possible "Caucasoid" morphology for the Kennewick remains if one considers modern Ainu to be "Caucasoids" (see Jantz and Owsley 1997); we view this as a reflection of the southern Asian/south Pacific morphology of the Kennewick skull given that most researchers tend to associate Ainu groups with earlier population originating in southern Asia (Brace and Hunt 1990; Turner 1985, 1990).

<<The first three principal components derived from these data accounted for 41.63% of the total size-corrected variation. The PC plot (Figure 9), places Kennewick near the periphery of modern samples, but closest to two northern Asian populations. The inter-individual distances were smallest for the Ainu, Moriori, South Japan, Zalavar, and Easter Island groups, and largest for Berg, Tolai, Tasmania, Australia, Bushmen samples (Table 11). None of the typicality probabilities were greater than 13%, suggesting that with the less conservative PC data, Kennewick could not be attributed with certainty to any of the modern samples. One additional point to note is that with the non-reconstructed variables, two so-called "Caucasoid" groups-- Ainu and Zalavar-- were indicated as most similar to Kennewick in multivariate space, while none of the American Indian samples were close to the Kennewick skeleton. This is not to say that the Kennewick remains are those of a "Caucasoid" individual. It does, however, confirm the work of other researchers (Steele and Powell 1992, 1994; Jantz and Owsley 1997, in press) which indicate that early New World populations have some features shared by some modern Polynesian and European groups. The cranial nonmetric and dental data confirm the Polynesian morphology of the Kennewick skeleton, but do not suggest a morphological similarity of this individual to modern populations of Europe.

<<Based on the 277 prehistoric and modern reference samples, the five closest populations included Eskimo, Northeast Asians, and Polynesian groups, while the five furthest samples included the majority of Archaic groups and one Near Eastern sample (Table 12). Typicality probabilities were high, with Kennewick exhibiting a 91% probability of having been drawn from the sample of Chukchi from Siberia.>>

<<The craniofacial appearance of Kennewick contains a mix of features observed in both Amerindian and American White populations from forensic contexts. Kennewick's more European/Caucasoid features included cranial sutures of medium complexity (where observable), no wormian bones (where observable), no os japonicum, a large nasal spine, slanting ascending ramus profile, and an undulating horizontal ramus border. Native American/Mongoloid features included a large malar tubercle, blurred nasal sill, zygomatic posterior tubercle, slight nasal depression, moderate prognathism, elliptical dental arcade, straight palatine suture, and what appeared to be an angled zygomaticomaxillary suture (though much of this was obliterated by sutural fusion and damage). Kennewick also exhibits forward facing frontal processes of the Maxilla (Gill and Gilbert 1990) typical of modern American Indians. The Kennewick facial skeleton also exhibited features that occur in several modern non-Amerindian populations, including a nasal bone configuration intermediate between towered and tented forms, a medium nasal opening, vertical zygomatic bones, a somewhat rhomboid orbital shape. Many of these features are typical of Polynesian groups. Kennewick lacked the projecting and bilobate chin of Europeans.

<<The midfacial profile of Kennewick was examined following Brooks et al. (1990). Kennewick exhibits a slight concavity below the prominent anterior nasal spine, followed by minimal prognathism and a more vertical outline approaching infradentale superior. This condition is intermediate between the American Whites, which tend to have a less prognathic profile and a much shorter outline, and the North American Indian profiles (particularly those from the northern Great Basin such as Brooks et al. 1990 Figure 3a), which tend to be concavoconvex (Brooks et al. 1990).

<<Overall, the anthroposcopic data indicate that the Kennewick skeleton contains a mix of features seen in modern groups, including East Asians, American Indians, and Europeans. The skull lacks features associated with African populations. Gill (1986) presented a list of features for geographic races, and noted that the Polynesian sample (primarily from Easter Island) exhibited a wide range of features like those in Kennewick. Such a finding corresponds to the stronger south Pacific and Polynesian morphometric appearance the Kennewick skull noted in the craniometric analyses.

<<Like other early American skeletons, the Kennewick remains exhibit a number of morphological features that are not found in modern populations. For all craniometric dimensions, the typicality probabilities of membership in modern populations were zero, indicating that Kennewick is unlike any of the reference samples used. ..The most craniometrically similar samples appeared to be those from the south Pacific and Polynesia as well as the Ainu of Japan, a pattern observed in other studies of early American crania from North and South America (Steele and Powell 1992, 1994; Jantz and Owsley 1997).

<<The question of "Caucasoid" affinities for the Kennewick remains can be addressed, depending on how the term "Caucasoid" is defined. In the strictest sense, this refers to populations of western and southwest Eurasia-- peoples that live or lived in what is now Europe, the near East, and India. When defined in this way, Kennewick is clearly not a Caucasoid. Although one European group, Zalavar (1/25 = 4%) was included among the five nearest "neighbors" to Kennewick (Tables 7 - 12), the majority of nearest neighbors are from Polynesia (16/25 = 64%) and east Asia (24%). The Ainu, which we have described as "east Asian", occur as a nearest neighbor three times (12%), while Native Americans occur as neighbors just twice (8%). Although Kennewick exhibits some features that typically (but not exclusively) occur in modern American Whites (Caucasoids), these same features also occur in moderate to high frequency among Polynesian populations (Gill 1986). If the Ainu are considered to be "Caucasoids," as they were first described in 19th-century anthropological literature, this might explain reports of "Caucasoid" features in the Kennewick skull. However, we follow Brace and Hunt (1990) and Turner (1990) in viewing the Ainu as a southeast Asian population derived from early Jomon peoples of Japan, who have their closest biological affinity with south Asians rather than western Eurasian peoples. Thus Kennewick appears to have strongest morphological affinities with populations in Polynesia and southern Asia, and not with American Indians or Europeans in the reference samples.


5. Question: Did King David have Red Hair?
Answer: David is described as "Admoni" (1-Samuel 17:42) in Hebrew which is translated as "ruddy" but usually means someone with red hair.
See "Brit-Am Now"-6 #1. King David had red hair??
6. Question: Who Were the "Red Jews"?
Answer: The "Red Jews" according to legends amongst the Jews and Gentiles of Central Europe, especially Germany, were the Lost Ten Tribes. In some versions they were assumed to have red hair.
See
"Brit-Am Now"-5 #2. Gog and Magog
See also
"Brit-Am Now"-103
#RED JEWS AND THE LOST TEN TRIBES
7. Question: What is the Status of Non-Israelites under Biblical Law?
Answer: A Gentile who becomes an Israelite has the same rights and obligations as a native-born Israelite.
See
"Brit-Am Now"- 104
#3. Jan Gordon: Question about Status of non-Israelite "Strangers".

Difference in Biblical law betwen the "Stranger" who identifies with you and is the same as you and between the "Stranger at the Gate" who also has rights but is not a full citizen.

"Brit-Am Now"- 409
#9. Questions about "The Stranger"


8. Question: Is there any connection between Israelite ancestry and red hair?
Answer: There is no known connection. Red hair is found in every people and race.
Nevertheless Jews and some of the peoples identified with us as siginificantly Israelite, such as the Irish and Scottish, have a larger than average proportion of red-heads. This has suggested an ethnic link between the two in the eyes of some observers.
9. Question: The Middle East is hot. Should not the Lost Tribes be darkish as expected of people originating in a hot climate?
peter castro-solomon <castro-solomon@hotmail.co.uk> wrote:
Hi Yair


Just to quote you said
"Brit-Am Now-835
#5. Question on Race and Color

"Dark skinned people usually have much lighter skinned babies.
When first born the babies frequently have blue eyes.
After birth an inborn mechanism triggers off the working of melanin that causes color change.
Theoretically under certain circumstances the said mechanism if it had no environmental justification to trigger itself off might not do so."

Ok isn't the Middle East a hot climate? I know that sometimes there is snow in Israel but on the whole it's hot, on the same note I Know that this was true in the past. Also could you explain to me Lamentations 5:10:

"Our skin was black like an oven because of the terrible famine"- or is it hot like an oven?


On my last trip to Israel i bought a book by a guy called Rabbi Yaakov Kleiman called DNA & Tradition at the Temple institute. On page 34 of the book based on examinations of the mitochondrial dna of Ashkenazi Jews Dr. David Goldstein of university college London comments that it's quite possible that the founding mothers of most Jewish communities were from the local populations. He goes on to say that this could explain why Jews in each country tend to resemble their host community physically. This sounds fairly reasonable to me as the Torah clearly shows that many Israelite men took foreign wives- in fact Ruth was from Moab and Zipporah was Ethiopian.

Lastly attached are some images of ancient Elamites who were Semites. Notice they have dark skin and curly hair. Furthermore there are also images of aboriginals with blond hair who are not mixed race- they are not white. The possibility of ancient Hebrews having blond or blue eyes doesn't mean that they were white it could just bear witness to the variability of the human race. I read an article about a very black Bantu speaking tribe called the Lemba in South Africa who carry Semitic genes some even have this "cohen gene" found in Jews. They have been claiming Jewish ancestry for years but no one took notice -until now.

At the end of the day the Torah clearly states that ALL mankind come from Adam and Eve so in the end everyones related if you go back far enough.
Answer:
The Middle East is warmer than Europe.
The Middle East however as you noted includes several types of climate.
In the past the area was wooded, colder, and wetter.
The present State of Israel encompasses only a small portion of the Promised land. It has a mainly Mediterranean type climate.
The Arabs destroy the trees and undergrowth with their goats, overgrazing, and depredations.
Otherwise precipitation would be greater and the climate a little colder.
Our article does contain evidence that fair skinned types (alongside darker ones) were present in the Area of Ancient Israel.
see
THE PHYSICAL ANTHROPOLOGY OF THE HEBREW PEOPLES

Lamentations 5:10 is speaking of people dying of hunger whose faces turned darker as a result of their condition.
May we never know of such matters.
We have the book you mentioned, "DNA & Tradition" by Rabbi Yaakov Kleiman (2004).
It is an interesting work but it does not say very much other than quote popular articles extant at the time of publication.
The idea that the founding mothers of the Ashkenazi (European) Jews were from the local populations does not follow from the available evidence.
These founding mothers on the whole had unique DNA that was somewhat different from each other but also different from that of the surrounding populations.
There was however some similarity between the different Jewish "populations".
In our articles on DNA you will find some discussion on this matter along with leads for further study.
See
Jewish mtDNA

You quoted from page 34 of
"DNA & Tradition"
On this same page you will find the following quotation:
<<Dr. Harry Oster explained that physical differences are largely unrelated to origins.
"Blond genes occur in Middle Eastern groups as well,' he says.
"There is no evidence that white skin and blue eyes originated in northern Europe. That is a Nordic myth. Semitic people had the whole range".>>

Ruth was Moabite and as such related to the seed of Abraham.
A existing statuette of a Moabite monarch shows someone of somewhat stocky structure, a copious beard, and Caucasian (?) features.
Zippora is described as a Cushit which is translated as Ethiopian.
She was a Midianite and these may well have been a dark people.
Some Commentators (e.g. Abarbanel) say that why Miriam and Moses criticized Moses over taking this woman was due to racial prejudice (Numbers 12:6).
We thing there might be something in this explanation.
see the Brit-Am Commentary to the Book of Numbers:
<<The Book of Numbers continues to speak of the Priestly service, of marriage arrangements and ceremonial arrangements and of events that occurred in the Wilderness. At one stage Aaron and Miriam the brother and sister of Moses criticized Moses because he had taken an Ethiopian woman, in Hebrew a Cushit. This term could denote a Negroid female.
[Numbers 12:1] AND MIRIAM AND AARON SPAKE AGAINST MOSES BECAUSE OF THE ETHIOPIAN [Hebrew: Cushit] WOMAN WHOM HE HAD MARRIED: FOR HE HAD MARRIED AN ETHIOPIAN [Cushit] WOMAN.
<<G-d censured Aaron and Miriam. Both were very important people and at a high spiritual level. They were mistaken. There is a lot to learn from this. G-d defended Moses. G-d (Numbers 12:7-8) declared that Moses had reached the highest level of communication with the Almighty that is humanly possible. >>

From this we learn:
Racial prejudice is wrong.
Even the greatest of people (Aaron and Miriam) are susceptible to it though Moses was not.
There was a difference to be prejudiced against.
Your pictures have been posted below.
We hope to also obtain pictures that illustrate our own points and post them as well.
The Lemba case has been exaggerated but it is of interest.
Pictures submitted by Peter Castro-Solomon
| | |
| --- | --- |
| Elamite | Elamite |
| Aboriginals | Aboriginals |
| Aboriginals | Aboriginals |
The Case of Elam

Elam was the first-born son of Sem (Genesis 10:22).
On the other hand there was a large portion (Cossae) of Elam was ascribed to Cush the son of Ham. The above photo in the righthand corner indicates that the Elamite depicted was darkish. Another version (shown below) giving a closer examination of the same depiction however indicates a blue-eyed lighter individual.
Whatever the case does it really matter?
From the Brit-Am point of view all that concerns us is the tracing of the Lost Ten Tribes to where they are now.
The evidence indicates that the majority of Lost Isrealites are amongst Western Peoples. The stereotyped popular images of Middle Eastern Peoples and Western ones emphasizes their differences.
Even if this was true it would not be an impediment from an historical or scientific point of view. Even so it helps to know that the Ancient Israelites included both darker "Mediterranean" types as well as lighter "Northern" ones.
This is explained in our article:
see
THE PHYSICAL ANTHROPOLOGY OF THE HEBREW PEOPLES

It is recommended that this article be read in conjunction with
Pictures of Ancient Israelites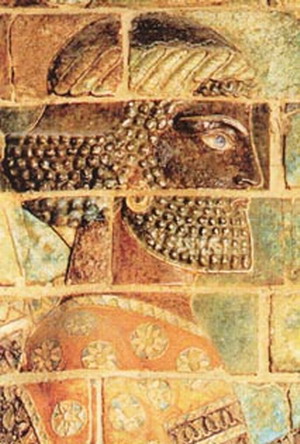 Elamite
"Brit-Am Now"- 269
#3. Remark on Israelites and Red Hair
"Brit-Am Now"- 271
#3. Red Hair in Ireland
#4. Red Hair in the family
"Brit-Am Now"- 322
#2. Redheads in Canada?
"Brit-Am Now"- 407
item 1. Sharon Lindstrom: physical description not Important?
item 3. Jackie Young: redheads in our family
item 4. Statistics on Red-heads
item 5. Excerpt from Chapter Two of "The Tribes" by Yair Davidiy
THE PHYSICAL ANTHROPOLOGY OF THE HEBREW PEOPLES

"Brit-Am Now"- 503
#8. Red Hair Originally Black or Brown?
"Brit-Am Now"-269
#3. Remark on Israelites and Red Hair
"Brit-Am Now"-489
#4. Red Hair, Celts, Mummies, etc.
"Brit-Am Now"-490
#1. Questions on Red Hair and Tarim Basin Mummies
9. Question:
Sources on Race
"
Brit-Am Now
"-75
#1. Race in Medicine
"
Brit-Am Now
"-172
#5. Extracts from NY Times article on race.
#6. Brit-Am concept of race (very brief)
"
Brit-Am Now
"-173
#6. Question on Khazars and race
#7. Mixed Ancestry
"
Brit-Am Now
"-291
#2. Biblical Warning Against Prejudice
"
Brit-Am Now
"-357
#4. Brit-Am and people of color
"
Brit-Am Now
"-424
#6. Curiosities: Blond Hair Found all Over!
"
Brit-Am Now
"-491
#7. White Caucasian Israelites?
"
Brit-Am Now
"-520
#3. Do Black Israelites Exist?
#4. Is Miscegenation (Racial Mixing) Forbidden?
"
Brit-Am Now
"-524
#4. Genetics: Hair and Eye Color Can Change Within One Lifetime!
"
Brit-Am Now
"-530
#1. Interesting Article on Genetics and Race
"
Brit-Am Now
"-651
#2. Changes in Human Skeletons: Brit-Am Understanding Vindicated Yet Again
"
Brit-Am Now
"-663
#5. Human Races Can Change
Background: The Kennewick Man
"
Brit-Am Now
"-666
#3. Cane Toads Prove Brit-Am Point?
Jerusalem News
-308
#7. Tibetan "Evolutionary" Gene and Brit-Am Comment
Jerusalem News
-432
#3. Now Confirmed: Head Shape Can be Inherited or it Can Change
Jerusalem News
-441
#3. KENNEWICK MAN IS NATIVE AMERICAN
#4. Changing Head Shapes In Modern America
"
Brit-Am Now
"-705
#1. Changing Head Shapes
(a) in North America
(b) in Israel
(c) the Brit-Am Understanding
"
Brit-Am Now
"-750
#4. Headshapes
"
Brit-Am Now
"-767
#4. Question on RH O Negative blood and the Messiah
"
Brit-Am Now
"-816
#6. Brit-Am and Racial Characteristics
"
Brit-Am Now
"-835
#5. Question on Race and Color
"
Brit-Am Now
"-836
#2. DNA: Redheads in Early Britain
#3. Stephen Ray Hale: Personal observations on Racial Color
"
Brit-Am Now
"-837
#3. Answer to Question on Race: Illustrations
#5. New Feature: Pictures of Ancient Israelites
"
Brit-Am Now
"-838
#1. Rival site depicts Ancient Israelites
#2. Hebrew Pictures: More Pictures
"
Brit-Am Now
"-839
#5. Hebrew Pictures
(a) Pictures Added: The Pict People of Scotland
(b) Compliment
(c) Comment
"
Brit-Am Now
"-843
#5. Skull Shapes Changing in US and Elsewhere?
"
Brit-Am Now
"-844
#1. More "Hebrew" Pictures
#4. Judas and Red Hair
"
Brit-Am Now
"-848
#6. Don Brown: Disagrees with Article Against Color Prejudice
followed by Brit-Am Answers
(a) Blacks not in Ancient Israel?
(b) Jethro a Black High Priest?
(c) Is a bastard a mixed-breed?
(d) Was not Adam a red and white man?
"
Brit-Am Now
"-849
#1. Steven Collins: Bible forbids color prejudice
"
Brit-Am Now
"-850
#2. Cherie Koch: White Africans and Black Whitemen
#6. Don Brown: Question on Abinoidism
#7. Peter Castro-Solomon: Israelite Blood in North and South America
#9. Dennis McGinlay: Inbuilt Variety from time of Creation
"
Brit-Am Now
"-858
#2. Notes on Red Hair
"
Brit-Am Now
"-859
#4. Bob Davis: Red Haired Picts, Scotts, and Irish
"
Brit-Am Now
"-883
#3. Composite Pictures of Male European Athletes: Country by Country
"
Brit-Am Now
"-900
#1. Cherie Koch: Racial Mixing and Israel
"
Brit-Am Now
"-904
#5. Question on Blood Groups
Jerusalem News
-247
#2. Right-Handed? Your Hair Reveals It
Jerusalem News
-259
#1. Blonde Eskimos?
Jerusalem News
-305
#4. Periodical Height Differences in History
Jerusalem News
-308
#7. Tibetan "Evolutionary" Gene and Brit-Am Comment
Jerusalem News
-432
#3. Now Confirmed: Head Shape Can be Inherited or it Can Change