Minoans Overseas

Is it true that a Minoan pithos jar was found in Bimini, Bahamas? Could this be an indication that the Minoans, who were sea traders based on the island of Crete, traveled that far?
https://www.quora.com/Is-it-true-that-a-Minoan-pithos-jar-was-found-in-Bimini-Bahamas-Could-this-be-an-indication-that-the-Minoans-who-were-sea-traders-based-on-the-island-of-Crete-traveled-that-far
Answer by:
Nick Deakin, Interested in Minoan technology

I don't think this likely. I've not heard of this, however, there have been some accounts of Minoan artefacts being found in the Americas, however, I've not seen academic papers that support this association.

To be fair Minoans ships are seaworthy and there is archaeological evidence that perhaps they possessed more importantly good navigational tools and knowledge to realise high sea navigation:
a) Minoan building are aligned to magnetic North, Magnetite [natural magnet lodestone type] is available at Skyros [a Greek island] and a single example of a compass is found on land.
b) Labyrs [a double-headed axe also used for calculating location and distance] could have been used to establish Latitude (they are a basic Jacobs staff and Minoan Astronomy is superb from what can be inferred from Minoan artefacts, it is highly likely that the Zodiac constellations were identified on Crete, which is generally thought to have been done around this latitude). They don't just have Orion's belt (which is about the Equatorial plane at Equinoxes) to determine latitude, they also have the Snake bearer Ophiuchus - Wikipedia on the opposite side of the Sky (which is an important symbol in Minoan iconography). They have all manner of tools to assist them this includes manual Orbital Calculators (which are a precursor to the Antikythera mechanism ca. 87 BCE], an ancient Greek analogue computer  used to predict astronomical positions and eclipses for calendar and astrological purposes]
c) Birds are associated with the Longitudinal axis (e.g. Potnia Theron [Artemis] is associated with Owls, Venus [Aphrodite] doves. Birds naturally face towards where they want to be when caged and with this, you can approximate Longitude. Birds appear on ship bows and stern posts at the time.
This [see below]Â  is a later Phoenician artefact but shows that they associate Labyrs (now straight edged) with Stars and use birds for navigation
 .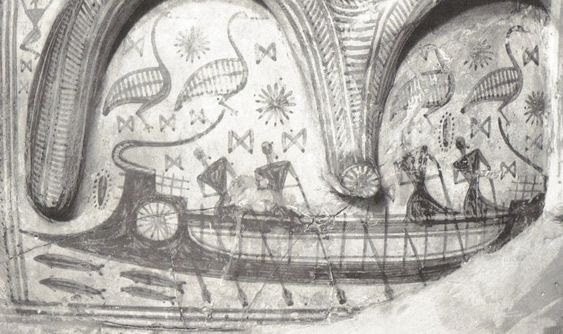 Also shown on this later Greek example:

The Minoans at least across the Mediterranean to Egypt, put may have ventured much further a field, there are examples of Linear A found at a Scandinavian Silver Mine and the inside of a tomb lid being a casting stone for Labyrs found in Cumbria (Britain). However, these are rare. It should be noted that maritime trade networks feel apart after Bronze Age collapse, a lot of these tools and technologies simply fall out of use and arguably don't emerge till much later in history.

My own view is that they had the tools they needed for long distance trade (and probably did undertake long-distance voyages particularly to trade in metals). What seems to be overlooked is there are few sources of Tin in the region and it's the Bronze Age (without tin you cannot alloy it with copper to make a much harder bronze), the major deposits are in Iberia (Spain), Britanney and Cornwall. Some think that Tin came over the Amber road, but I don't subscribe to this view, duty would be levied at every toll and a merchant would run the risk of robbery for such a precious resource (for all practical purpose metal is money at this time). The way to move commodities is by sea, you can move around 50 times the load compared to a cart (and there are no roads - just tracks between large settlements) and it is much faster.

To return to the question, no I don't think they venture across the Mediterranean, this is not how they sailed, for example a typical long-distance voyage would be to travel around the northern Med (westbound) with the currents (stocking at ports and exchanging typically Murex dyed cloth, spices, oil and the like, the pottery is just a vessel to put things in), in Sardinia you can picj up Silver (worth twice its bullion weight in Egypt), Iberia (tin), south to Africa (Ivory) onto Egypt for Gold and Glass, up the cost to the Levant (picking Cedar and Lapis Lazuli) onto Cypress for Copper and returning to Crete with a full load of METAL and precious commodities from smart trades. They may have on occasion ventured out of the pillars but this will have taken longer than a sailing season and will have more likely setup a trading outpost (on islands) to organise metals to be sent through existing ports around the Atlantic. They don't sail for more than a few days or a week at most away from land, where they pick up provisions (water, food). Sailing across the Atlantic is very unlikely there is nothing known not even where landfall is or may be, it would fouls errand and although the Minoans are engaged with sailing upon the high seas they don't take unnecessary risks... don't guess, navigate by measurement and return passengers and crew safely to their home port.

There are some Minoan artefacts that may have been dug up and sold on the black market and may have ended up in the Bahama's, I think this is a more likely explanation.


See Also: Philistines and Minoans