The Struggle for Justice (25 August 2017, 3 Elul, 5777)

Duration: 15.41 minutes
Contents:
1. Introduction.
2. The Sbarro Terror Attack, 15 dead, 145 victims.
3. Attempted Extradition to the USA
4. More About Arnold  Roth
5. Justice
==========================
1. Introduction.
The seeking of justice is a Torah Principle. It is an obligation. Fighting terror is also a Torah Principle especially when the terror is driected against Jews in the Land of Israel. Arnold Roth from Australia, now livng in Israel and a friend of Yair Davidiy, is both seeking justice and fighting in his own way against anti-Jewish anti-Israeli Terror. 
==========================
2. The Sbarro Terror Attack, 15 dead, 145 victims.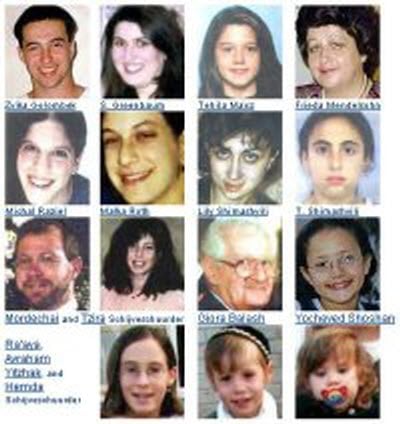 A terror attack on August 9, 2001, resulted in 15 killed and total casualties of 145. Half the victims were children. A human bomb carrying explosives blew himself and everybody around him up because his manipulators wished to kill Jews. The Sbarro restaurant is a meeting place for young people and it was a summer's day.
Hamas and Islamic jihad claimed responsibility for the attack.
The Schijveschuurder family lost 5 members, 2 parents and three children. [A survivor of the family, Shvuel Schijveschuurder, was 17 at the time and a room-mate of my son in the Yeshiva they both attended.]
Malki Roth, aged 15, together with her friend and next door neighbor, Michal, were also among the victims.
Malki had a severely disabled sister and dreamed of dedicating her life to helping such children.
The parents of Malki, Arnold and Frimet Roth, established Keren Malki, in memory of Malki.
Keren Malki works to enable in-home care for disabled children. They have helped numerous families in Israel including Jews, Druze, and Arabs.

THE SBARRO RESTAURANT MASSACRE
http://kerenmalki.org/the-sbarro-restaurant-massacre/
The bombing was carried out by Izzidine al-Din Shuheil al-Masri, ca. 22 and by a female counterpart, Ahlam Tmimi.
[Note: The family name "al-Masri" indicates that the family came from Egypt, probably not that long ago. Many Palestinians are descended from Arabs who came tot he land well after the Orthodox Jews and Zionists had begun to seriously return to it. There is nothing wrong with that in itself, but it is worth noting.]
The woman, Ahlam Tmimi, was about 20 at the time. She was a student and News Reader in Arabic, who worked in the Arab city of Ramallah. She therefore had a Journalist ID that facilitated her movements.
Tmimi  chose the tarkget, met up with al-Masri (literally "The Egyptain") and led him to the Sbarro. Al-Masri entered the crowded restaurant, waited a little, and then exploded with the bomb attaxched to his body.
Meanwhile Tmimi went back to Ramallah where she announced the terror act on the Radio News report describing it as an act of Palestinian Resistance.

Tmimi was arrested by the Israeli authorities, stood trial, and was sentenced to numerous life sentences.
# Tamimi had received 16 consecutive life sentences and an additional 15 years in prison.#
Tmimi was interviewed while in Prison and was filmed happy and laughing at the number of casualties she had caused.
She has never expressed regret or remorse over her action. On the contrary she is proud of it and encourages others to do the same.
Tmimi was however released in the Shalit deal of October 2011.
Gilad Shalit was an Israeli soldier who had been kidnapped in Israel by members of Hamas. He was smuggled through a tunnel into Gaza. He was kept in captivity for 1,934 days. In the end Gilad was released in exchange for the freeing of 1,027 Palestine prisoners held by Israel for terror-related activities.
The release was on condition that the releasees abstain from terror related activity.
Tamimi  on her release went to Jordan and hosted a Hamas sponsored TV show that encourages and prasie terrorism against Jews. She married her cousin.
Tamimi  had violated the terms of her release.
==========================
3. Attempted Extradition to the USA
In the Sbarro Attack some of the victims were US citizens.
According to USA law Tamimi had committed a crime against US citizens and not been adequately punished for it.
Extradition procedures were set in process BUT the Jordanian government refused to accede to them.
This is despite the fact that the USA and Jordan have the framework of an extradition agreement between them. 
#On July 15, 2013, the U.S. Justice Department filed criminal charges in the District of Columbia against Tamimi for conspiring to use a weapon of mass destruction against U.S. nationals outside the U.S., resulting in death.[19] The criminal complaint was unsealed on March 14, 2017. Jordanian courts ruled that Tamimi could not be extradited, as the Jordanian parliament hasn't ratified the extradition treaty with the United States yet.[19][20] # 

http://thisongoingwar.blogspot.co.il/
# The US government announced serious Federal criminal charges against Tamimi in March 2017. It sought her immediate arrest and her extradition to stand trial in a US Federal court. Jordan immediately rebuffed the request. An extradition treaty has existed between Jordan and the US since 1995. The US authorities say it is fully in force. Jordan, which has extradited several people to the US since the treaty came into effect, says it is invalid and unconstitutional under their law. We believe strongly that their claims are insincere and untrue. #
=========================
4. More About Arnold  Roth
Arnold Roth:
http://blogs.timesofisrael.com/author/arnold-roth/
# Arnold Roth, an attorney and technology business manager, serves as honorary chair of the Malki Foundation which he and his wife Frimet established in 2001. Its work honors the memory of their daughter Malki, murdered in a terrorist attack on the Sbarro pizza shop in the center of Jerusalem. #
Arnold has a degree in law and is a registered lawyer even though professionally he has specialized in other matters.
Arnold and his wife Frimet are the parents of Malki Roth one of the victims of the Sbarro attack.
Arnold is active in the struggle to encourage US authorities (i.e. the State  Department) to continue its attempt to have Tamimi extradited.

For excerpts from a radio interview of Arnold Roth by Tamar Yonah see:
http://kerenmalki.org/want-help-bring-malkis-killer-justice/
Scroll Down to:
"I want to being Malki's killer to Justice!

Yair Davidiy was a friend of Arnold Roth when they were both a little younger and learning in Monash University, Melbourne, Australia.
Arnold learned  Law and other subjects. He was a well-known student leader having been president of WUJS (World Union of Jewish Students) in Australia.
Arnold was already an accomplished journalist authoring (among other things) a popular weekly column in the leading Australian Jewish Newspaper.
They parted ways when Yair came to Israel while Arnold continued his studies and came to Israel a little later.
Arnold supplemented his studies at Yeshiva University in New York.
In the USA Arnold married Frimet a well-known journalist and accomplished painter. Together they have 7 children.
In the USA and Australia Arnold worked in computers. The family then made  aliyah to Israel where Arnold headed several companies.
Following the terror attack and the death of their daughter, Malki, Arnold and his wife have dedicated themselves to fighting terror and to helping others through Keren Malki (described above).

Quote:
# The life of Malki, the Roths' teenage daughter, ended tragically on 9th August 2001 in a massacre at the Sbarro restaurant in the center of Jerusalem. She was 15, a youth leader, a gifted classical musician, a student at the Horev girls school in Jerusalem, and a volunteer who took every possible opportunity to give practical support and friendship to teenagers and children with serious disabilities. Since their child's death, Frimet and Arnold Roth have immersed themselves in researching, speaking out about, and writing on terror....

# Arnold Roth is a frequently-quoted speaker on terrorism. He has addressed the European Parliament at its invitation, and met with political leaders in Australia, France, Belgium, Germany, Luxembourg, Greece, United Kingdom, the United States and elsewhere. Opinion articles and interviews with him have been published in the Wall Street Journal, Sydney Morning Herald, new York Times, Jerusalem Post and many other publications. He has been an invited guest on programs of CNN, BBC, ABC News, SKY News, RT- Ireland, New York Times, Washington Post, Irish Times, Times of India, Times of London, Al-Jazeera and many others. He has been keynote speaker at several international conferences dealing with terror and its victims. #
=========================
5. Justice
One of the reasons the Israelites were blessed was because God knew that the offspring of Abraham would stand up for justice.
Genesis 18:
19 For I have chosen him, so that he may command his children and his household after him to keep the way of the LORD by doing righteousness and justice, so that the LORD may bring upon Abraham what He has spoken about him.

Deuteronomy 16:
20 Justice, and only justice, you shall pursue, that you may live and possess the land which the LORD your God is giving you.

Proverbs 21:
15 The exercise of justice is joy for the righteous, But is terror to the workers of iniquity.
Justice also involves bringing a murder or murderess to retribution.

The Bible tells us:
Numbers 35 (NASB):
 31 Moreover, you shall not take ransom for the life of a murderer who is guilty of death, but he shall surely be put to death. 33 So you shall not pollute the land in which you are; for blood pollutes the land and no expiation can be made for the land for the blood that is shed on it, except by the blood of him who shed it. 34 You shall not defile the land in which you live, in the midst of which I dwell; for I the LORD am dwelling in the midst of the sons of Israel.

Genesis 9:
 6 Whoever sheds man's blood,
By man his blood shall be shed,
For in the image of God
He made man.
We all have suffered from injustice at some time or other. We also all know others who have endured harsher trials than ourselves in this matter. Usually we do not do anything about it. Life is short. Many of us are occupied with work, family, and everything else that we hardly have time for basic needs let alone altruistic considerations. Nevertheless in principle we all believe in justice. We also know that when someone stands up for themselves and appears to be making an impression (where ultimately successful or not) we all benefit. The one making the struggle is actually helping us and in a sense acts on behalf of us.  This is what is happening now. This is why it may well worth our while to take an interest as to future developments in the Tamimi case.

The Tamimi  attack was also a murderous attempt to further the uprooting of the Jewish people from their land and even to their complete destruction.
The Almighty would not be happy about this.
Continuing the struggle in this matter affirms our support for the Jewish State of Israel and the Jewish People in general.
HE will avenge the blood of his servants (Deuteronomy 32:43).

He that toucheth you, toucheth the apple of HIS eye (Zechariah 2:8):