Relative Altruism to Other Nations (25 August, 2014, 29 Av, 5774)
Contents:
1. Top Ten  According  to  the Different  Criteria
2. Introduction  by Yair Davidiy on behalf of Hebrew Nations.
3. Short introductory Article from The Economist
4. Results from the Hebrew Nations Point of View.
5. Top 50 Listed According to Overall Results. 
===============================
===============================
1. Top Ten  According  to  the Different  Criteria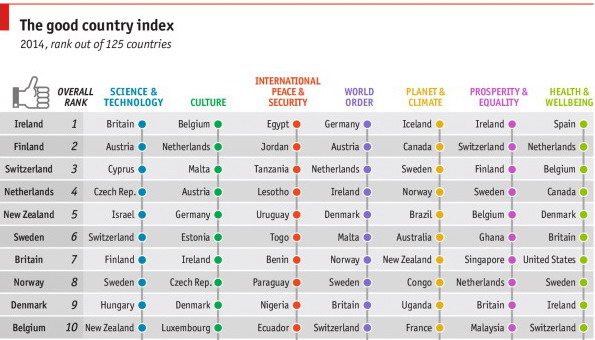 ===============================
===============================
2. Introduction by Yair Davidiy on behalf of Hebrew Nations.
The figures  measure the Goodness of Nations according to how they relate to other nations.
It uses criteria that we DISAGREE with. Israel (no.37) and the USA (no.21) for instance get low grades because other countries are hostile towards them and they take affirmative steps to defend their interests.
It could be that apart from that Israel and the USA in their own way each do more for the good of the world than all other nations combined.

Despite the above these statistics do tell us something about the nations concerned.
===============================
===============================
3. Short introductory Article from The Economist
The goodness of nations
Jun 24th 2014, 15:29 by L.P., R.L.W. and K.N.C.
http://www.economist.com/blogs/graphicdetail/2014/06/daily-chart-18?fsrc=email_to_a_friend
A new index ranks national decency
[forwarded to Hebrew Nations by Orjan Svensson, Sweden].

SEEN from space, our pale blue dot of a planet is a borderless sphere floating amid the stars. But worldly men know better: the land is carved up into countries. Borders divide us; they encourage us to seek our self-interest rather than reach for a common, planetary solidarity. But the Good Country Index,
http://www.goodcountry.org/overall
released on June 24th by Simon Anholt, an independent policy advisor, aims to overcome this. It ranks countries based on how much they do for others globally. Ireland and Finland come on top; Libya is rock bottom. The measure is based on 35 datasets broken down into seven areas, such as technology, health and culture. The idea is clever but the execution is tricky. The index often scales countries on a GDP basis to give poor countries a chance against rich ones. That's nice, but is Cyprus really a tech leader or Malta a cultural paragon? And the "peace and security" area is flawed: it penalises countries involved in armed conflicts abroad or that sell arms. Couldn't one argue that this fosters a stable world? Still, the index is a worthwhile pursuit by imagining how countries might compete when they aim to serve others.
===============================
===============================
4. Results from the Hebrew Nations Point of View.
The top twelve nations (Ireland, Finland, Switzerland, Netherlands, New Zealand, Sweden, United Kingdom, Norway, Denmark, Belgium, France, Canada) are ALL those we identify as  historically dominated by Israelites. The next twelve include nations such as Germany, Austria, Italy, Spain, that have a significant element from Edom.
Australia, Luxembourg, and the USA are also basically Israelite.
===============================
===============================
5. Top 50 Listed According to Overall Results.

1st
Ireland

2nd
Finland

3rd
Switzerland

4th
Netherlands

5th
New Zealand

6th
Sweden

7th
United Kingdom

8th
Norway

9th
Denmark

10th
Belgium

11th
France

12th
Canada

13th
Germany

14th
Austria

15th
Australia

16th
Luxembourg

17th
Iceland

18th
Cyprus

19th
Spain

20th
Italy

21st
United States of America

22nd
Costa Rica

23rd
Malta

24th
Chile

25th
Japan

26th
Kenya

27th
Singapore

28th
Slovenia

29th
Guatemala

30th
Greece

31st
Colombia

32nd
Bulgaria

33rd
Panama

34th
Estonia

35th
Portugal

36th
Mauritius

37th
Israel

38th
Ghana

39th
Ecuador

40th
Zambia

41st
Uruguay

42nd
Slovakia

43rd
Czech Republic

44th
South Africa

45th
Jamaica

46th
Croatia

47th
Republic of Korea

48th
Namibia

49th
Brazil

50th
Jordan