Tribal Cheat Sheet (20 July 2016, 14 Tammuz, 5776)
Duration: 9.55 minutes
The Ten Tribes are in Western Europe.
Different areas came to be dominated by different tribes.
The British Isles was the area of the Tribes of Joseph, Ephraim and Manasseh.
The USA was founded by people primarily from the British Isles especially by elements traceable to Manasseh.
Britain especially England became the province of Ephraim.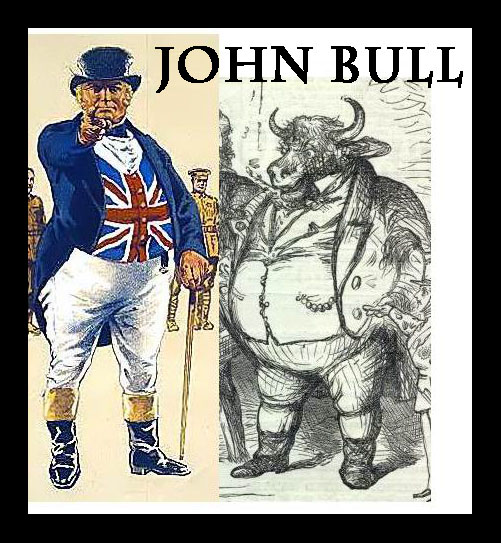 Ephraim as the Bull-Calf
Joseph was likened unto a bull (Genesis 33:17).
The Tribe of Ephraim had been nicknamed "Bull-calf."
Jeremiah (31:18) called EPHRAIM an "Aegel" meaning "Young-Bull", in Hebrew.
In Hebrew the word for bull-calf is Aegle.
The Hebrew word "Aegle" in spoken Hebrew could be pronounced as "Angle"!
The names AEGEL and Angle in Nordic dialects are interchangeable: "Aegel" is the diminutive form for Angle.
The Angles and Saxons conquered what is now England.
England was named after the Angles, England equals Angle-Land. In effect England means "Land of the Bull-Calf" land of the Aegle. "John Bull" is a nickname for England! 
Ephraim becomes Great First!
Ephraim was to become great before Manasseh as Britain did before the USA.
The blessing of Ephraim was to precede that of Manasseh.
Genesis 48:
17 Now when Joseph saw that his father laid his right hand on the head of Ephraim, it displeased him; so he took hold of his father's hand to remove it from Ephraim's head to Manasseh's head. 18 And Joseph said to his father, 'Not so, my father, for this one is the firstborn; put your right hand on his head.'
19 But his father refused and said, 'I know, my son, I know. He also shall become a people, and he also shall be great; but truly his younger brother shall be greater than he, and his descendants shall become a multitude of nations.'
20 So he blessed them that day, saying, 'By you Israel will bless, saying, 'May God make you as Ephraim and as Manasseh!'' And thus he set Ephraim before Manasseh.
'A MULTITUDE OF NATIONS' (48:19) in Hebrew is 'Malao ha-Goyim', literally 'fullness of the peoples' meaning (according to Rabbinical Commentators, e.g. Onkelos) rule over nations or determine the very existence of other nations. The British Empire did that. One-quarter of the world was once part of the British Empire!
Ephraim means Aristocrat
The Names "Ephraim" and "Ephrathite" (somebody from Ephraim) connote nobility as remarked upon by the Sages.
Jeremiah 31:20 "IS EPHRAIM MY DEAR SON? IS HE A PLEASANT CHILD? FOR SINCE I SPAKE AGAINST HIM, I DO EARNESTLY REMEMBER HIM STILL: THEREFORE MY BOWELS ARE TROUBLED FOR HIM; I WILL SURELY HAVE MERCY UPON HIM, SAITH THE LORD."
The Sages identified Ephraim as a Tribe of Nobility:
"EPHRAIM MY DEAR SON." Rabbi Yehoshua ben Levi said: [the word Ephraim means] someone who grew up in a palace [i.e. a noble]. Rabbi Yehoshua benNachman said: [the word Ephraim means] a master and governor. Said Rabbi Pinchas, our forefather Jacob when he passed away coronated Ephraim with a crown and made him the head of the Tribes, the chief of the assembly, the most handsome and exalted of my descendants will be called by his name.(Midrash YaYikra Rabah 2;3).
 Eben Shushan in his authoritative Hebrew dictionary ("HaMalon HaChadash", Jerusalem, 1979, in Hebrew) lists alternative meanings for the name "Ephrathi":
In Hebrew the word "Ephrati" means either (1) A noble or aristocrat;  (Radak on 1-Samuel 1;1,  Midrash Pirkei de Rabbi Eliezer, 45). or (2) Someone from Ephraim  (1-Kings 11:26), concerning Jeroboam the first king of the Ten Tribes; Or (3) Someone from the region of Ephrat (Bethlehem  and its surroundings) in Judah (1-Samuel 17:12), pertaining to David  from Bethlehem. 

This Midrash refers to the fact that the very name Ephraim connotes nobility (as explained at length in our work Ephraim) whereas Menasseh connotes representative Accountable Democracy. Ephraim dominates Britain and Menasseh is prevalent in the USA. Ephraim (nobility, the aristocratic principle of government) still prevails in Britain whereas the democratic Principle is paramount in the USA.

In Britain the House of Lords is the second house of Parliament. It can delay legislation; send laws back for revision; and has legislative prerogatives of its own being able to amend and revise laws or recommend doing so.
In Britain people with titles have extra rights and privileges both legally and in a de facto sense.
If one is born a lord then you have more chances of success.