Ten Tribes Studies (15 January, 2014, 14 Shevet 5774)
Contents:
1. New Article. Tithing. Obligatory Gifts and Offerings in Scripture
2. Yair is not the Messiah nor anything like it! Neither are You!
Brit-Am Replies and Note on Suddenly Shared Feelings. Beware of Flattery
3. David Jackson: Descendants of Jews in the USA, A Family  Anecdote
4. Addition to Article. Israel is to  Become a  Kingdom of Priests  and a Holy Nation
5. The Lion of Judah on the Flag of Jerusalem and the Scottish Standard

====
====
1. New Article.
Tithing. Obligatory Gifts and Offerings in Scripture
http://hebrewnations.com/articles/bible/tithes.html
Contents:
1. Introduction
2. Abraham the First Hebrew Paid Tithes
3. Jacob Tithed and this was linked to Israelite Redemption
4. Commanded Gifts to the Poor in Scripture.
5. Offerings to the Temple and to the Priests.
6. The Two Tithes
7. Torah Learning and Tithes
8. Tithing in Our Time
9.  The Enemy Gives to Enemies. Let us Learn from them!
10. Rewards for Tithing
11. Tithing is Needed
12. Conclusion

Extract:

Conclusion
Abraham gave tithes.
Abraham gave tithes.
There are opinions that all peoples of the earth should tithe.
Jacob who represents all Israel also tithed. The promise made by Jacob to tithe implied a linkage between tithing and final redemption. The Prophet Malachi also links the repentance of Israel in the End Times to tithing.
In Biblical Times numerous gifts along with two tithes were given to the Temple Service, the Priests and Levites, and to the Poor. Tithing is connected with the learning and teaching of Scripture and with the spreading of needed knowledge to ALL Israel. This is what Brit-Am/Hebrew nations endeavors to do.
In our time Jews are probably obligated to tithe.
At all events it is recommended and also emphasized that tithing can bring a blessing and is to the advantage of those who tithe.
This also applies to Gentiles.
Jews and Gentiles who benefit from Brit-Am/Hebrew nations or even simply agree that we are a source of good to others should help financially.


====
====
2. Yair is not the Messiah nor anything like it! Neither are You!
====
A said
I am being told by the Holy Spirit that you  ( Yair Davidiy ) are the Messiah son of David and future ruler of Judah.
====
B said:
I think I (i.e. B) am the Messiah.
====
====
Brit-Am Replies and Note on Suddenly Shared Feelings.  Beware of Flattery
====

To A.
While you may think I should be flattered I actually feel threatened by such messages.
Our understanding is that the future Messiah will be a Prophet.
A false Prophet is liable to be put to death.

I try not to be superstitious but it is as if messages attributing to us what is not in us may bring bad results.
Please refrain from such missives in the future.

God bless you
Yair
====

To B. 
Fancying oneself as the Messiah or as somebody special is a common phenomenon. We all like to appreciate ourselves.
Nevertheless it is dangerous. Experience shows that it can lead to psychotic disturbances.
It may also be forbidden by the Bible. It may even be dangerous in the Eyes of Heaven.

Deuteronomy 18:
20 But any prophet who speaks in the name of other gods, or who presumes to speak in my name a word that I have not commanded the prophet to speak, that prophet shall die. 21 You may say to yourself, How can we recognize a word that the Lord has not spoken? 22 If a prophet speaks in the name of the Lord but the thing does not take place or prove true, it is a word that the Lord has not spoken. The prophet has spoken it presumptuously; do not be frightened by it.
====

General Note: Sudenly Shared feelings
Notice how the questions of A and B deal with a common theme.
In our recent posts we have not dealt with such matters for a while.
There therefore seems to be no reason why such questions should arise.
But they have and almost at the same time.
After this it could be months or even years before such questions arise again.
Such phenomena occur frequently with us and probably with everyone else. We just have to open our eyes.
====

Beware of Flattery

Proverbs 27:
14 He that blesseth his friend with a loud voice, rising early in the morning, it shall be counted a curse to him.

Proverbs 26:
28 A lying tongue hateth those that are afflicted by it; and a flattering mouth worketh ruin.

Proverbs 29:
5 A man that flattereth his neighbour spreadeth a net for his feet.

====
====

3. David Jackson: Descendants of Jews in the USA, A Family  Anecdote
 RE: Brit-Am Now no. 2200. Ten Tribes Studies
http://hebrewnations.com/features/5/2200.html
#3. Cecil Davis: God will not be mocked

Yair,
First of all,  in response to Cecil Davis article I have one thing to add:
Amen!

Secondly, I think there may indeed be larger numbers of Jewish-descended
people in the US than is commonly assumed, as your Brit-Am article suggests.
 
cf.
Lost Ex-Jewish Americans. How Many Gentile Descendants of Jews in the USA are there?
http://www.britam.org/ExJs.html

There is the question of what qualifies as Jewish in this context, however.

For instance, my great-grandmother's last name was "Sizemore" or sometimes
spelled "Sisemore".  That surname came to the US from Great Britain.  It is
virtually extinct in Europe but there are over 25,000 in the US. 

The name Sizemore is said to come from Sisamai in 1 Chronicles 2:40:Â  And
Eleasah begat Sisamai, and Sisamai begat Shallum.

Jews with that family name were in Portugal prior to the 1600s.  When the
Portuguese required that all Jews either convert to Catholicism or leave the
country, they chose to leave and went to Hungary.  After some time in
Hungary, some of them moved to England in the 1600s.  The surname did not
exist in the British Isles prior to that time, but beginning the 1600s the
graves of Sizemores are found in the Jewish cemetery in London.

Eventually some of the Sizemore men came to the US as traders and
intermarried with indigenous Powhattan/Cherokee women.  According to family
tradition (which I have read about but not heard firsthand), these men for
some reason believed those Indian tribes were themselves descended from Jews
who had anciently found their way to the US, and they found it convenient to
start families with them.

To the extent that this is true, I'd say that many if not most of these
25,000+ Sizemores have some trace of Jewish, and more specifically in this
case, Sephardic Jewish ancestry.  And of course many more such as myself
have the same ancestry but not in our pure paternal line to give us that
last name.       
  
I think I once read a Scripture passage saying something to the effect that
the Almighty would not suffer even the smallest seed of his people to fall
to the ground.  (I wish I could find the quote.)  It may be that many
ancient families have been miraculously preserved in ways that human agency
and planning could not possibly have imagined or accomplished.     

Dave Jackson
Keller, TXÂ Â 

[Amos 9:9] FOR, LO, I WILL COMMAND, AND I WILL SIFT THE HOUSE OF ISRAEL AMONG ALL NATIONS, LIKE AS CORN IS SIFTED IN A SIEVE, YET SHALL NOT THE LEAST GRAIN FALL UPON THE EARTH.     
====
====

4. Addition to Article. Israel is to  Become a  Kingdom of Priests  and a Holy Nation

The following additions have been made to our recent article,

Levi. The Companion of God and his Tribe
http://hebrewnations.com/articles/tribes/levi.html

====

The Levites were a Tribe of Priests. They were to serve in the Temple and also as teachers and directors to all of the Israelites. For this reason they were to receive one-tenth of the produce from the staple crops.
See:
Tithing. Obligatory Gifts and Offerings in Scripture
http://hebrewnations.com/articles/bible/tithes.html

The role fulfilled by Levi towards the rest of Israel is destined to be carried out by all Israel in its relations with the rest of humanity.

Exodus 19:
5 Now therefore, if you obey my voice and keep my covenant, you shall be my treasured possession out of all the peoples. Indeed, the whole earth is mine, 6 but you shall be for me a  Kingdom of Priests [Cohanim] and a Holy Nation. These are the words that you shall speak to the Israelites.
====
Cities of the Cohens in the area of the future Kingdom of Judah
The Levites were divided into Cohens (descendants of Aharon) and other Levites. During the sojourn of Israel in the Wilderness the Cohens had increased and multiplied greatly, as noted by Yehudah Kiel following on from Iben Ezra. Out of the 48 cities allocated to the Levites, the Cohens were to receive 13! The cities of the Cohens were all in the south in the regions of Judah and Benjamin. Even though both Cohens and Levites were from  the same Tribe there were differences between them.  The predominance of Cohens amongst those tribes that came to comprise the Kingdom of Judah may have contributed to a stronger religious observance.
====
====

5. The Lion of Judah on the Flag of Jerusalem and the Scottish Standard
New comment on your video
J3&4. Joshua and Crossing the Jordan. The Biblical Validity of Archaeological Evidence
http://www.youtube.com/watch?v=_XYtP5Husa4&google_comment_id=z12hib0jjpiec3yoo04cdx0g1m2aifbzkyo0k&google_view_type#gpluscomments
Derek Hansin
That emblem to your right (The Lion Of Judah?) bares an uncanny resemblance to that which is found on the Scottish Standard.
Just my humble observation...
====
Yair Replies:
It is a flag bearing the present day emblem of the City of Jerusalem. It covers our computer. We needed a covering and that was available. We did not think much of it at the time but it works out well. God bless you, Yair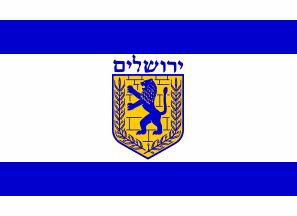 Jerusalem Lion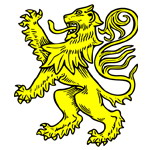 Scottish Lion