Ten Tribes Studies (13 April, 2014, 13 Nisan, 5774)

 
Contents:
1. John Doe: Linguistic Comments on the Term Anglo-Saxon
2. Charlotte Mecklenburg:Â  Finding Lost Tribesmen
3. Role to Rule: Thanks to Pesach (Passover) A few copies are now available!
4. Mike Hamerly:
Ten Tribes Redeemed by  Positive Results of their  Punishment and Exile?
5. Origin Now Only $10 per copy! A Valuable Work for a Worthwhile People.


================================
================================
1. John Doe: Linguistic Comments on the Term Anglo-Saxon
New comment on your video
Anglo-Saxon Equals Ephraim!
https://www.youtube.com/watch?v=ZvlZv3DEs6Q&list=UUsTg-uJIQYujqZ83QtidAkg
John Doe
Anglo-Saxon 
Old English Angli Saxones (plural), from Latin Anglo-Saxones, in which Anglo- is an adjective, thus literally "English Saxons," as opposed to those of the Continent (now called "Old Saxons"). Properly in reference to the Saxons of ancient Wessex, Essex, Middlesex, and Sussex.
I am a suthern man, I can not geste 'rum, ram, ruf' by letter. [Chaucer, "Parson's Prologue and Tale"]
After the Norman-French invasion of 1066, the peoples of the island were distinguished as English and French, but after a few generations all were English, and Latin-speaking scribes, who knew and cared little about Germanic history, began to use Anglo-Saxones to refer to the pre-1066 inhabitants and their descendants. When interest in Old English writing revived c.1586, the word was extended to the language we now call Old English. It has been used rhetorically for "English" in an ethnological sense from 1832, and revisioned as Angle + Saxon.
Angle 
member of a Teutonic tribe, Old English, from Latin Angli "the Angles," literally "people of Angul" (Old Norse Ongull), a region in what is now Holstein, said to be so-called for its hook-like shape (see angle (n.)). People from the tribe there founded the kingdoms of Mercia, Northumbia, and East Anglia in 5c. Britain. Their name, rather than that of the Saxons or Jutes, may have become the common one for the whole group of Germanic tribes because their dialect was the first committed to writing.
Saxon (n.)Â 
c.1200, from Late Latin Saxonem (nominative Saxo; also source of French Saxon, Spanish Sajon, Italian Sassone), usually found in plural Saxones, from a Germanic source (Old EnglishSeaxe, Old High German Sahsun, German Sachse "Saxon"), with a possible literal sense of "swordsmen" (compare Old English seax, Old Frisian, Old Norse sax "knife, short sword, dagger," Old High German Saxnot, name of a war-god), from Proto-Germanic *sahsam "knife," from PIE *sek- "to cut" (see section (n.)).

The word figures in the well-known story, related by Geoffrey of Monmouth, who got it from Nennius, of the treacherous slaughter by the Anglo-Saxons of their British hosts:
Accordingly they all met at the time and place appointed, and began to treat of peace; and when a fit opportunity offered for executing his villany, Hengist cried out, "Nemet oure Saxas," and the same instant seized Vortigern, and held him by his cloak. The Saxons, upon the signal given, drew their daggers, and falling upon the princes, who little suspected any such design, assassinated them to the number of four hundred and sixty barons and consuls ....
The OED editors helpfully point out that the correct Old English (with an uninflected plural) would be nima� eowre seax. For other Germanic national names that may have derived from characteristic tribal weapons, see Frank, Lombard. As an adjective from 1560s. Still in 20c. used by Celtic speakers to mean "an Englishman" (Welsh Sais, plural Seison "an Englishman;"Seisoneg "English").

In reference to the modern German state of Saxony (German Sachsen, French Saxe) it is attested from 1630s. Saxon is the source of the -sex in Essex, Sussex, etc. (compare Middlesex, from Old English Middel-Seaxe "Middle Saxons"). Bede distinguished the Anglo-Saxons, who conquered much of southern Britain, from the Ealdesaxe "Old Saxons," who stayed in Germany.
Etymology online

I also happen to be a linguistic scholar.
================================================================
Yair Davidiy Replies:
The idea that the name Angle derived from the territory of the Angles having an Angular [hook-like] shape is the  equivalent of a 19th century Urban Legend.
[We would be embarrassed to make such claims in support of our own beliefs but academics apparently have no such compunctions!]
As for Saxon deriving from a word meaning knife or sword this could just as well be a later rationalization explaining an already existing fact.
In our book The Tribes we show that the name originally meant "Sons of Isaac". 
British Israelite Literature had come up with such an explanation before us but we merited to add a few more points confirming it.
Your etymology source quotes Proto-Germanic and PIE (Proto-Indo-European) precedents BUT no such languages have ever been proved to have existed.
They too, are theoretical constructs to explain existing linguistic situations.
Hebrew could serve just as well, if not better.


================================================================
================================================================
2. Charlotte Mecklenburg:Â  Finding Lost Tribesmen

Yesterday I read an article in The Jerusalem Post called 'China's Lost Jews' to hold first Seder in Kaifeng in China. They were found by Shavei Israel an organization out of Jerusalem who has worked to find members of the lost tribes of Israel. They say in the article these are people who are descendants of Shephardic traders. One of the proofs of their authenticity are the Jewish cultural habits of the people.

In the past of I have read other things that Shavei Israel has said about determining what made them realize they had found a tribe. It struck me rather peculiarly after reading this article. I commend this group for wanting to do the job that the servant in Isaiah 49 is called to do, however, there is an elephant right in front of them and they are unable to see it.

Many people of Europe, America, Australia, New Zealand, South Africa, would fit into the same criteria to qualify as a possible member of a lost tribe. At least in the 50ties 80% of males in America were circumcised. We have names all over the country that are from the Bible. We name our kids after Biblical characters. We read Tanach and many people in this country have identified themselves with Israel, both now and when they immigrated to America. Not only that the people in the countries that I mentioned above have DNA that matches more closely in many instances with the DNA of the Jews of today, where as some of the tribal peoples that Shavei Israel found were not anywhere close to being the same. That isn't to say that some of the groups they have found haven't had a DNA match.

I suppose there is some purpose for this blindness at the moment. I don't think for one thing that Judah would be able to handle all the conversions that might result in having their eyes opened. This is why I say we are in the time when Hashem is gathering the one from and town and two from a clan to join Judah and learn from good shepherds that have knowledge and understanding. That comes from Jeremiah 3. Judah has always had those who were associated with him as Ezekiel 37 says.

The bulk of Joseph will continue to learn and gradually get their understanding and feet on the ground to understand how Hashem is gathering them. At some point the bulk of Joseph will be ready to come home more in a large group to fulfill some purpose that creates a need for more land because there isn't enough room in the land of Israel. We don't know the details of the plan, but if we follow the Shepherd of us all, we will be where we should be to complete his plan for His world.
Charlotte


================================================================
================================================================
3. Role to Rule: Thanks to Pesach (Passover) A few copies are now available!
"Role to Rule. The Task of Joseph"
http://www.britam.org/Role.html
This work has been out of print for some time. At one stage we offered an e-book version.  The book contains valuable information and is worth reading. Now as a result of pre-Pesach (Passover) cleaning a few copies have now become available! On Pesach different types of leaven are forbidden. This has led to the practice of thoroughly cleaning the house before the passover. The custom may have given  rise to Spring Cleaning in America.
Anyway, we too endeavor to put some kind of order in  our own establishment at this time.
Otherwise we use the excuse, 
Proverbs 14:
4 Where no oxen are, the trough is clean;
But much increase comes by the strength of an ox.
http://hebrewnations.com/articles/bible/proverbs/pb14.html

The word translated as oxen above in Hebrew is Alufim connoting prize bulls or bulls that are capable of doing a lot of work. In Modern Hebrew, aloof means champion, or military general.
The word translated as ox in the second stanza is "Shor" i.e. bull.

The verse may be rendered:

Proverbs 14:
4 Without champion bulls, the trough is clean;
But much is produced through the strength of a bull.

 If you want work done you must expect the place not to be nice and tidy.
Nevertheless even we have our limits.
Pesach is a time for cleaning, so we did some.
Consequently we came across numerous items of interest. These included a few extra copies of Role to Rule.
Those who are interested may obtain a copy for $30 per book.
This offer will be valid for about 10 days or until further notice.
If you wish to purchases "Role to Rule"
Send us a check for $30 by snail mail
See:
List of Publications and Offering Opportunities
http://www.britam.org/booksSale.html
http://hebrewnations.com/publications/books/rtr.html

OR
go to our PayPal page, make a deposit for $30 in the Contributions box, and then send us an e-mail.
http://www.britam.org/booksSale.html

So too, 3 or 4 copies of Ephraim (latest edition) are now available and may be purchased in the same way as explained above for "Role to Rule".
The price is $40 per copy of Ephraim. First come , first served.

Whatever our inadequacies, we do the work, provide information, have a readable style, and fulfill a task of value.
Help us keep doing this. It is good for us, for you, and for others.

Help us keep going.
Help us publish more books and re-publish titles that have sold out.
We are looking for partners and/or sponsors.
The more books we have the easier it will be for us to reduce their price and get the message out.


================================================================
================================================================
4. Mike Hamerly:
Ten Tribes Redeemed by  Positive Results of their  Punishment and Exile?
Re:
Brit-Am Now no. 2249. Ten Tribes Studies
#1. Mark Williams: How Jewish Was The Northern Kingdom?
http://hebrewnations.com/features/6/2249.html

Shalom Yair,

I am keenly interested in your response to Mark William's question. As a seminary student I have studied the providence of God and how he can use the sin and rebellion of some to further his wise and loving plan. In the case of Joseph,the sin of selling Joseph to traders was ultimately used to the salvation of the family of Jacob. In the case of the Ten Tribes, the sin and adultery of the Northern Kingdom seems to have been redeemed by the blessings to all the nations. Mark wondered how Jewish the Northern Kingdom was. I wonder how, in their thoroughly saturated pagan ways, they could have been a blessing to the nations.
Thanks, Yair!
Mike Hamerly
================================================================
Brit-Am Reply:

The Ten Tribes  worshipped idols and went in the ways of the nations  around them (2-Kings  chs. 17,18). They ceased to practise circumcision.  There are scholars who believe that most of them were effectively illiterate. They assimilated Canaanite beliefs and synthesized them with Israelite ones. They had intermixed with the Canaanites. Even before their Exile there may have been very little that was Israelite about them, apart from physical descent.  The Assyrians and their proxies also, at least in some cases, forced them to adopt additional pagan practices in their place of Exile. Under such circumstances it is not surprising that they forgot who they were.

cf. 2-Kings 17:
5 Then the king of Assyria invaded all the land and came to Samaria; for three years he besieged it.
6 In the ninth year of Hoshea, the king of Assyria captured Samaria; he carried the Israelites away to Assyria. He placed them in Halah, on the Habor, the river of Gozan, and in the cities of the Medes.
7 This occurred because the people of Israel had sinned against the Lord their God, who had brought them up out of the land of Egypt from under the hand of Pharaoh king of Egypt. They had worshipped other gods
8 and walked in the customs of the nations whom the Lord drove out before the people of Israel, and in the customs that the kings of Israel had introduced.
9 The people of Israel secretly did things that were not right against the Lord their God. They built for themselves high places at all their towns, from watch-tower to fortified city;
10 they set up for themselves pillars and sacred poles\ on every high hill and under every green tree;
11 there they made offerings on all the high places, as the nations did whom the Lord carried away before them. They did wicked things, provoking the Lord to anger;
12 they served idols, of which the Lord had said to them, 'You shall not do this.'

cf. 2-Kings 18:
9 In the fourth year of King Hezekiah, which was the seventh year of King Hoshea son of Elah of Israel, King Shalmaneser of Assyria came up against Samaria, besieged it, 10and at the end of three years took it. In the sixth year of Hezekiah, which was the ninth year of King Hoshea of Israel, Samaria was taken. 11The king of Assyria carried the Israelites away to Assyria, settled them in Halah, on the Habor, the river of Gozan, and in the cities of the Medes, 12because they did not obey the voice of the Lord their God but transgressed his covenant, all that Moses the servant of the Lord had commanded; they neither listened nor obeyed.

So too,
Hosea 2:8,13,16 shows that the TTs will have worshipped BAAL before and AFTER their exile.
The Celtic Peoples of Western Europe (as well as the Scandinavians with their Balder) worshipped BEL which was a Middle -Eastern way of pronouncing BAAL.
BAAL of Canaan and Ancient Israel was the same as Bel of the Celts.
We have written on this in the past and will do so again.
This in itself is Biblical Proof.
Taken together with other facts it helps confirm the presence of the TTs in Western Europe in Ancient Times!

As for why all this took place, see:
WHY? and HOW?
Suggested Explanations for the History of the Two Houses of Israel
http://hebrewnations.com/articles/ten-tribes-and-biblical-philosophy/why.html
What was the reason for the Ten Tribes having to loose consciousness of their ancestry?
If it was a punishment for sins why did God want it??
Contents:
1. Introduction
2. The Question from Mike Hamerly
3. Basic Data Versus Hypothetical Explanations
4.  The Initial Master Plan that Went Astray.
5.  The Contingency Design is Adopted.
6. Why Was it a Punishment?
If the TTs had to be lost anyway why was it done in the form of punishment for wrongdoing?
7. Did the TTs Really Do What They Were Supposed to?
8. The End is Close. TT Nations are Reneging on their Responsibilities!
9. The End Game
10. What Should be Done?



================================================================
================================================================
5. Origin Now Only $10 per copy! A Valuable Work for a Worthwhile People.
[Previous price was $20]
http://britam.org/origin.html
http://www.britam.org/books.html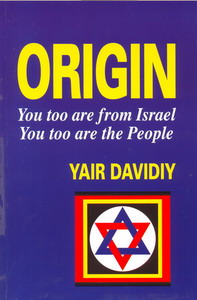 "ORIGIN: You too are from Israel, You too are the People"
    by Yair Davidiy
 
        The "ORIGIN" of several peoples in the west today is from Israel.  The Bible tells us who really is descended from the Lost Ten Tribes.

 History, archaeology, mythology, genetics, linguistics, and all other related disciplines confirm this. Scripture is true. This message pertains especially to citizens of the USA, Britain, Canada, Australia, New Zealand, and South Africa all of whom relate to the Patriarch Joseph. Some of the countries of Western Europe also have a significant proportion of people descended from Israelite Tribes in their population. The existence of Israel fulfills the purpose of creation. The good of Israel is the good of the world. In Scriptural terms, there are two halves of Israel represented by "Judah" and "Joseph". Both "Judah" and "Joseph" have their own uniqueness and their own role. Ultimately Judah and Joseph must re-unite with each other. Each side is incomplete without the other and cannot fulfill its own task without the other. Even before re-unification the closer the two sides work with each other, recognize each other, and assist each other so much the better: The closer we will come to ultimate Salvation. A prior condition for even beginning the process of Redemption is the recognition and mutual respect each side must acquire towards the other. Most of "Joseph" does not know who he is, nor does Judah know who "Joseph" is. "Joseph" must consciously recognize himself; Judah must be made aware of Joseph. Judah and Joseph must draw together. Present day events have laid the groundwork for this process but it needs to be speeded up. Time is running out. Instinctive sympathies that now exist between the two parties need to be recognized as an arousal of family consciousness.
         "ORIGIN", is intended to summarize the most vital points of all research on the subject until now. This is what "ORIGIN" does, as well as providing important new insights and information. By acquiring the knowledge revealed in "ORIGIN", internalizing it, and helping to spread this awareness you will be serving your people, and all Israel. You will realize where you came from and where you should be going. You will know your "ORIGIN".  By "you", we mean both the individual and the nation of which he is a part.
         The first part of  "ORIGIN" explains how the majority of Ancient Israelites were exiled, where they went to, what they became, and how we may recognize them through the mists of time. This is the historical evidence. The second part of "ORIGIN" goes right through the Hebrew Bible according to the literal meaning and also in the light of Rabbinical, linguistic, and other sources. The "ORIGIN" of the British and North Americans and their kinfolk in the west is from Israel. The evidence is plentiful and compelling. "ORIGIN" provides important new insights and information. "ORIGIN" summarizes the most vital points of all research on the subject until now. According to Scripture the "ORIGIN" of very many individuals and communities in the west today is from Ancient Israelites who were exiled and lost consciousness of their "ORIGIN". The Blessings to Joseph are reflected in the official symbols presently used by the USA and the UK. This book will impart a new  awareness of your "ORIGIN" to you. This is your "ORIGIN"! You too are from Israel! You too are the People! Read, see, and know. "ORIGIN" is for you and about you.
         When we wrote "ORIGIN" we intended to create a work that would make for fast enjoyable reading of the utmost value. We hoped to give the reader a good over-all picture of the most important points they needs to know concerning his "ORIGIN".
This is what we have done.
"ORIGIN" has an approbation from Rabbi Avraham Feld of the Maccabee Institute in Israel.
"ORIGIN" by Yair Davidiy was published by Russell-Davis Publishing, Jerusalem, Israel, 2002.
"ORIGIN"Â  may be obtained in our
PayPal Online Book Store
http://www.britam.org/books.html
or by sending a local US check for $10 to:

Brit Am
P.O.B. 223814
Hollywood
FL 33020
USA

OR (Outside of North America):
Yair Davidiy
POB 595
Jerusalem 91004
Israel



================================================================
================================================================
Yair Davidiy UTube Station
https://www.youtube.com/user/yairdavidiy?feature=results_main

Please send news of Hebrew Nations to your friends and correspondents. Help us spread the message.