Brit-Am Anthropology and DNA Update (22 December, 2014, 30 Kislev, 5775)
[Note: The articles below represent opinions and research of interest that may be worth awareness of. We do not necessarily agree with any of it.]
Contents:
1. Heredity and Success?
Your Ancestors, Your  Fate  by Gregory Clark
2. Map of Secondary Languages in the USA
Hola! What Language Is Your State Speaking? by Dora Hasan Mekouar
3. 10 Things You Should Know About Sexual Attraction
by Vincent West
===============================
===============================
1. Heredity and Success?
Your Ancestors, Your Fate
By Gregory Clark
February 21, 2014 6:19 am February 21, 2014 6:19 am
http://opinionator.blogs.nytimes.com/2014/02/21/your-fate-thank-your-ancestors/?_r=0

Extracts:

Inequality of income and wealth has risen in America since the 1970s, yet a large-scale research study recently found that social mobility hadn't changed much during that time. How can that be?

The study, by researchers at Harvard and Berkeley, tells only part of the story. It may be true that mobility hasn't slowed, Â but, more to the point, mobility has always been slow.

When you look across centuries, and at social status broadly measured, not just income and wealth, but also occupation, education and longevity, Â social mobility is much slower than many of us believe, or want to believe. This is true in Sweden, a social welfare state; England, where industrial capitalism was born; the United States, one of the most heterogeneous societies in history; and India, a fairly new democracy hobbled by the legacy of caste. Capitalism has not led to pervasive, rapid mobility. Nor have democratization, mass public education, the decline of nepotism, redistributive taxation, the emancipation of women, or even, as in China, socialist revolution.

To a striking extent, your overall life chances can be predicted not just from your parents' status but also from your great-great-great-grandparents. The recent study suggests that 10 percent of variation in income can be predicted based on your parents' earnings. In contrast, my colleagues and I estimate that 50 to 60 percent of variation in overall status is determined by your lineage. The fortunes of high-status families inexorably fall, and those of low-status families rise, toward the average, what social scientists call ' regression to the mean' Â but the process can take 10 to 15 generations (300 to 450 years), much longer than most social scientists have estimated in the past.

We came to these conclusions after examining reams of data on surnames, a surprisingly strong indicator of social status, in eight countries: Â Chile, China, England, India, Japan, South Korea, Sweden and the United States, Â going back centuries. Across all of them, rare or distinctive surnames associated with elite families many generations ago are still disproportionately represented among today's elites.

Does this imply that individuals have no control over their life outcomes? No. In modern meritocratic societies, success still depends on individual effort. Our findings suggest, however, that the compulsion to strive, the talent to prosper and the ability to overcome failure are strongly inherited. We can't know for certain what the mechanism of that inheritance is, though we know that genetics plays a surprisingly strong role. Alternative explanations that are in vogue - cultural traits, family economic resources, social networks, Â don't hold up to scrutiny.

Because our findings run against the intuition that modernity, and in particular capitalism, has eroded the impact of ancestry on a person's life chances, I need to explain how we arrived at them.

Let's start with Sweden, which  like Denmark, Finland, Iceland and Norway, is one of the world's most equal societies in terms of income. To our surprise, we found that social mobility in Sweden today was no greater than in Britain or the United States today, or even Sweden in the 18th century.

... We estimate that about 56,000 Swedes hold rare surnames associated with the three historic tiers of nobles.

Another elite group are Swedes whose ancestors, Â a rising educated class of clerics, scholars, merchants, Â Latinized their surnames in the 17th and 18th centuries (like the father of the botanist Carolus Linnaeus). Adopting elite names was limited by law in Sweden in 1901, so a vast majority of people holding them are descended from prominent families.

Given the egalitarian nature of Swedish society, one would expect that people with these elite surnames should be no better off than other Swedes. That isn't so. In a sample of six Stockholm-area municipalities in 2008, rich and poor, we found that the average taxable income of people with noble names was 44 percent higher than that of people with the common surname Andersson. Those with Latinized names had average taxable incomes 27 percent higher than those named Andersson.

Surnames of titled nobles (counts and barons) are represented in the register of the Swedish Bar Association at six times the rate they occur in the general population (three times the rate, for untitled-noble and Latinized surnames). The same goes for Swedish doctors. Among those who completed master's theses at Uppsala University from 2000 to 2012, Swedes with elite surnames were overrepresented by 60 to 80 percent compared with those with the common surname prefixes Lund- and Berg-.

What if we go back even further in time - to medieval England?

We estimate that one-tenth of all surnames in contemporary England can be traced to the occupation of a medieval ancestor, Â names like Smith (the most common surname in the United States, England and Australia), Baker, Butler, Carter, Chamberlain, Cook, Shepherd, Stewart and Wright. Tax records suggest that most surnames became heritable by 1300.

We compared the frequency of these common surnames in the population as a whole against elite groups, as drawn from several sources, including membership rolls at Oxford and Cambridge, dating as far back as 1170, and probate records from 1384 onward.

We found that late medieval England was no less mobile than modern England, contrary to the common assumption of a static feudal order. It took just seven generations for the successful descendants of illiterate village artisans of 1300 to be incorporated fully into the educated elite of 1500, Â that is, the frequency of their names in the Oxbridge rolls reached the level around where it is today. By 1620, according to probate records, people with names like Butcher and Baker had nearly as much wealth as people with high-status surnames like Rochester and Radcliffe.

Of course, mobility, in medieval times as now, worked both ways.... The medieval noble surname Cholmondeley was, by the 19th century, held by a good number of farm laborers.

... For all the creative destruction unleashed by capitalism, the industrial revolution did not accelerate mobility. Looking at 181 rare surnames held by the wealthiest 15 percent of English and Welsh people in the mid-19th century, Â to be clear, these were not the same elite surnames as in the medieval era, we found that people with these surnames who died between 1999 and 2012 were more than three times as wealthy as the average person.

If your surname is rare, and someone with that surname attended Oxford or Cambridge around 1800, your odds of being enrolled at those universities are nearly four times greater than the average person. This slowness of mobility has persisted despite a vast expansion in public financing for secondary and university education, and the adoption of much more open and meritocratic admissions at both schools.

What about America, the self-proclaimed land of opportunity?

... Family names tell you, for better or worse, a lot: The average life span of an American with the typically Jewish surname Katz is 80.2 years, compared with 64.6 years for those with the surname Begay (or Begaye), which is strongly associated with Native Americans. Heberts, whites of New France descent, live on average three years less than Dohertys, whites of Irish descent.

... Very high-status groups in America include Ashkenazi Jews, Egyptian Copts, Iranian Muslims, Indian Hindus and Christians, and West Africans. The descendants of French Canadian settlers don't suffer racial discrimination, but their upward mobility, like that of blacks, has been slow.

Chen (a common Chinese surname) is of higher status than Churchill. Appiah (a Ghanaian surname) is higher than Olson (or Olsen), a common white surname of average status. Very little information about status can be surmised by the most common American surnames, Â the top five are Smith, Johnson, Williams, Brown and Jones, which all originated in England, because they are held by a mix of whites and blacks.

Our findings were replicated in Chile, India, Japan, South Korea and, surprisingly, China, which stands out as a demonstration of the resilience of status, Â even after a Communist revolution nearly unparalleled in its ferocity, class hatred and mass displacement.

In China, there are only about 4,000 surnames; the 100 most common are held by nearly 85 percent of the population. Yet we were able to identify 13 rare surnames that were exceptionally overrepresented among successful candidates in imperial examinations in the 19th century. Remarkably, holders of these 13 surnames are disproportionately found now among professors and students at elite universities, government officials, and heads of corporate boards. Social mobility in the Communist era has accelerated, but by very little. Mao failed.

....the large investments made by the super-elite in their kids, Â like those of the Manhattan hedge-funders who spend a fortune on preschool, Â are of no avail in preventing long-run downward mobility.

As the political theorist John Rawls suggested in his landmark work 'A Theory of Justice' (1971), innate differences in talent and drive mean that, to create a fair society, the disadvantages of low social status should be limited. We are not suggesting that the fact of slow mobility means that policies to lift up the lives of the disadvantaged are for naught - quite the opposite. Sweden is, for the less well off, a better place to live than the United States, and that is a good thing. And opportunities for people to flourish to the best of their abilities are essential.

===============================
===============================
2. Map of Secondary Languages in the USA
Hola! What Language Is Your State Speaking?
by Dora Hasan Mekouar
http://blogs.voanews.com/all-about-america/2014/12/12/hola-what-language-is-your-state-speaking/
Extracts:
Although there is no official language in the United States, the vast majority of Americans speak English, and it is the language used by the government and in commerce.

However, in a land comprised of immigrants, it's not surprising that a language other than English is often spoken in American homes.

The American Community Survey, which has been around since 1850, collects information about a wide variety of diverse topics, including how much money Americans have, marital status, educational level, disability, fertility,who has insurance, how much people are paying on their mortgages, who has access to health care, computer use, and what language is spoken at home.

The survey found that the vast majority of Americans speak only English at home. The second most common language is Spanish. However, when you take out English and Spanish, an interesting map emerges of where certain ethnic groups have congregated in the United States.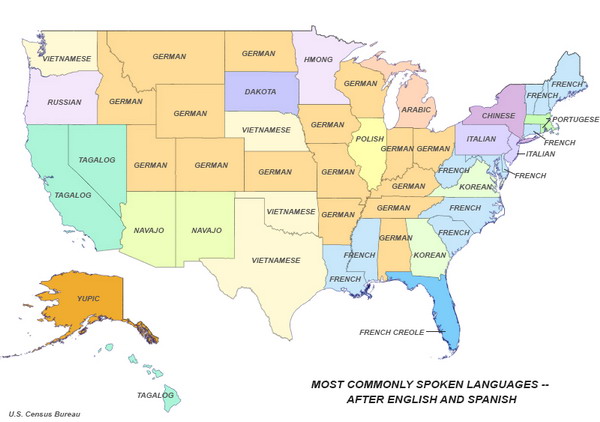 German dominates the American Midwest, which is not terribly surprising when you consider that people of German ancestry, about 16 million of them, are the largest ancestry group in the United States, according to Ancestry & Ethnicity in the United States.

French is the language spoken most often (after English and Spanish) in one-fifth of the U.S. states. More than 11 million Americans identify themselves as having either French or French Canadian roots.

===============================
===============================
3. 10 Things You Should Know About Sexual Attraction
[Brit-Am Note: Â We are against sexual promiscuity. Nevertheless the article below has some information that may be worth knowing.]
Source: REUTERS/Vincent West
http://www.businessinsider.com/10-facts-about-sexual-attraction-2014-12

Extracts:
1. We tend to be attracted to people who look like us. For instance, in one study, researchers asked heterosexual men and women to rate the attractiveness of several faces [1]. Included among the photos was a picture of one's own face that had been digitally morphed into the other sex. Participants found this morphed face to be more attractive than all of the others!

2. ...  we also seem to be attracted to people who remind us of our parents. For example, research has found that people born to older parents tend to be attracted to older partners as adults.

3. If you're already physiologically aroused (e.g., from having just exercised) and you meet someone new, you're more likely to develop an attraction to that person. ...

4. ... the drunker people get, the higher the attractiveness ratings they give to strangers. Alcohol also changes how attractive we perceive ourselves.

5. Playing hard to get seems to work.....  less available people are seen as more desirable romantic prospects.

6. When it comes to pick-up lines, both men and women prefer it when people open with a simply 'hi' or 'hello,' or lead with an innocuous question

7. Attraction is a multi-sensory process. Who we're attracted to depends not just on how another person looks, but also how they smell, .. and so on.

8. The things that heterosexual women find attractive in men vary across the menstrual cycle. Specifically, when women are at peak fertility, they tend to be attracted to 'manlier' men (e.g., muscular guys with deep voices).

9. Heterosexual men tend to find women wearing red clothing more attractive than women wearing any other color [2]. Why? Some theorize that men have evolved a tendency to become aroused by this color because women's bodies naturally become red/pink during sexual arousal (e.g., many women experience a 'sex flush' or reddish rash that appears primarily on the chest during arousal). A recent study suggests that women may subconsciously capitalize on this by dressing in red when they are most fertile.

10. Our patterns of sexual attraction appear to change seasonally. For instance, heterosexual men report greater attraction to women's bodies and breasts in the winter months than they do in the summer months....