Brit-Am Anthropology and DNA Update (24 March, 2015, 4 Nisan, 5775)
Contents:
1. African Input to Middle Eastern Populations
2. Yoruba (Nigeria) Dominant Amongst Afro-Americans!
Complex genetic ancestry of Americans uncovered: Genetic fingerprints of slave trade and colonization
3. Genetic study reveals 30% of white British DNA has German ancestry
by Hannah Devlin  
4. Proof of the Etruscans Coming from Lydia (Turkey). Near Eastern Presence in Tuscany (Northwest Italy).
5. Release of New study on British DNA arouses much discussion
(a) The Study
(b) Article on the study (forwarded by Stephen Phillips)
DNA study shows Celts are not a unique genetic group  By Pallab Ghosh
============================================================
===============================
1. African Input to Middle Eastern Populations
Population genetics reveals shared ancestries: DNA links modern Europeans, Middle Easterners to Sub-Saharan Africans
http://www.sciencedaily.com/releases/2011/05/110524153536.htm
Extracts:
More than just a tool for predicting health, modern genetics is upending long-held assumptions about who we are. A new study by Harvard researchers casts new light on the intermingling and migration of European, Middle Eastern and African and populations since ancient times.

In a paper titled "The History of African Gene Flow into Southern Europeans, Levantines and Jews," published in PLoS Genetics, HMS Associate Professor of Genetics David Reich and his colleagues investigated the proportion of sub-Saharan African ancestry present in various populations in West Eurasia, defined as the geographic area spanning modern Europe and the Middle East. While previous studies have established that such shared ancestry exists, they have not indicated to what degree or how far back the mixing of populations can be traced.

Analyzing publicly available genetic data from 40 populations comprising North Africans, Middle Easterners and Central Asians were doctoral student Priya Moorjani and Alkes Price, an assistant professor in the Program in Molecular and Genetic Epidemiology within the Department of Epidemiology at the Harvard School of Public Health.

While the researchers detected no African genetic signatures in Northern European populations, they found a distinct presence of African ancestry in Southern European, Middle Eastern and Jewish populations. Modern southern European groups can attribute about 1 to 3 percent of their genetic signature to African ancestry, with the intermingling of populations dating back 55 generations, on average -- that is, to roughly 1,600 years ago. Middle Eastern groups have inherited about 4 to 15 percent, with the mixing of populations dating back roughly 32 generations. A diverse array of Jewish populations can date their Sub-Saharan African ancestry back roughly 72 generations, on average, accounting for 3 to 5 percent of their genetic makeup today.

According to Reich, these findings address a long-standing debate over African multicultural influences in Europe. The dates of population mixtures are consistent with documented historical events. For example, the mixing of African and southern European populations coincides with events during the Roman Empire and Arab migrations that followed. The older-mixture dates among African and Jewish populations are consistent with events in biblical times, such as the Jewish diaspora that occurred in 8th to 6th century BC.
===============================
===============================
2. Yoruba (Nigeria) Dominant Amongst Afro-Americans!
Complex genetic ancestry of Americans uncovered: Genetic fingerprints of slave trade and colonization
http://www.sciencedaily.com/releases/2015/03/150324132224.htm?utm_source=feedburner&utm_medium=email&utm_campaign=Feed%3A+sciencedaily%2Fhealth_medicine%2Fgenes+%28Genes+News+--+ScienceDaily%29

Extracts:

The study found that:
While Spaniards provide the majority of European ancestry in continental American Hispanic/Latino populations, the most common European genetic source in African-Americans and Barbadians comes from Great Britain.
The Basques, a distinct ethnic group spread across current-day Spain and France, provided a small but distinct genetic contribution to current-day Continental South American populations, including the Maya in Mexico.
The Caribbean Islands of Puerto Rico and the Dominican Republic are genetically similar to each other and distinct from the other populations, probably reflecting a different migration pattern between the Caribbean and mainland America.
Compared to South Americans, people from Caribbean countries (such as the Barbados) had a larger genetic contribution from Africa.
The ancestors of current-day Yoruba people from West Africa (one of the largest African ethnic groups) provided the largest contribution of genes from Africa to all current-day American populations.
The proportion of African ancestry varied across the continent, from virtually zero (in the Maya people from Mexico) to 87% in current-day Barbados.
South Italy and Sicily also provided a significant European genetic contribution to Colombia and Puerto Rico, in line with the known history of Italian emigrants to the Americas in the late 19th and early 20th century
One of the African-American groups from the USA had French ancestry, in agreement with historical French immigration into the colonial Southern United States.
The proportion of genes from European versus African sources varied greatly from individual to individual within recipient populations.
===============================
===============================
3. Genetic study reveals 30% of white British DNA has German ancestry
by Hannah Devlin 
http://www.theguardian.com/science/2015/mar/18/genetic-study-30-percent-white-british-dna-german-ancestry
Analysis over 20 years reveals heavy Anglo-Saxon influence, with French and Danish DNA coming from earlier migrations than the Normans or Vikings

Extracts:

The Romans, Vikings and Normans may have ruled or invaded the British for hundreds of years, but they left barely a trace on our DNA, the first detailed study of the genetics of British people has revealed.

The analysis shows that the Anglo-Saxons were the only conquering force, around 400-500 AD, to substantially alter the country�s genetic makeup, with most white British people now owing almost 30% of their DNA to the ancestors of modern-day Germans.

People living in southern and central England today typically share about 40% of their DNA with the French, 11% with the Danes and 9% with the Belgians, the study of more than 2,000 people found. The French contribution was not linked to the Norman invasion of 1066, however, but a previously unknown wave of migration to Britain some time after then end of the last Ice Age nearly 10,000 years ago.

Prof Peter Donnelly, director of the Wellcome Trust Centre for Human Genetics at the University of Oxford, who co-led the research, said: 'It has long been known that human populations differ genetically, but never before have we been able to observe such exquisite and fascinating detail.'

The study found that people's ancestral contributions varied considerably across Britain, with people from areas of Wales, Scotland and Northern Ireland emerging as separate genetic clusters, providing a scientific basis to the idea of regional identity for the first time.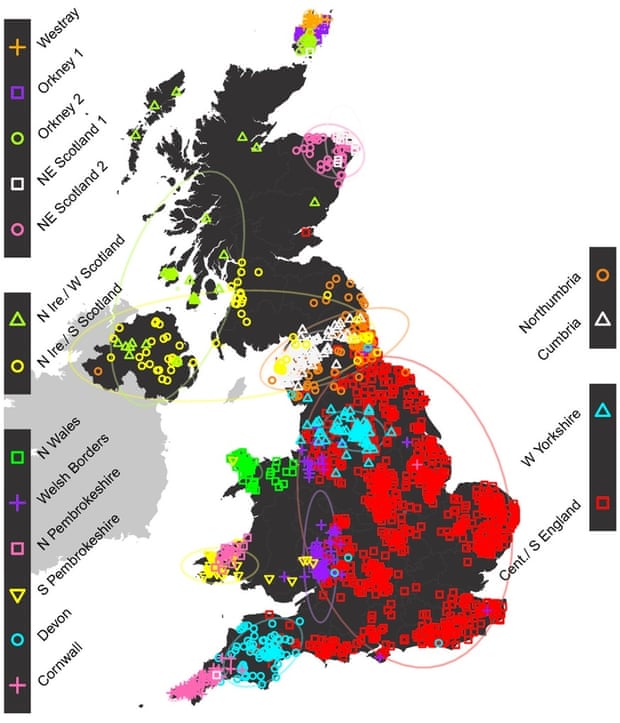 Map of the UK showing clustering of individuals based on genetics, and its striking relationship with geography.

Surprisingly, the study showed no genetic basis for a single 'Celtic' group, with people living in Scotland, Northern Ireland, Wales and Cornwall being among the most different form each other genetically.

'The Celtic regions one might have expected to be genetically similar, but they're among the most different in our study,' said Mark Robinson, an archaeologist from the Oxford University Museum of Natural History and a co-author. 'It's stressing their genetic difference, it's not saying there aren't cultural similarities.'

The study, published on Wednesday in the journal Nature, is the culmination of 20 years of work. Scientists began collecting DNA samples from people in Orkney in 1994 and gradually worked across most of the British Isles.

The participants were all white British, lived in rural areas and had four grandparents all born within 50 miles (80km) of each other. Since a quarter of our genome comes from each of our grandparents, the scientists were effectively obtaining a snapshot of British genetics at at the beginning of the 20th century.

The Danish Vikings, who ruled over large swathes of Britain from 865AD, are known to have inter-married with locals, but the latest study shows that the conquering force, while powerful, must have comprised relatively few fighters.

The analysis also settles a long-running dispute about the nature of the Anglo-Saxon takeover of England following the collapse of the Roman empire. The replacement of the Celtic language by Anglo-Saxon and the complete shift towards North-West German farming and pottery styles has led some to suggest that local populations must have retreated to Wales or even been wiped out in a genocide.

'[Our results] suggest that at least 20% of the genetic makeup in this area is from Anglo-Saxon migrants, and that there was mixing,' said Robinson. 'It is not genocide or complete disappearance of Britons.'

The authors suggest that DNA analysis should now be regarded as a powerful historical tool, sometimes providing more impartial information than traditional sources.

'Historical records, archaeology, linguistics - all of those records tell us about the elites. It's said that history is written by the winners,' said Donnelly. 'Genetics complements that and is very different. It tells us what is happening to the masses... the ordinary folk.'
===============================
===============================
4. Proof of the Etruscans Coming from Lydia (Turkey). Near Eastern Presence in Tuscany (Northwest Italy).

Mitogenomes from The 1000 Genome Project Reveal New Near Eastern Features in Present-Day Tuscans
Gomez-Carballa et. al.

Background
Genetic analyses have recently been carried out on present-day Tuscans (Central Italy) in order to investigate their presumable recent Near East ancestry in connection with the long-standing debate on the origins of the Etruscan civilization. We retrieved mitogenomes and genome-wide SNP data from 110 Tuscans analyzed within the context of The 1000 Genome Project. For phylogeographic and evolutionary analysis we made use of a large worldwide database of entire mitogenomes (>26,000) and partial control region sequences (>180,000).
Results

Different analyses reveal the presence of typical Near East haplotypes in Tuscans representing isolated members of various mtDNA phylogenetic branches. As a whole, the Near East component in Tuscan mitogenomes can be estimated at about 8%; a proportion that is comparable to previous estimates but significantly lower than admixture estimates obtained from autosomal SNP data (21%). Phylogeographic and evolutionary inter-population comparisons indicate that the main signal of Near Eastern Tuscan mitogenomes comes from Iran.

Conclusions

Mitogenomes of recent Near East origin in present-day Tuscans do not show local or regional variation. This points to a demographic scenario that is compatible with a recent arrival of Near Easterners to this region in Italy with no founder events or bottlenecks.
===============================
Brit-Am Note:
The Etruscans dwelt in Northwest Europe (Tuscany). They contributed much to Roman civilization and for a time ruled over Rome. The Greek historian Herodotus records a tradition that the Etruscans came from Lydia in what is now western Turkey.
===============================
==============================
5. Release of New study on British DNA arouses much discussion
==============================
(a) The Study
Re
The fine-scale structure of the British Population
  http://bit.ly/1BVViXT
A Nature article
==============================
(b) Article on the study (forwarded by Stephen Phillips)
DNA study shows Celts are not a unique genetic group
By Pallab Ghosh
http://www.bbc.com/news/science-environment-31905764
Science correspondent, BBC News
18 March 2015
Extracts:

A DNA study of Britons has shown that genetically there is not a unique Celtic group of people in the UK.

According to the data, those of Celtic ancestry in Scotland and Cornwall are more similar to the English than they are to other Celtic groups.

The study also describes distinct genetic differences across the UK, which reflect regional identities.

And it shows that the invading Anglo Saxons did not wipe out the Britons of 1,500 years ago, but mixed with them.

Published in the Journal Nature, the findings emerge from a detailed DNA analysis of 2,000 mostly middle-aged Caucasian people living across the UK.

According to Prof Peter Donnelly who co-led the study, the results show that although there is not a single Celtic group, there is a genetic basis for regional identities in the UK.

"Many of the genetic clusters we see in the west and north are similar to the tribal groupings and kingdoms around, and just after, the time of the Saxon invasion, suggesting these kingdoms maintained a regional identity for many years," he told BBC News.

Prof Donnelly and his colleagues compared genetic patterns now with the map of Britain in about AD 600, after the Anglo Saxons had arrived from what is now southern Denmark and Northern Germany. By then, they occupied much of central and southern England.

"We see striking similarities between the genetic patterns we see now and some of these regional identities and kingdoms we see in AD 600, and we think some of that may well be remnants of the groupings that existed then," he explained.

A map of different genetic groupings reveals subtle but distinct differences between those sampled in West Yorkshire and the rest of the country.

...Each colour represents a different genetic group. Many correspond very closely to county borders, indicating a genetic basis for regional identities.

There is also a marked division between the people of Cornwall and Devon that almost exactly matches the county border. And the People of Devon are distinct again to those from neighbouring Dorset.
... people in the north of England are genetically more similar to people in Scotland than they are to those in the south of England.

It also finds that people in North and South Wales are more different from each other than the English are from the Scots; and that there are two genetic groupings in Northern Ireland.

Prof Mark Robinson, an archaeologist who works with Prof Donnelly at Oxford University, said he was "very surprised" that Celtic groups in Cornwall, Wales, Northern Ireland and Scotland had such different genetic patterns.

"I had assumed at the very early stages of the project that there was going to be this uniform Celtic fringe extending from Cornwall through to Wales into Scotland. And this has very definitely not been the case," he told BBC News.

We did not find a single genetic group corresponding to the Celtic traditions in the western fringes of Britain
Prof Peter Donnelly, Oxford University

The researchers did see distinct genetic groups within those regions but those groups were quite different from each other, according to Prof Donnelly.

"Although people from Cornwall have a Celtic heritage, genetically they are much, much more similar to the people elsewhere in England than they are to the Welsh for example," said Prof Donnelly.

"People in South Wales are also quite different genetically to people in north Wales, who are both different in turn to the Scots. We did not find a single genetic group corresponding to the Celtic traditions in the western fringes of Britain."

Into the Dark Ages

The finding is the first genetic evidence to confirm what some archaeologists have long been arguing: that Celts represent a tradition or culture rather than a genetic or racial grouping.

Prof Robinson noted that the results also shed light on what happened during Britain's Dark Ages, in the years between AD 400 and AD 600, after the Romans left.

Towns were abandoned; the language over much of what became England changed (to Anglo Saxon, which became English); pottery styles altered; so too even the cereals that were grown, following the arrival of people from the base of the southwest Danish peninsula and northwestern Germany (the Anglo Saxons).

Some historians and archaeologists had wondered whether these changes occurred as a result of the Saxons entirely replacing the existing population as they moved westwards. That might have happened if the Saxons introduced disease, for example.

Others researchers suggested that the existing population simply dropped their old ways and adopted the Saxon way of life.

The new analysis shows a modest level of Saxon DNA, suggesting that the native British populations lived alongside each other and intermingled with the Anglo Saxons to become the English.

There is some evidence in the study that intermingling did not happen immediately following the Saxons' arrival, but occurred at least 100 years later. This suggests that Britons and Saxons had separate communities to begin with, and then over time they began to merge.

Northern Irish groupings

This may well be one of the first instances where genetics has been used to clear up historical controversy.

The study seems to confirm the view that Celts retained their identity in western and northern areas of England where the regions were incorporated into Anglo Saxon territory by conquest.

The study also notes that there are two genetic groupings in Northern Ireland: one of which also contains individuals across the sea in western Scotland and the Highlands; the other contains individuals in southern Scotland and southern England.

The former appears to reflect the kingdom of Dalriada 1,500 years ago; the other probably represents the settlers of the Ulster Plantations.

And in Orkney, the study finds clear evidence of Norwegian DNA, as might be expected from the Viking settlement of the Islands.

The Viking armies that laid waste to parts of England, and for a while ruled what became known as the Danelaw, left little if any genetic trace, confirming that their success was due to their military prowess rather than large-scale population movement.

Likewise, the Norman conquest of England did not leave any genetic evidence.