Brit-Am Megalithic Bulletin Update (19 February, 2015, 30 Shevet, 5775)
Contents:
 1. Borlase. Dolmen Links to the East
2. Conder: Dolmens Links to Israel and Syria
3.  Dolmens Named Bothal in Ireland equals Bethel. (2 sources)
===============================
===============================
 1. Borlase. Dolmen Links to the East

William Copeland Borlase, 1897: Dolmens of Ireland
http://www.askaboutireland.ie/aai-files/assets/ebooks/ebooks-2011/Dolmens-Of-Ireland/THE%20DOLMENS%20OF%20IRELAND_BORLASE_I_913_415.pdf

re dolmens in England..:
the type, the mode of construction, and the cultus connected with the dolmens survived as late as the days of the Roman Provincials.

p.221 county of Fermanagh
Donegal
Turning to other countries, we may certainly compare them to the sculpturings
on the cover of a stone cist at Carnwath (Scotland) ; to those on the cover of
another cist at Eston Nab in the Cleveland district of Yorkshire and to those on
the cover of a third at Aspatria in Cumberland, in which iron objects occurred.1I
Scandinavian examples of very similar work have been recorded in plenty, and,
prominent among them, those on the dolmen of Herrestup in Zeeland,' and at
Krapperup in Scania.tt For examples from Brittany we have only to turn to the
stones in the Gavr Innis chamber, and those at Mane Lud, or on the dolmens of
Finisterre, instanced in the" Materiaux pour l'Bistoire de I'Homme." Â Some sculpturings
on one of the stones in a wedge-shaped vault at Balle will be noticed
further on. With certain scorings found on dolmens of ruder type, as well as on
natural rock sin situ, I am not prepared to class those we are considering. The
forms and treatment recall more directly the works of the potters and bronze-casters
of the Hallstadt period, as evidenced in urns and weapons found throughout the
North of Europe. I refer especially to the face and scene urns of Germany,
which we can trace southward in Bohemia, Italy, the eastern Mediterranean and its
islands, and I see not why we should stop short of Assyria itself, whence the
influence of art in textile fabrics and metal work was transmitted to the Aegean,
where it was reproduced in the ornamentation observable on the fictilia.

p.726
a dolmen near Heshbon - represents a structure wonderfully like the Giant's Load at Ballymascanlan, in Louth (south east Ulster).

p.727 Syria Moab dolmen with hole as in Caucasus also found in one example from Clare, [west] Ireland.

p.728
Near Heshbon too, are cairns "with circles round them", "rocks filled with small holes" and "a circle having a diameter of 200 feet", while "the  slopes beneath are sown with dolmens, some being the finest found in all Moab".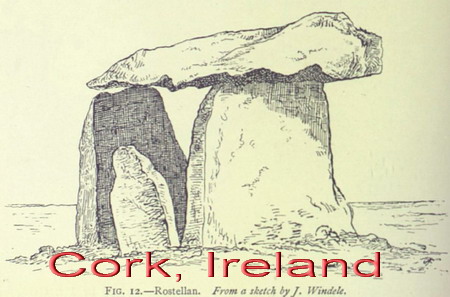 See Also:
Israel-Syria-Ireland in Megalithic Parallelism
http://www.britam.org/SyriaEire.html
===============================
===============================
2. Conder: Dolmens Links to Israel and Syria

Heth and Moab : explorations in Syria in 1882 (1885)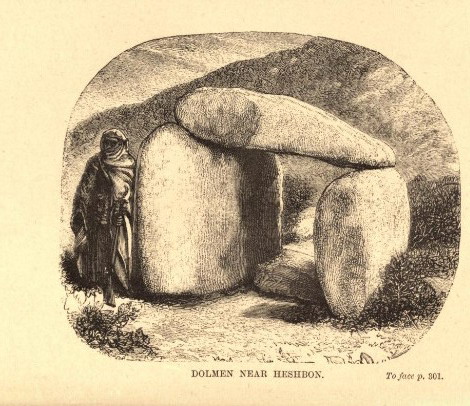 Author: Conder, C. R. (Claude Reignier), 1848-1910
Subject: Syria -- Antiquities
Publisher: London : Richard Bentley & Son
Year: 1885

https://archive.org/stream/hethandmoab00conduoft#page/viii/mode/2up

p.216 Sanchoniathon, the Phoenician, speaks of the Baetuli, which were Bethels or 'houses of God,' inhabited by a divine soul... 
p.219 Du Chaillu has remarked on the occurrence of rude-stone stone monuments besides rivers in Sweden; and among the Celtic races menhirs occur near springs, wells, ponds, and swamps, and were prayed to for rain. ... east of  Jordan the centres appear invariably to be connected to fine spring heads; where there arew no streams, no menhirs are found.

p.323 Dolmens with holes of various sizes in the endstone are not uncommon, while holed menhirs... have special importance. In buried dolmens, or tomb-chambers such holes or rather large openings in the end stone are often found, and Irby and Mangles give an account of dolmens west of es-Salt which seem to have similar entrances... Holed dolmens occur in Circassia, but not a single specimen was found in Moab....
The Dol ar Marchande in  Brittany; the rude spirals at Gavr Innis; the fern patterns and concentric circles at Lock Crew; and at   Douth and New Grange, appear to represent the highest ideas of art in the dolmen building age.  Similar 'cup and ring' marks are found at Inverary, and on rocks in Scotland and the North of England, and they recall (as do the fern and palm leaf patterns)  in a remarkable manner the rude attempts at ornamentation scrawled on the walls of sacred places by an utterly illiterate peasantry....[in Moab]

p.236 [artificial hollows found on table stones in Moab and in Cornwall and the Scilly Islands]Â  intended to hold some liquid.
p. 239 most dolmens in Moab were not graves...
Isaiah 65:11 preparing a table for Gad

p.271 In Galilee we find a few remaining dolmens, and at the site of Dan, where Jeroboam's calf-temple was erected, and which we know to have long been a sacred place, a large group has been discovered, most of the examples having, however, been overthrown, apparently on purpose.

p. 282 superstitions concerning nail clippings in England similar to those found in the Talmud and amongst the Persians.
===============================
===============================
3.  Dolmens Named Bothal in Ireland equals Bethel. (2 sources)
===============================
(a) Source:
Facts that Prove the Connection between the Phoenicians and the Irish-Celtic
http://phoenicia.org/Phoenician_Celtic_connections.html
Since it is true that Canaanite Phoenicians migrated to Europe in large numbers in ancient times, there must be religious and cultural ties, and in fact, such connections abound. Dr. Thomas Moore's, History of Ireland(p. 40), relates:

"That most common of all Celtic monuments, the Cromlech... is to be found not only in most parts of Europe, but also in Asia," including eastern Mediterranean. Not less ancient and general, among the Celtic nations, was the circle of upright stones, with either an altar or tall pillar in the centre, and, like its prototype at the temple of Byblos, Phoenicia, Gilgal [ancient Israel], serving sometimes as a temple of worship, sometimes as a place of national council or inauguration... The rough, unhewn stone...used in their circular temples by the Druids. Dr. Beauford, in Druidism Revived, says, "It is remarkable that all the ancient altars found in Ireland, and now distinguished by the name of Cromlechs or sloping stones, were originally called Bothal, or the House of God, and they seem to be of the same species as those mentioned in the Book of Genesis, called by the Canaanites, Bethel, or discovered in Byblos, Phoenicia, which has the same signification as the Irish Bothal." The Bible (Judges 9:6; 2Ki. 11:14; 2 Chon. 23:13) indicates that Phoenician kings were crowned either standing upon or next to a pillar of stone. "The practice of seating the new king upon a stone, at his initiation, was the practice in many of the countries of Europe.... The monarchs of Sweden sat upon a stone placed in the centre of twelve lesser ones, and in a similar kind of circle the Kings of Denmark were crowned." (Moore, ibid., p. 42) Note also the significant Bible number, 'twelve', which was common to both European Celts and the Phoenicians.

The book, Identity of the Religions Druidical and Phoenician, adds, "Circular temples...abound in England and other parts of Europe. The most ancient account of them is to be found in the book of Exodus (24:4), "And Moses... builde an altar under the hill, and twelve pillars, according to the twelve tribes.." (p.15) In Europe, Stonehenge, Avebury, and many other early Celtic sites were designed in a circular pattern. There is no record that preserves the order in which the pillars or stelae of the temple of Byblos were organized.
===============================
(b) Source:
Collectanea de Rebus Hibernicus: no. V. Vallancey, C.
Druidism Revivied p.211
https://books.google.co.il/books?id=S4kOAAAAQAAJ&pg=PA229&lpg=PA229&dq=irish+bothal&source=bl&ots=Vj0TYTfzP_&sig=Olzk80C20ei5yZx6EqlfGfmaTtk&hl=iw&sa=X&ei=VWfkVLrWCIP1Uu6Ug_gF&ved=0CCsQ6AEwAg#v=onepage&q=irish%20bothal&f=false
It is remarkable that all the ancient altars found in Ireland, and how distinguished by the name of Cromleachs or Hoping stones, were originally called Bothal ...