Jerusalem News (1 August, 2014, 5 Av, 5774)
Contents:
1. Help Spread the Molly Malone Picture. Save Ireland from Itself!
2. 10 Myths and Facts about the Gaza War. Key facts you need to know to defend Israel,
by Yvette Alt Miller
3. Military Expert Summary of the Present Situation
 IDF Calls Up 16,000 More Reserve Soldiers; No plans to expand operation now ,
by A. Pe'er, Hamodia Military Correspondent
===============================
===============================
1. Help Spread the Molly Malone Picture. Save Ireland from Itself!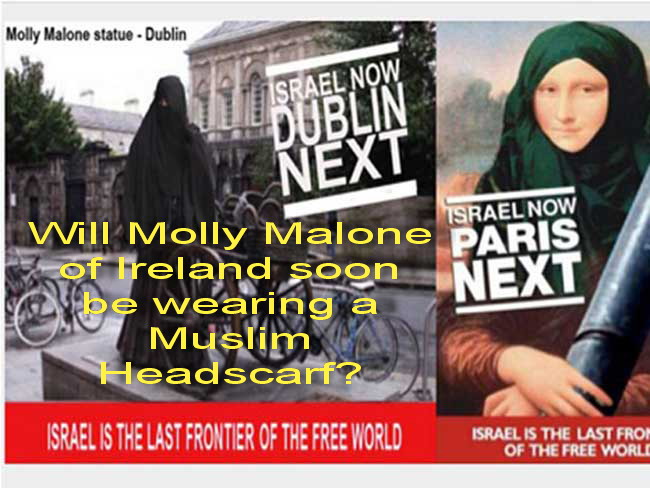 http://www.britam.org/molly.jpg
The picture of Molly Malone wearing a burka  was allegedly put up by someone in the Israeli Embassy in Dublin.
The text in yellow was added by us.
The picture shows a famous statue in Dublin of a legendary woman named Molly Malone.
In one version Molly is a part time prostitute and in another a chaste woman.
Molly Malone has come to represent Ireland in general.
The statue has been dressed in Muslim garb showing what is liable to happen if Ireland gets too close to Islam.
The Irish are apparently offended.
The picture of molly in Arab dress was taken down almost straight away possibly due to public protests in Ireland.
 The Irish public and media has been particularly offensive and prejudiced in its treatment of Israel.
Recently Hamas fired a rocket at Israel that fell short and killed 16 children in a Gazan school. 
This became a major item in the Irish press. They even held demonstrations about it!  It was automatically assumed that despite Israeli denials it was an IDF action. This was later proved wrong as should have been obvious from the start.  Israel had been blamed for Arab incompetence in killing themselves instead of Jews! No-one apologized or retracted. On the contrary. Nearly every day the same story seems to be repeated.
This is an ongoing pattern of predictable prejudice and hate.
The problem is that the Irish are not prepared to admit this. They deny being anti-Jewish and in their personal live probably are not.
They need to wake up.
Spread the picture.
Here are some additional versions:
http://www.britam.org/Molly7a.jpg
http://www.britam.org/Molly6.jpg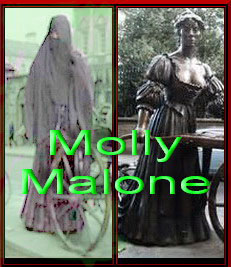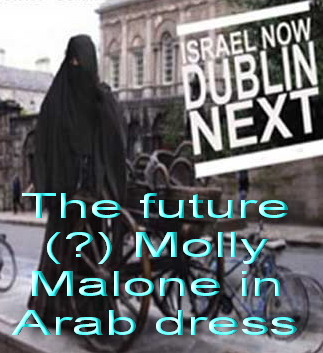 See Also:
Molly Malone. Save Ireland from Itself!  (Article and Video Clip)

Duration: 8.10 minutes. To Read Other Items Please Scroll Down!


See Article:
Molly Malone. Save Ireland from Itself!
http://hebrewnations.com/articles/tribes/ireland-and-ulster/molly.html

===============================
===============================
2. 10 Myths and Facts about the Gaza War
Key facts you need to know to defend Israel.
by Yvette Alt Miller
http://www.aish.com/jw/me/10-Myths-and-Facts-about-the-Gaza-War.html
Extracts:
(1) Israel started this war, using the murder of three Israeli teens as a pretext.
In the first half of 2014, prior to the outbreak of fighting, Hamas launched nearly 200 rockets at Israeli civilians. When the three Israeli teens were brutally kidnapped, Israel went looking for them in the West Bank; they were later found murdered. To divert attention from Hamas accountability, the terror group launched hundreds of rockets at the length and breadth of Israel, sending 80 percent of the Israeli population racing into bomb shelters.

Israel responded by rooting out the rocket sites in Gaza, in the process fortuitously discovering a vast network of terror tunnels that Hamas reportedly planned to used to stage a single day of mass kidnappings and murder of Jews.

(2) Fighting Israel is the only way Hamas can build a better life for its people.

It takes millions of dollars, tons of cement, and a year's worth of labor to build a tunnel from Gaza into Israel. In the past two weeks, Israel has uncovered 30 such tunnels, representing millions of dollars Hamas could have spent on the population of Gaza, but instead spent on fighting Israel.

If Hamas truly wanted a better life for Gazans, it wouldn't have spurned trade and development in favor of terror and dictatorship. In 2005, when Israel removed all Israeli residents and soldiers from Gaza, Hamas and other looters destroyed 3,000 greenhouses donated by American Jews to help build their fledgling country, leaving a sorry symbol of Hamas corruption and terror.

(3) Hamas is trying to minimize Palestinian casualties.

Instead of minimizing human casualties, Hamas seems to be courting them. They have launched thousands of missiles at Israel from locations adjacent to or within schools, mosques, hospitals, and residential buildings: a staggering 11,000 since 2005. Far from building bomb shelters to protect their population, as Israel has done, Hamas has deliberately used the entire civilian population as human shields.

Hamas has turned Gaza's largest medical facility, Shifa Hospital, into a military command center - knowing that Israel's higher morality makes it a safe haven from Israeli fire.

Watch this eyeopener clip on Youtube:Â  https://www.youtube.com/watch?v=g0wJXf2nt4Y

(4) The rate of Palestinian civilian deaths is alarmingly high.

Hamas claims that 75% of those killed in the current conflict in Gaza are civilians. Israeli sources found the overwhelming majority, two thirds are males between the ages of 18 and 60, despite that demographic accounting for only 20% of Gaza's population.

(5) Israel's actions are contrary to international law.

Human Rights Watch has accused Israel of 'violations of the laws of war' and the United Nations has opened an inquiry into alleged war crimes by Israel, though not of Hamas, which deliberately targets Israeli civilians as an ongoing policy.
... Hamas has forced Gazans to act as human shields for the many rocket launchers imbedded in private homes. The New York Times dramatically described the recipients of one such warning, who quickly marshaled family members 'including children' to enter the targeted building, forming a human shield.

(6) Israeli actions are "disproportionate."

In World War Two, 67,000 British civilians and 12,000 American civilians were killed, compared to the Nazis who lost over one million civilians. Clear responsibility for these deaths rests on the Nazis who started the war. More recently, in the 2004 urban warfare of Fallujah in Iraq, the U.S. killed 800 civilians and destroyed 9,000 homes. Did we hear cries of "disproportionate"?

As military analyst Colonel Richard Kemp concludes: "I don't think there has ever been a time in the history of warfare when any army has made more efforts to reduce civilian casualties and deaths of innocent people, than the IDF is doing today in Gaza."

(7) Hamas is a humanitarian organization.
 ... As the people of Gaza endure high unemployment and limited economic growth, Hamas' leadership skims off profits, collecting ruinous taxes on business transactions, and steals international aid outright. 
(8) Hamas just wants to live in peace.

Gaza's leaders encourage violence, allowing Islamic Jihad to run "terror summer camps" for children as young as six, where kids learn hate and practice kidnapping Israeli soldiers.

The Hamas Charter calls for the destruction of Israel and the death of Jews around the world: 'the Zionist plan is limitless' and 'our struggle against the Jews is very great... until the enemy is vanquished.' Who can doubt that, if given the chance, Hamas would inflict mass casualties on Israel and Jews? Given this existential threat, Israel has no choice but to try to demilitarize Hamas and destroy its tunnels.

(9) All the Gaza casualties are Israel's fault.

Many of the rockets Hamas has launched into Israel have fallen short, hitting targets in Gaza instead; often, Israel is blamed for these hits and their resultant civilian casualties. One high-profile case is the UN-run school bombed on July 24 with 16 casualties. Israel categorically denies bombing the school when anyone was present, and has produced aerial footage proving its case.

Four days later, a Gaza park was bombed, killing nine children and an adult. The Israeli army explained that the incident was carried out by Gaza terrorists whose rockets fell short and hit the Shifa Hospital and the Beach (Shati) camp.

Further, at least 160 children were killed in constructing Hamas' extensive terror tunnel network.

(10) Israel must stop occupying Gaza, denying humanitarian aid, and committing genocide.

Israel does not occupy Gaza, having unilaterally disengaged, withdrawing every soldier and civilian, in 2005. Despite the thousands of terrorist rocket and missile attacks emanating from the Strip for years, Israel continues, even during this crisis, to truck in tons of medical supplies, food, humanitarian goods and fuel.

Despite the war, Israel has kept the Kerem Shalom crossing open to a steady stream of humanitarian aid into Gaza, and allows humanitarian access at the Erez Crossing in northern Gaza....

While many Gazans are indeed suffering from a supply shortage, signs point to Hamas intentionally exacerbating the crisis as a propaganda weapon against Israel, while creating a flourishing black market that filled the pockets of Hamas thugs.

If Israel is perpetrating genocide, it is doing a terrible job. ... It is difficult to reconcile the idea of "genocidal Israelis" with 1,000 Palestinians, mostly combatants, killed in the fighting. Two-thirds of European Jewry exterminated by the Nazis? That's genocide. 800,000 Tutsis (7 out of 10) killed in Rwanda? That's genocide.
===============================
===============================
3. Military Expert Summary of the Present Situation
 IDF Calls Up 16,000 More Reserve Soldiers; No plans to expand operation now
By A. Pe'er, Hamodia Military Correspondent
Thursday, July 31, 2014 |
http://hamodia.com/2014/07/31/idf-calls-16000-reserve-soldiers-plans-expand-operation-now/

Extracts:

The IDF, backed by the government, called up 16,000 more reserve soldiers to join the 70,000 called up until now.

But the army does not intend to expand the area of operation at this point....

Meanwhile, the IDF is speeding up its efforts to neutralize the tunnels before it will be taken by surprise by a long-term ceasefire announcement that will find it still in the middle of the job. That is despite the fact that Prime Minister Binyamin Netanyahu said yesterday that Israel would not accept any ceasefire before it completes the tunnel mission to the last one.

Hamas and other terror organizations fired some 80 rockets into Israel yesterday, in addition to dozens of RPGs that fell near the border fence. One of the RPGs exploded in the Eshkol region and eight people were injured. One missile that was fired toward Kiryat Gat fell and exploded near homes and resulted in the serious injury of one resident, a foreign worker, and in damage to cars and property. Some nine people suffered from shock. All the injured were taken to hospitals in the center of the country and Be'er Sheva. In all, 27 civilians yesterday were injured by rocket fire, and from accidents caused while they hastened to get to reinforced rooms. Nine towns in the Eshkol regional council were cut off from electricity last night after an RPG hit a high voltage cable in the area.

The IDF responded to the missile fire by striking dozens of terror targets from the air throughout the Gaza Strip. In the middle of one of the busy Gaza streets, a car with two terrorists was struck by a missile. The identity of the terrorists was not disclosed. The Palestinians reported that 17 of their people had been killed, of which 11 were in Nusseirat, in the central Gaza Strip.

Sirens sounded once again in Bnei Brak and the Dan region yesterday. One missile fell and exploded in northern Tel Aviv, and a piece of shrapnel hit a local resident in the head while he was standing at the window and watching what was happening. He was evacuated to the hospital in serious condition.

On the military front, events are unfolding one after another. A Golani force detected a terrorist emerging from a tunnel opening and killed him. Then a paratrooper force saw five terrorists; they alerted the air force, who struck and killed all five.

Thursday evening, a Givati force saw a terrorist open fire at them. The force returned fire and killed him. None of the soldiers were injured. Throughout the day, some 110 terror targets were hit, among them, the homes of five senior terrorists which served as command and control centers.

It was also released for publication that on Wednesday, in the clash with terrorists in which IDF soldiers were killed, the commander of the Israeli brigade noticed one of the terrorists trying to grab the body of an Israeli soldier to drag it into a tunnel that the terrorists had emerged from. The commander summoned a tank crew and then guided them to fire an artillery shell right at the opening of the tunnel. The shell hit the target and the terrorist dropped the soldier's body and fled.

Large forces continued searching for tunnels throughout the day. Part of the heavy equipment being used are huge D9 bulldozers. However, from time to time, and more often than with regular vehicles, these bulldozers stall when working on this kind of territory and it is necessary to repair them under fire. Toward this end, the IDF established an engineering equipment maintenance force, which is in operation for the first time in Operation Protective Edge, and saves these huge pieces of equipment and returns them to operation as quickly as possible. They have repaired 20 pieces of heavy equipment since the beginning of the operation.

Until the establishment of the unit, the combat forces were dependent on civilian contractors, who did not have the ability to deal with breakdowns in combat zones quickly.

Engineering forces are also on hand to help locate and destroy tunnels. From the moment a tunnel is discovered until it is blown up, the engineering forces are part of the entire operation. 'We discover the opening using intelligence information, then we drill through and line the tunnel with explosives in preparation for blowing it up,' explains a deputy commander of an engineering battalion, Captain Ro'i.

Dealing with tunnels is very complex, and requires synchronization and cooperation of many forces. Sergeant Major Alex, joined 10 combat soldiers from the Maglan and armored corps in order to blow up an opening of a tunnel in a house, in which many weapons were also found. 'The forces that we joined up with gave us cover while we imploded the tunnels,' he related.

This took place in Khan Younis, an area that the enemy had abandoned completely and even the civilians have evacuated. 'Apparently, the village was a Hamas stronghold, and there was a large mouth of weapons and many tunnels, some of which crossed the border fence into Israel,' Sergeant Major Alex related. 'It's like a ghost town; everything is empty.'

Many of the homes the forces came upon are rigged with explosives, and there were weapons all over. Therefore, for safety reasons, every step is taken with caution. 'After discovering the tunnel opening it is scanned to ensure that the enemy cannot surprise the forces from inside, and to ensure that the opening itself is not rigged,' Alex detailed. 'Then we deal with the tunnel using explosives.'

Prime Minister Binyamin Netanyahu said yesterday at the beginning of a cabinet meeting that the IDF was working full force in Gaza to neutralize the tunnels. The tunnels provide Hamas with the ability to kidnap and murder civilians and soldiers with a simultaneous infiltration through many tunnels at once. That is what we are undoing now, taking away that ability, the Prime Minister said.