Jerusalem News (7 September, 2014, 12 Elul, 5774)
Ethnic Cleansing by Muslim in UK, Israeli Flag in Belfast, Cut Wheat Miracle in Operation Protective Edge, Israel, EU Nations buy oil from ISIS.
Duration: 10.46 minutes. To Read Text Please Scroll Down.
Contents:
1. Ethnic Cleansing in Britain.
Little Old Christian Lady has her head cut off by Muslim African by Yair Davidiy
2. Israeli, Palestinian Flags Flying in Divided Belfast
3. HUCKABEE IN GUSH ETZION: ISRAEL'S ENEMIES ARE AMERICA'S ENEMIES
by Yoni Kempinski and Ben Ariel
4.  Cut Wheat. Inspiring Anecdote from the Recent War by Yair Davidiy
Operation Protective Edge, Divine Providence, and Keeping the Commandments
5. Supporting Terror: EU States Buying Islamic State Oil
by Ari Yashar
===============================
===============================
1. Ethnic Cleansing in Britain.
Little Old Christian Lady has her head cut off by Muslim African.
See:
Palmira Silva, 82, 'beheaded' in London garden
http://www.bbc.com/news/uk-england-29068391
September 4, 2014
A 25 year old African male in the UK, who recently converted to Islam, beheaded with a machete 82 year old Palmira Silva. Palmira was originally from Italy. The two had no previous acquaintance.
"Detectives said there was no suggestion the killing had a terrorist motive."
Judging by photographs of the onlookers the neighborhood is mixed muslim-non-mulsim with muslims already predominating.
===============================
===============================
2. Israeli, Palestinian Flags Flying in Divided Belfast
http://hamodia.com/2014/09/02/israeli-palestinian-flags-flying-divided-belfast/
Tuesday, September 2, 2014
 (REUTERS/Cathal McNaughton)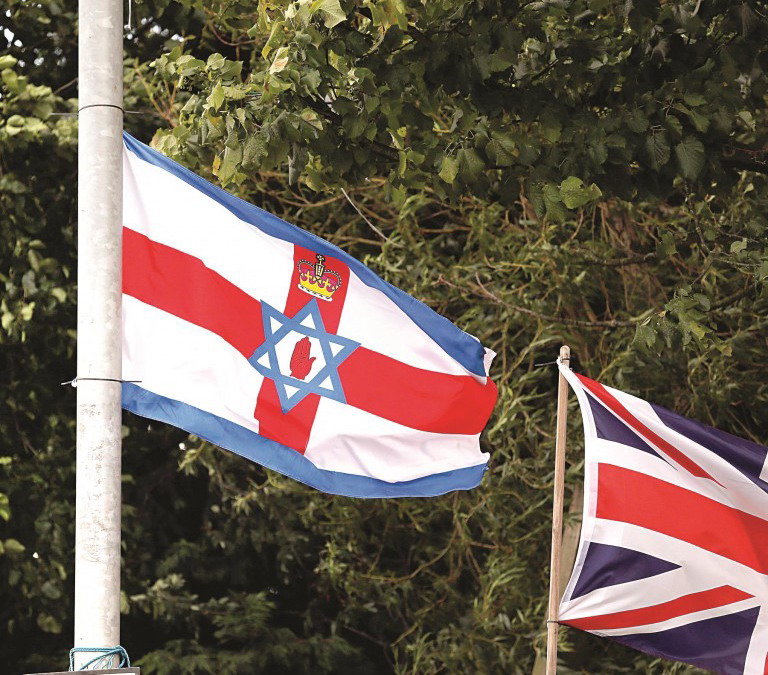 BELFAST (Reuters) - In Northern Ireland, the flags of Israel and the Palestinians are potent symbols of conflict - but here they divide Catholics and Protestants rather than Jews and Muslims.

In the complex web of alliances that underpins the British province's flag-obsessed politics, the Star of David has been adopted by pro-British Loyalists, mainly Protestants, many of whom sympathize with Israel.

Flying the green, black, red and white flag of the Palestinian territories, meanwhile, is a sign of support for Catholic Irish Republicans and their aspiration for a united Ireland against what they see as British occupation.

A flag comprised of various elements including the Ulster Banner and the Star of David flies on the interface of Twaddell avenue and Nationalist Ardoyne in North Belfast. (REUTERS/Cathal McNaughton)

The flags are among dozens that have been adopted by the working class Catholic and Protestant areas that have for decades been at the focus of sectarian violence in Northern Ireland to fly alongside the ubiquitous British and Irish flags.

'I've been in plenty of conflict zones, but I have never seen such an intense use of flags to mark territories,' said Peter Shirlow, a professor of conflict resolution at Queen's University Belfast.

The official state flag, the Union Jack, is itself divisive, signifying not just loyalty to the British crown, but for some Republicans, hostility to Irish Catholics.

The flag issue is so potent that raising or taking one down has been enough to spark riots or protests, as happened in December 2012, when Belfast city council decided to restrict the flying of the Union Jack above city hall.

Occasionally Republicans fly the stars and stripes because Irish Americans were among their most loyal supporters during the Troubles.

But they also fly the flag of Washington's enemy Cuba, with left-leaning nationalist groups paying tribute to revolutionary heroes Che Guevara and Fidel Castro.
===============================
===============================
3. HUCKABEE IN GUSH ETZION: ISRAEL'S ENEMIES ARE AMERICA'S ENEMIES
by Yoni Kempinski and Ben Ariel
Arutz-7

Former Arkansas governor and GOP presidential candidate Mike Huckabee visited Gush Etzion on Thursday, days after Israel's announcement that it would declare 4,000 dunams of land in the region as state land.

During the visit, Huckabee met with MK Danny Danon (Likud), who explained why it was inappropriate to use the term "annex" when referring to Israel's declaration that the area is state land.

Danon's explanation was simple: "You cannot annex something that belongs to you".

"When Palestinians build neighborhoods in Hevron, it's legitimate. But it's also legitimate that Jews will build neighborhoods in Gush Etzion," he told Huckabee.

"I would invite Secretary Kerry to come here and see what we're talking about: it's vacant land in the heart of Israel. We want to build another Jewish neighborhood," Danon said.

Huckabee pointed out that the land in Gush Etzion belongs to Israel and was just a few hundred yards from the place where teenagers Gilad Sha'ar, Eyal Yifrah and Naftali Frenkel were abducted and later murdered.

"It wasn't enough for Hamas to kill three Israeli teenagers. Then from the Gaza Strip they launched over 4,000 rockets toward the civilian population," he said.

"The enemies of Israel are the enemies of the United States, whether it's the Muslim Brotherhood, Hezbollah, Hamas, ISIS - all are branches from the same evil tree," declared Huckabee.
===============================
===============================
4.  Cut Wheat. Inspiring Anecdote from the Recent War by Yair Davidi
Operation Protective Edge, Divine Providence, and Keeping the Commandments
(5 September, 2014,  10 Elul, 5774)
Wriiten by Yair Davidiy. Source: Marveh LeTsameh, Parshat Reah, S. Shvartzman.
During the Feast of Passover (Pesach) it is forbidden to eat leavened bread.
Exodus 12:
15 Seven days you shall eat unleavened bread; on the first day you shall remove leaven from your houses, for whoever eats leavened bread from the first day until the seventh day shall be cut off from Israel.
That is why Jews eat Matsot.
Preparing Matsot requires the keeping of numerous stringencies.
In short flour and water should not be mixed and left unattended for more than a few minutes before being baked in an oven.
Ultra-Religious Jews do not use wheat that has ripened and not been harvested and then gotten wet.
This year is the year before the Sabbatical Year (Shmittah). Next year harvesting grain etc is forbidden.
Therefore this year wheat for matsot needs to be prepared for next year and the year after it, i.e. for 2 years.
Usually the wheat is harvested in the summer before July. This year in May unexpected rains had caused a dampness rendering the wheat unsuitable. A search was made of the country for wheat  that would not have been so affected.
Suitable fields were found in the Jewish settlements bordering the Gaza Strip.
Arrangements were made, the wheat was purchased, and harvesting began under supervision. The harvesting was completed despite the outbreak of hostilities and Operation Protective Edge. In face of army movements and Hamas rockets being fired all over the place especially in the south the harvest was brought in.

A little later,  the following event occurred as reported in the news:
Tunnel infiltration thwarted near Kibbutz Sufa
http://www.timesofisrael.com/tunnel-infiltration-thwarted-near-kibbutz-sufa/#ixzz3Cd6iRsgV

Extracts:

Attempt to kill and perhaps abduct Israelis foiled when 13 armed men were spotted emerging from a tunnel inside Israel near Kibbutz Sufa

By Mitch Ginsburg July 17, 2014, 8:25 am 57

The Israeli army thwarted a large-scale infiltration attempt along the Gaza border, during which 13 armed Palestinians emerged from a tunnel on the Israeli side of the border at dawn Thursday, an army spokesperson said.

The spokesperson described the attack as in line with a series of other thwarted attacks over the past 10 days of warfare, including two infiltration attempts from the sea near Kibbutz Zikim, a tunnel near Kerem Shalom, and a drone attack earlier this week.
The IDF action that stopped the infiltration attempt before it was sprung 'was obviously a huge success,' said Lt. Col. Peter Lerner.

The gunmen, he said, emerged from the tunnel early Thursday some 250 meters inside Israel. Lying flat on the ground, in an open area two kilometers from Kibbutz Sufa in the Eshkol region, the 13 armed men were spotted by what Lerner termed 'different sensors.'

Realizing that they had been discovered, they attempted to run back underground but were struck by Israeli aircraft. Lerner said some had been hit but he could not state how many.

Israeli military sources said the gunmen evidently planned to attack the kibbutz, killing and possibly kidnapping civilians.

The tunnel is part of a network of underground channels, laboriously dug, as offensive lanes into Israel. In June 2006 two Israeli soldiers were killed in an ambush that began via a tunnel in the same region, and a third, Gilad Shalit, was captured and taken back to Gaza. His exchange, five and a half years later, for 1,027 Palestinian prisoners, is considered one of Hamas's crowning achievements.
===============================
What had happened?

Note that the terrorists had been spotted,
# Lying flat on the ground, in an open area two kilometers from Kibbutz Sufa #
They had been caught in an open area.
Later intelligence said that they had expected the area to be covered by a wheat field with the stalks standing high.
Once they realized they were exposed in the open they attempted to backtrack but were caught.

The Arabs had dug the tunnel some time ago. Their information was that the opening of the tunnel was in a wheat field. The Jewish owner could be relied open not to harvest the wheat but to let it stand (as in the past) for a good while. The Arabs intended to use the high standing wheat as cover to crawl into the kibbutz and kill and capture Jewish civilians.
Due to the Ultra-Orthodox buying the wheat and urgently INSISTING that it be harvested straight away the cover had been removed. One of the farmers whose wheat had been harvested remarked:
\#This is the first time that my wheat was harvested for the sake of a mitsvah [fulfilling a commandment]. Previously it had been sent to the big bakeries. This time it was harvested for the sake of a mitsvah... #
One of the matsah overseers involved said:
# This was for matsah shmirah [matsah that has been guarded]. This time it was certainly guarded. It guarded us more than we guarded it. 
===============================
===============================
5. Supporting Terror: EU States Buying Islamic State Oil
by Ari Yashar
http://www.israelnationalnews.com/News/News.aspx/184823#.VAxV-5td474

First Publish: 9/7/2014, 11:33 AM

Extracts:

The Ambassador for the European Union (EU) in Iraq, Jana Hybaskova, admitted last week that several EU member states have bought oil from the Islamic State (IS, formerly ISIS) terrorist organization that has been brutally conquering large portions of Iraq and Syria.

Hybaskova made the revelation at the European Parliament Foreign Affairs Committee, but refused to divulge the names of the countries despite being asked numerous times, reports the Turkish Daily Sabah.

In addition to its implementation of brutal Islamic law, including numerous public executions, IS in late June captured Iraq's largest oil refinery factory, days later in early July capturing the largest oil field in Syria, and another Syrian oil field a few days after that.

The US is leading a western effort to aid Iraqi government and Kurdish forces in rolling back IS's gains - with some effect - but the various seizures of infrastructure and resources have led IS to be assessed as the "world's richest terrorist organization," and with EU states aiding it by buying IS oil, that economic power fueling the jihadist group seems only likely to grow further.

Regarding IS's ability to export its captured oil stores, Turkish Minister of Energy and Natural Sources Taner Yildiz rejected claims his state was importing IS oil on July 31, shortly after the UN threatened sanctions on states purchasing or transporting IS oil.

According to security estimates IS has hundreds of foreign jihadists in its ranks, including many from Western nations. The terror group has been actively recruiting from the West, through such means as flashy propaganda videos in German and English - a phenomenon that has western government nervous over the possibility that recruits could return home to carry out terrorist attacks.