Ten Tribes Studies (24 June, 2014, 26 Sivan, 5774)

 
Contents:
1. Mark Williams: Wait... Did You Say You Were Moving To... Bethlehem?
2. Cristian Sildan: Are the Cajuns of Louisiania,USA, the Jews intended and not the Quebecois?
3. Fascinated  by Information on YouTube Clip


===============================
===============================

1. Mark Williams: Wait... Did You Say You Were Moving To... Bethlehem?

Shalom Yair

You mean the city of Bethlehem in the PA controlled West Bank? Or is
there another Bethlehem of which the world was previously unaware?

How does that even work?

Anyway, stay safe.

Best wishes

Baruch Hashem

Mark
===============================
Brit-Am Reply:
In
Brit-Am Now no. 2270. Ten Tribes Studies
http://hebrewnations.com/features/now7/2270.html
#2. Mini-Article. Feast of Weeks (Shavuoth) and the Book of Ruth
(5. Personal Note from  Brit-Am. Beth-Lehem here we come!
We said:
Quote:
# Ruth went to Beth-Lehem.
The headquarters of Brit-Am/Hebrew Nations and the personal domicile of Yair Davidiy may well be moving very soon to an area close to the Biblical Beth-Lehem.
Minor delays and disturbances in our regular operations may eventuate but, God willing, we should be back in action. #

End Quote.
I am in the process of completing a movement to the city of Beitar Ilit. This would have been within the area of Bethlehem in Biblical Times.
http://www.britam.org/Beitar.html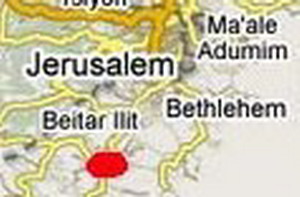 Quote Extracts:
Beitar Illit
http://en.wikipedia.org/wiki/Beitar_Illit
From Wikipedia, the free encyclopedia
Extract
Region West Bank
District Judea and Samaria Area
Founded1985
Population (2013[1])
Total  45,710
Beitar Illit (Hebrew: ; officially Betar Illit; "Illit" is pronounced "ee-leet") is an Israeli settlement and city in Gush Etzion, 10 kilometres (6.2 mi) south of Jerusalem,[2] in the Judaean Mountains of the West Bank.[3] Beitar Illit is one of Israel's largest and most rapidly growing settlements.[4] As of July 2013 it had a population of approximately 45,710.[1]

Beitar Illit was established in 1984 on the lands of the Palestinian village of Husan ....The city has expanded to three adjacent hills.

Beitar Illit is named after the ancient Jewish city of Betar, whose ruins lie 1 kilometre (0.62 mi) away.

With an annual birth rate of 1,800 births, Beitar Illit has the fastest population growth among the West Bank settlements.[10] Approximately 63 percent of the population is under the age of 18, which is the highest percentage of children in any Israeli settlement or city.[10] According to local authorities the population may reach 100,000 by 2020,[13] based on population growth and the building of new apartments to attract more Haredim from Bnei Brak and Jerusalem.

The population of Beitar Illit is 100% Haredi.Approximately 50% of the population is Hasidic. An estimated 10 percent of the population is English-speaking.

The city is well known for its landscaping and general cleanliness. There are 94 parks and hundreds of playgrounds in the city.
End Quote.
Beitar Illit in Hebrew means Upper Beitar.
It is usually referred to as simply Beitar.
On the map it is to the south of  the Jewish city of Efrat and to the west of Palestinian-occupied Bethlehem.
Beitar is within the probable area of Beth Lehem in the biblical sense.
Beitar historically was associated with Bar Kochba who led a rebellion of the Jews against Rome in 132-136 CE.
See Maps.
http://www.britam.org/Beitar.html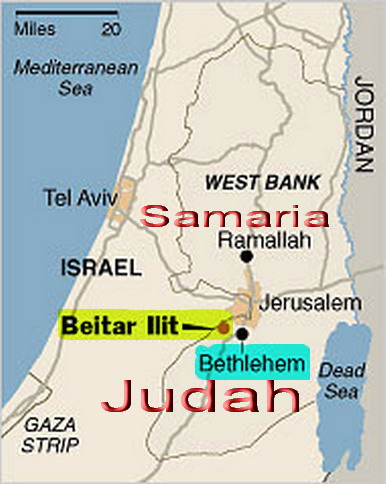 Beitar is quite close to Jerusalem. Public transport within Beitar and between Beitar and Jerusalem is good and frequent.
Beitar is within the territory of Judah.
Beitar is situated on land liberated from Arab occupation in the 6-Day War.
Beitar is probably the largest Jewish city in the areas known as Judah and Samaria.


===============================
===============================
2. Cristian Sildan: Are the Cajuns of Louisiania,USA, the Jews intended and not the Quebecois?
RE: Brit-Am Now no. 2278. Ten Tribes Studies
#2. Gilles Durand:Â  Numerous Descendants of Forced Jewish Converts to
Christianity amongst French Canadians?
http://hebrewnations.com/features/now7/2278.html
You said:
According to Mr. Jean Marie Gelinas there would have been has much as 400
families that came to New France [i.e. Quebec] in the mid 1600 at that point
these families were for the most part located in the south west of France in
the region of Bordeaux. These group of families came from the North of Spain
and from the 1492 and the subsequent years had been expellees from Spain.
It is these families that made their way to New France, and if his
estimation is right that would mean about 1.2 to 1.4 million of us French
Canadian would have Jewish origins!
Gilles Durand
===============================
Peace Yair.
Hmm, concerning the idea above, it depends...
From what I know, most of the French who came from south-western France
colonised not that much Quebec, but rather Acadia, and most of them were
later deported by the Brits to Louisiana and south Carolina.
So, if they are of Jewish origin, this is interesting but it rather concerns
the Cajuns, more than the Quebecers.
All the best, Cristian


 ===============================
===============================
3. Fascinated  by Information on YouTube Clip
New comment on your video
Ancient Traditions and the Ten Tribes

PrettyGirl
I find this so fascinating! Thanks for sharing!