The Prophecies of Hosea-2, by Yair Davidiy
Now AVAILABLE!

 Price $20 (includes postage and handling, etc) and has 148 pages.
Lost Hebrews Found!
http://www.britam.org/LostHebrews.html


Sub-Title: The Prophecies of Hosea-2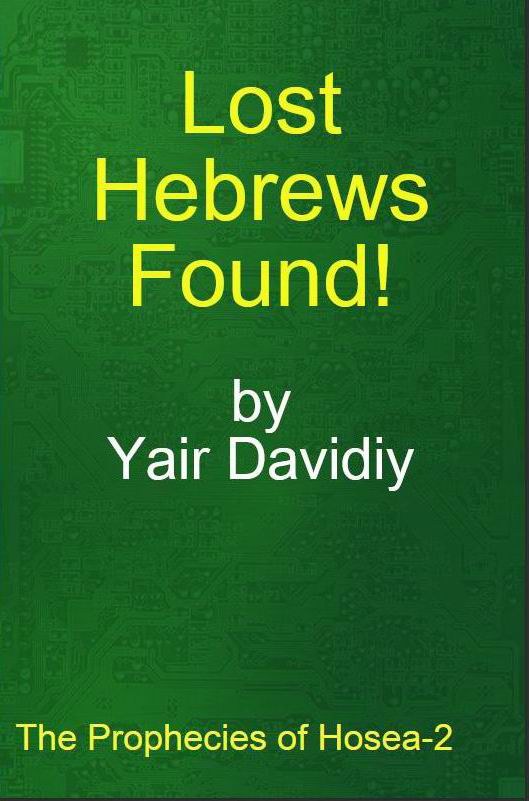 148 pages
The Israelites were exiled. One part of them, Judah (i.e. the Jews of today), remained identifiable. The remainder, known as "The Ten Tribes," lost knowledge of their ancestry.  Hosea was a descendant of the Tribe of Reuben. Hosea prophesied mainly concerning the Lost Ten Tribes. The Prophet Hosea describes the exiled Israelites using prototypical examples from his own era.  These descriptions enable us to confirm our identification of Western Peoples as having been dominated throughout much of their history by peoples of Hebrew origin. Judah should help prepare the way for the Ten Tribes to come back. Ephraim, representing all the Tribes, should prepare itself to accept the future Messiah. Jewish and Rabbinical Traditions help us confirm where the Lost Hebrews are today. They are among Western Peoples!.
This work helps identify them. Hosea calls upon the Lost Ten Tribes to repent. The Lost Ten Tribes will return.
This is verifiable by the Bible, Rabbinical texts, and secular sources.

Yair Davidiy is a well-known researcher on Biblical and historical matters.

148 pages including maps and illustrations.

Now available for $20.

Lost Hebrews Found!
http://www.britam.org/LostHebrews.html

Only $20.
OR
 See Also:
Hebrew Bride.Hosea-1
Hebrew Destiny. Hosea-3
Hebrew Salvation. Hosea-4