The Israelite Input into the Modern Anglo-Saxon Language
Now AVAILABLE!

Price $15 (includes postage and handling, etc) and has 212 pages.
Hebrew English
http://www.britam.org/language.html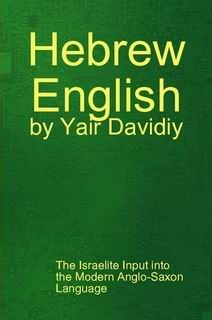 212 pages
"Hebrew English" demonstrates how the English Language encompasses many Hebrew Words, Hebrew Linguistic features, and Hebrew thought patterns. English is a composite tongue derived from several sources. Nevertheless, the English-speaking peoples created a language consistent with a Hebrew Prototype being ever present in their collective sub-conscious. This work lists English words of Hebrew origin as well as giving the conventional etymology of each word. This proves in hundreds of cases that even though English is related to European tongues it has a greater affinity in some ways to Hebrew than to them.

See Also:

The author,
Yair Davidiy, lives in Israel, is a student of Rabbinical Studies, and a researcher of Historical matters. He has had recognized validated results in his research efforts.

Now available for $15.

http://www.britam.org/language.html

Only $15.

Buy Now.