English is a composite language. The Angles, Saxons, Jutes, and others who spoke Germanic-type dialects conquered England from peoples of Celtic culture. Then came the Vikings from Scandinavia who settled in the north. After that the Normans, who were also of Scandinavian origin but spoke French, imposed their own language. Over the centuries numerous foreign words were adopted and new ones invented. Scholars who had learnt Latin and Greek applied their erudition to the mix. The English Language evolved. It has more than one source. It is still developing.
Nevertheless there is a strong Hebrew element in English. A lot of words, and other characteristics of the English Language show a parallelism to Hebrew. Some of the Hebraisms in question may be traced to Anglo-Saxon German, some to French, some to Latin, some to elsewhere. Much has no known source and must be considered local. Not only had that but the English had a habit of applying a more Hebrew-type meaning to words from elsewhere. The overall result is to make English more Hebrew than the sources themselves are.
Do languages have "souls"?
Does English have a Hebrew "spirit" beating somewhere within?
Could it be that Hebrew characteristics in the underlying psychology of English testify to the Hebrew origins of English-speakers? We may not be able to give unequivocal answers to these questions but we can show that it is legitimate to ask them.

"Hebrew English" demonstrates how the English Language encompasses many Hebrew Words, Hebrew Linguistic features, and Hebrew thought patterns. English is a composite tongue derived from several sources. Nevertheless, the English-speaking peoples created a language consistent with a Hebrew Prototype being ever present in their collective sub-conscious.

We understand that the Lost Ten Tribes separated from Judah, moved to the west, and lost consciousness of their ancestry. We have proven this from Biblical, Rabbinical, Archaeological, Mythological, and other historical sources. It can be shown that numerous Hebrew words and linguistic features in some way or other entered the English Language. It is obvious that if the Hebraic language infusion is to be accepted regarding words then it is equally feasible that Hebrew human beings may also have accompanied them!
Now AVAILABLE!

Price $30 (includes postage and handling, etc) and has 212 pages.
Hebrew English
http://www.britam.org/language.html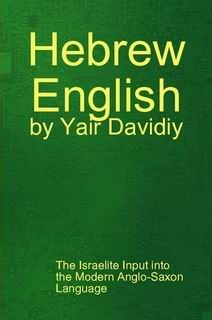 212 pages

The author,
Yair Davidiy, lives in Israel, is a student of Rabbinical Studies, and a researcher of Historical matters. He has had recognized validated results in his research efforts.

Now available for $30.

http://www.britam.org/language.html

Only $30.

Buy Now.